Universities and research institutes plan to take on a coordination role in European ocean research and education, as the EU gets ready to launch a marine Knowledge and Innovation Community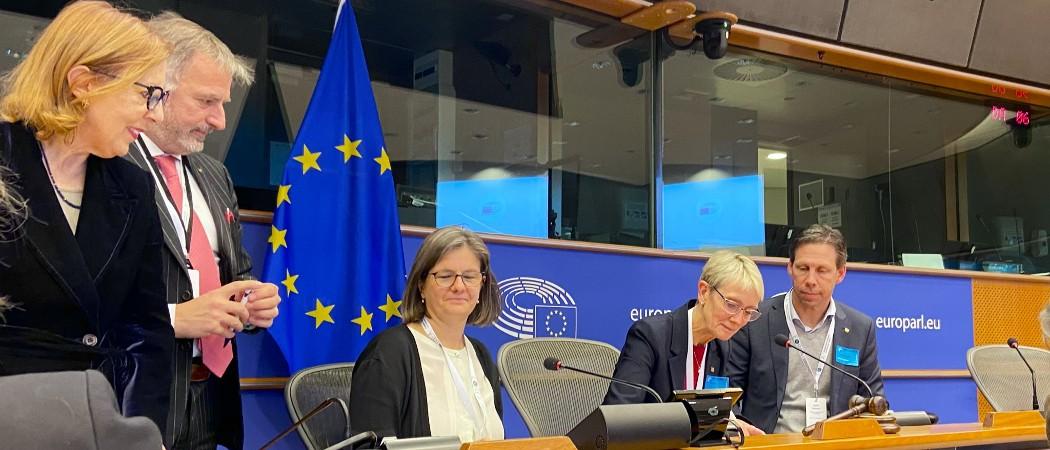 A group of 14 universities and research institutions from across Europe launched the European Ocean Research and Education Alliance (EOREA) at an event in the European Parliament last week.
The group wants to welcome other institutions with an interest in bringing together this fragmented research sector to contribute more effectively to EU and global policies across oceanic and maritime research, including the Horizon Europe research mission on restoring oceans, and the United Nations' decade of ocean science.
"The ocean has not received sufficient attention and care from us and we do not know enough about its ecological tipping points, therefore, we need more and better ocean research and innovation," said Anne Borg, rector of the Norwegian University of Science and Technology (NTNU).
The alliance would also like to see the political cogs in Brussels move towards the launch of a tenth a Knowledge and Innovation Community (KIC) within the European Institute of Innovation and Technology (EIT) focused on marine research and innovation. The KICs are partnerships between businesses, research centres and universities on topics ranging from climate to culture and creativity.
The water, marine, and maritime KIC is included in the EIT's strategic agenda for 2021-27, but MEPs warn that without a concerted push it may not be launched before the upcoming European Elections in 2024.
The maritime KIC is a pet project of Portuguese MEP Maria da Graça Carvalho. Speaking at the alliance's launch in the Parliament last week, she said political priorities change over time, suggesting that work on the maritime KIC should be speeded up.
"I count on your support to make sure that we continue the joint programme with the [Horizon research] missions and that we are able to launch the EIT KIC on maritime and water very soon," Carvalho said.
EU commissioner for research and innovation Mariya Gabriel said she hopes the new alliance will help the EU establish the maritime KIC in the near future. "I would like to ask the new alliance to help us mobilise key actors for the mission oceans and waters, and to contribute to all other European strategic initiatives in ocean research and education, and to contribute to the design of the future KIC for ocean and water," she said.
Massimo Busuoli, head of NTNU's Brussels office told Science|Business that 2023 will be a crucial year for the future of the KIC in particular, but also for the European ocean research community in general. "The alliance is coming at the right moment," he said.
"More than ever, it is important that universities and research institutions stand together to contribute to tackle the lack of integration and collaboration at European level in ocean science," said Borg.
Next steps
The founding members of the alliance are NTNU, Aix Marseille Université, Aalto University, Technical University Denmark, Université Libre de Bruxelles, Hellenic Centre for Marine Research, Chalmers University of Technology, National Research Council of Italy, University of Lisbon, Delft University of Technology, Jozef Stefan Institute in Ljubljana, Romania's national research institute of marine research and development (NIMRD), and the University of Southampton.
The alliance is structured on the model of the European Energy Research Alliance, a group of universities and research organisations that got together more than a decade ago to coordinate research in climate-neutral energy.
According to Busuoli, the alliance will go through an initial pilot phase of three years. During that time the member organisations will launch a joint programme to align research activities and possibly reduce duplication. The alliance then aims to bring more structure to "a system that appears fragmented and unorganised," said Busuoli.
Participants at the EOREA launch also floated the idea of a European Ocean Agency. Gilles Lericolais, chair of the European Marine Board said "it could be very important" to have such an institution.
Carvalho said she would also favour a "more permanent" EU structure that would pool in efforts in oceans research and innovation. However, she advised stakeholders to wait for the Horizon evaluation coming next year, then such a structure "could be pushed in the next Horizon [programme]".
Ageing research fleet
Over the past few years, marine research has been gaining more political significance in Europe, thanks in part to climate change but also to shifting geopolitics. Rising temperatures at the North Pole have prompted Russia to explore the potential of the region as a new trade route. At the same time, the invasion of Ukraine has led most research organisations in the EU to cut ties with Russian counterparts, including a flurry of arctic research projects.
Europe is also facing a crisis of ageing marine research infrastructure. The European Marine Board says ocean research in Europe is being performed on increasingly ageing research vessels that are rapidly approaching, or even exceeding their life expectancy of 30 years. The average age of ships in the European research fleet is 25 years.
Spain is now using EU structural funds to prop up its ageing research fleet. Construction has started on a new research vessel for the Spanish Institute of Oceanography.
The UK government has recently announced some £45 million in funding for maintenance and upgrades for the country's fleet of research vessels.
But this is a global problem. In a 2016 report, the National Oceanic and Atmospheric Administration (NOAA) at the US Department of Commerce warned it needs money to replace up to eight ships by 2028. 
According to a report commissioned by the Marine Environmental Observation, Prediction and Response Network (MEOPAR) at Dalhousie University, the average age of Canada's research vessel fleet is 35 years. In 2018, the government had to spend CAN$4.6 million on renting private ships to meet its basic ocean monitoring commitments.