Exclusive: Science|Business has obtained drafts of the work programmes for the industry, civil security and health clusters, as well as the Marie Skłodowska-Curie actions, for 2023-24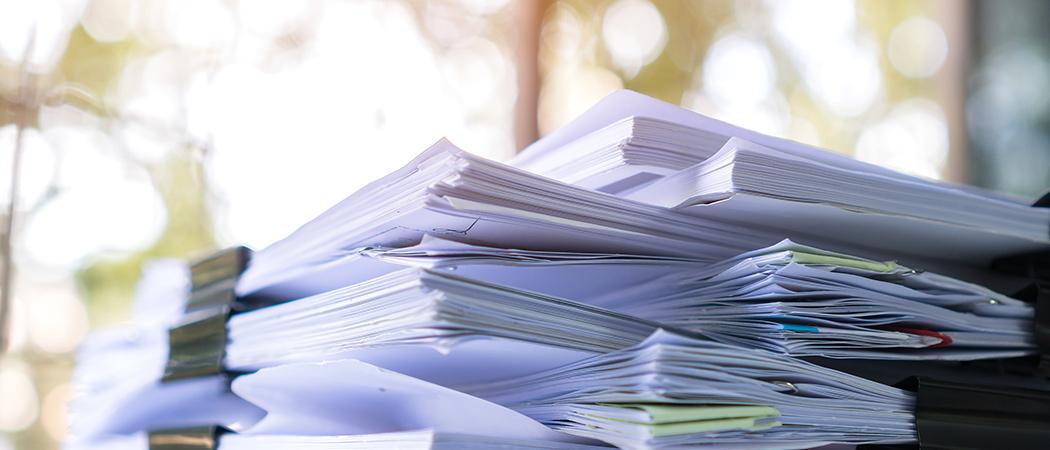 Unapproved drafts of Horizon Europe work programmes are again circulating online.
The Horizon Papers: 2022 Edition
Click here to see all available work programmes
The European Commission is beavering away on work programmes for 2023-24, the third and fourth years of its €95.5 billion programme. The final documents should be released by the end of this year, but early versions have started circulating among a group of privileged research organisations and universities.
It's not the first time this has happened. 'Confidential' draft work programmes for Horizon 2020 were posted on some university websites before the official launch in 2014. The first Horizon Europe work programmes also leaked online last year in January, prompting criticism on the Commission's handling of documents which are meant to be kept under embargo until official publication. Despite the Commission's rules, a select group of institutes and universities usually get an exclusive preview of the crucial documents, well ahead of the first round of calls.
This time round, Science|Business has obtained drafts of the work programmes for the industry, civil security and health clusters, as well as the Marie Skłodowska-Curie Actions, for 2023-24. The drafts have not been officially approved by the Commission, but they can give a useful overview of the research topics and specific calls that would come out over the next couple of years.
The draft work programme on digital, industry and space research is dated 31 January and gives an overview of the potential Horizon Europe calls to come out next year. However, the 237-page document does not include budget figures.
The topics focus mostly on projects that aim to transform EU industrial production and ensuring "strategic autonomy" in critical areas like rare materials for the batteries and semiconductor industries. Researchers are encouraged to think of projects on how to recycle raw materials, but also on exploring rare raw materials in deep land deposits, building earth observation platforms and innovation hubs for rare earth magnets.
The Commission wants to build an expert network to increase Europe's access raw materials that are critical for its industrial value chains and strategic sectors. The winning consortium is expected to organise EU experts on the exploration, mining, processing, recycling, refining, as well as substituting critical raw materials needed for electric cars, renewable energy, electronics, defence and aerospace.
The draft also features a chapter on projects in various fields that could help Europe develop world-leading data and computing technologies. Photonics, graphene, quantum technologies are all on the laundry list.  
The Commission is planning several calls dedicated to securing Europe's "autonomy in developing, deploying and using global space-based infrastructures, services, applications and data". Other space projects would develop new rocket thrusters for European space launchers, new space transportation services, and modern launch facilities.
In addition, the draft shows the Commission is giving more thought to the potential of civilian technologies for defence applications. A call on advanced imaging and sensing technologies seeks to develop a new generation of sensors which could be used in the car industry, but also in military applications for "fast reconnaissance and identification of collaborative or non-collaborative targets" needed in "defence missions and surveillance of infrastructures".
Health: expecting the next pandemic
In the field of health research, the Commission's 2023-4 plans make for depressing reading. Based on the topics picked, it looks like Brussels is expecting more pandemics – or worse.
"As shown by the COVID-19 pandemic," reads the work programme, "infectious diseases remain a major threat to health and health security in the EU and globally, this is also the case for other health threats that can be linked for instance to terror attacks."
With a statement like that, the Commission staff lay out an entire arsenal of research topics intended to help prepare for, and react quickly to, any new infectious disease threats – all based on the past two years of experience with COVID-19. In fact, the work programme reads as if the DG Research staff suffered through weeks of internal meetings identifying what worked, and didn't work, since early 2020; and then they devised a research strategy to fix the problems.
So, for example, the Commission is planning to call for grant proposals to study "adaptive" networks across Europe to run fast clinical trials of new, or repurposed drugs in the event of a health emergency. Along with the EU's new Health Emergency Preparedness & Response Agency, it wants to fund research to prepare new personal protective equipment for embattled healthcare workers, as well as study better ways to keep those critically important workers healthy during a crisis.
It plans to study new, broad-spectrum vaccines and anti-viral medicines that can be used against multiple threats. It wants to study the surface proteins of other potential epidemic bugs, so the EU can respond faster to a new, emerging threat. Also under the microscope: studying the interaction between a variety of pathogens and their host organisms, and ways to make the EU's national health systems work better as a disease crosses from one country to the next.
And finally, the Commission is studying itself: it wants to develop, in advance, a way to rewrite its health funding plans in an emergency, and rush out new calls for proposals. In early 2020, inside the research directorate's Brussels headquarters on Square Orban, that was one of the most vexing bureaucratic problems the Commission faced: how to pump out a flood of fast money, for fast results, when the enormity of the COVID-19 challenge became clear. In the end, it accomplished it, finding nearly €1 billion in spare cash. But now it wants to set up its internal systems to do that regularly, if need be.
Of course, the work programme goes beyond the pandemic obsession. As in past Horizon plans, the Commission plans to allocate money for research on keeping Europe's ageing population healthy – what it calls "the Silver Deal," in an apparent nod to its climate-related Green Deal. As required by the enabling legislation, it also dedicates funding for studying the impact of climate change on health, and related climate issues. And it is planning to expand several pilots, creating a Human Exposome Project to study the health relationship between environment, genetics and other factors – an analogue, it says, to the famous Human Genome Project of the turn of the century that first sequenced the human genome.
Young researchers on the move: MSCA
The Horizon Europe legislation, finally approved two years ago, dictated a rise in funding for one of the EU's flagship research mobility programmes, the Marie Skłodowska-Curie Actions (MSCA). The latest work programmes follow through on that, with another €1.8 billion allocated for 2023 and 2024, about the same pace of spending as in the prior two years.
The programme started in 1996, and from 2014 to 2020 funded the travel of 65,000 doctoral students and post-docs. The latest edition, as expected, adds more incentives for young researchers to take their work into companies rather than universities alone, and makes it possible for them to work outside the EU as well – an important feature to those wanting to study at American, Canadian or other far-flung institutions.
And as this is the COVID-19 age, the work programme encourages institutions designing MSCA programmes to consider ways to make virtual visiting easier, though the programme's emphasis remains on physical travel.
Civil security for society
A 133-page draft dated 31 January highlights dozens of calls for technologies needed to fight crime and terrorism, including the detection of illegal 3D printing of weapons. Calls also cover projects aimed at tackling cyber threats and improving the management of EU borders.
Some of the calls in the draft text look into very specific research areas. Under a "radicalisation and gender" call, the Commission wants to allocate €35 million for research on understanding the motives of women and girls who support extremist ideologies. "Women's radicalisation and involvement in violent extremist groups remains relatively under-researched and still characterized by misconceptions," the draft says.
Another €3 million could be allocated to projects that gather data on the scale and operating principles of criminal networks that counterfeit pharmaceutical products in the EU. If successful, such a preject would deliver new "investigative techniques and methodologies for better detection and counteraction to production and proliferation of counterfeit medicines."
The preliminary budget for this work programme is €238.65 million for 2023 and 2024.