MEPs sign-off on most of the content of the proposed €13B EU defence fund, but the budget remains to be agreed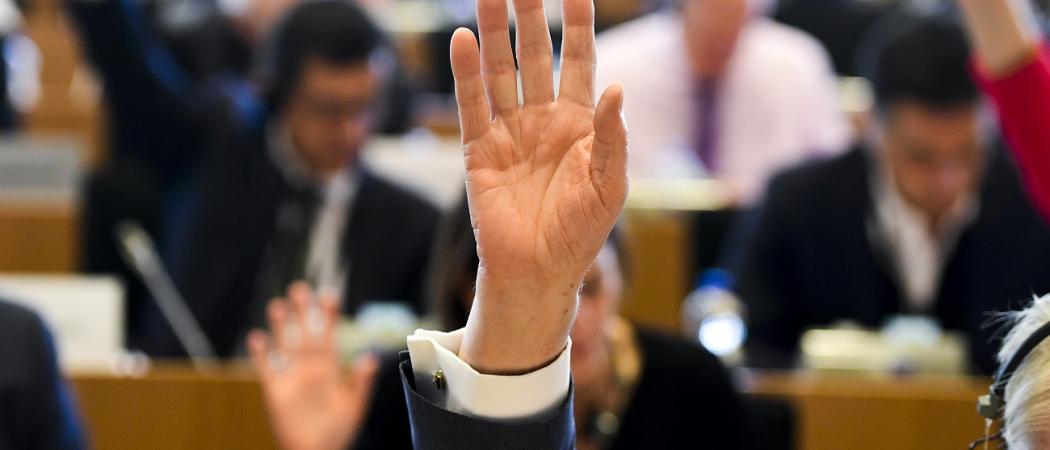 STRASBOURG – The European Parliament approved a deal with member states on the proposed defence R&D programme, in the final meeting of the Parliament's current term on Thursday (18 April).
While the deal covers most major elements of the European Defence Fund it does not confirm the budget. The Commission has proposed €13 billion, but the final figure will be agreed as part of negotiations later this year on the EU's overall budget for 2021-2027.
The European Defence Fund aims to strengthen Europe's defence industry and reduce duplication in defence spending by co-funding defence research with member states. According to the European Commission, a lack of defence cooperation costs between €25 billion - €100 billion per year.
The agreement allows the European Commission to begin the preparatory work necessary to implement the programme on time in 2021, but the defence fund cannot be conclusively adopted until there is an agreement on its proposed €13 billion budget.
No killer robots
The money is intended for collaborative defence research projects involving three or more member states, with the EU co-funding the research alongside national governments. The programme will also cover development of weapons prototypes, provided the member states involved in the project promise to buy the final product.
The programme will not fund development of lethal autonomous weapons – so called killer robots – where there is no human in control of decisions to use lethal force. It will also not pay for weapons systems prohibited by international law, such as land mines, or nuclear, chemical, and biological weapons.
MEPs unhappy with the programme tabled a slew of amendments that were rejected. Had they been adopted, negotiations with the Council and the Commission would have had to start again after the elections. Some MEPs had 'no-smoking'-style prohibition signs featuring images of military vehicles and weapons.
Complementing NATO
In a heated debate on 17 April, Parliament's rapporteur for the defence fund, Poland's Zdzisław Krasnodębski MEP, and internal market commissioner Elżbieta Bieńkowska, both stressed the aim is to complement NATO, not compete with it. Bieńkowska said the programme's purpose is "nothing more and nothing less" than defence industrial cooperation.
But Edward Martin, a French socialist, said restrictions on the types of weapons research the programme can fund are inadequate. "We can't just have a reference to international law, because international law is ambiguous," said Martin. As one case in point, white phosphorous is legal in some circumstances, but not others. "We need to list the types of weapons that we don't want Europe to be investing in," he said.
British MEP Jonathan Bullock, who recently left the UK Independence Party to join Nigel Farage's newly-formed Brexit Party, claimed, "The EU keeps evolving towards a totalitarian union, and eventually towards a military one."
Portuguese communist Joao Ferreira used similar language, saying, "We need to defeat this drift towards militarism in the European Union."
Earlier, Ferreira was criticised by German Green MEP Reinhard Bütikofer, for accusing the EU of militarism when no member of Ferreira's group in Parliament had participated in the discussions on the defence fund. "How dare you talk about militarism and criticise that without doing your homework first?" asked Bütikofer. In response, Ferreira said, "The German Greens have often been hand-in-hand with the people carrying out these military adventures."
Bütikofer said he would vote against the defence fund because it is "not fulfilling its promise" of reducing duplication costs. In an interview earlier in the day, he said, "I'm not saying no to common defence, I'm not saying no to defence procurement. I'm saying the rules that we proposed to avoid duplication, for instance, have not been adopted."
Painful times
The fund is not about "militarising Europe," but rather, "about supporting weapons research and development," Krasnodębski, a member of Poland's ruling right-wing Law and Justice Party said. "Both the left and right ideas are wrong, in terms of their objections."
The debate "shows a difference between countries that have been at peace for a long time, countries that have not been subject to an invasion" and those in central and eastern Europe that "remember these painful times very clearly," said Krasnodębski. "Our lives ultimately depend on defence in Europe," he told MEPs.
Outgoing French MEP Francoise Grossetête, of France's centre-right Les Républicains, agreed. Critics of the defence fund are, "pacifists who are trying to imperil the future of our industry and the safety of our citizens," she said.