The Czech capital has nurtured a strong space and earth observation industry, but start-ups there are yet to feel the benefits of Prague hosting two EU space data agencies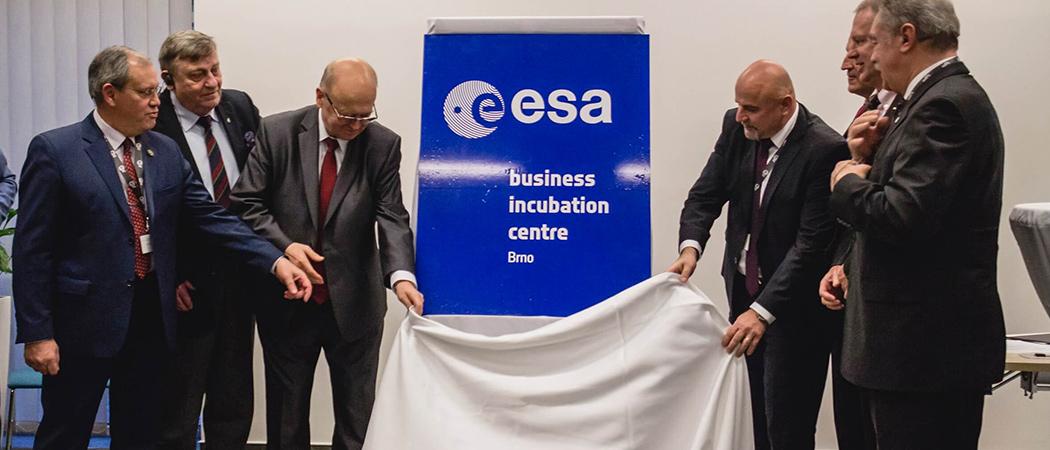 The Czech Republic has worked hard to position Prague as a centre for space innovation, and a start-up ecosystem has now taken root in the city. Support from the European Space Agency (ESA), which the country joined in 2008, has played a significant role in that development.
"At that time, we started to invest some money in space, especially in upstream activities," said Václav Kobera, director of space activities at the Czech Ministry of Transport. In this context, upstream means everything that happens in space, while downstream refers to the use of data sent back to earth.
"In the beginning, that investment was mainly in scientific activities. Some smaller companies already existed, then some others came along, or were attracted in from other fields, and we started to create a more robust ecosystem," Kobera said. That included appointing an ESA Technology Broker and setting up a European Space Education Resource office, to help get young people interested in space.
The key development came in 2016, when an ESA Business Incubation Centre (ESA BIC) was established in Prague, with the support of the city and CzechInvest, the national inward investment agency.
The centre in Prague is one of a network of ESA incubators across Europe, each embedded in a particular city or region, supporting entrepreneurs with new uses for space-based systems, or ideas for applying space technologies in other domains. Each of the centres provides two years of business incubation, including €50,000 for product and intellectual property development, connections to the broader ESA network, plus coaching, guidance and business support.
In 2018, saw the formation of second Czech ESA BIC in Brno. "Now we have some 39 start-ups in total that have come through the ESA BIC programme in the Czech Republic," Kobera said. This includes upstream start-ups building cube and pseudo satellites, downstream companies using earth observation data, and ones applying space technologies in other areas, for instance manufacturing bikes from carbon fibre materials developed for space applications.
Lift off
Before the ESA BIC in Prague was operational, Czech space start-ups tended to develop through international connections. Advacam is a good example, a 2013 spin-off from the Institute of Experimental and Applied Physics at the Czech Technical University (CTU) that also uses knowhow from the Medipix collaboration at CERN to build photon counting detectors and cameras for monitoring radiation in space.
"From the beginning we've collaborated with the University of Huston, which in a way is the academic hand of NASA," said Jan Sohar, co-founder and CEO of the company. His business experience, in industrial plastics, complemented the research background of Jan Jakubek from CTU, who became chief scientific officer.
"Early on, we were certified as a prime sub-contractor for NASA regarding this photon counting camera technology. Then we stared to be more active in the European ecosystem, and about five years ago we received our first funded project for ESA," Sohar said. Financially, this was enough to set Advacam on its feet. "Our company is still financed mainly from its revenue, and there is no external funding."
Advacam has also expanded abroad. An early partnership with researchers in Helsinki, with a complementary start-up working on chip technology, led to a merger. In all, Advacam currently has 37 employees in Prague and 15 in Helsinki.
Meanwhile, it has added to the Prague ecosystem with two spin-offs adapting its core technology for other applications. Radalytica produces robotic imaging systems for non-destructive testing, for example in the aerospace industry, and InsightART provides X-ray imaging services for art authentication and restoration. A third spin-off, Advascope, is developing detectors for electron microscopy in Brno, joining a cluster of electron microscope manufacturers in the city.
French connection
ECOTEN Urban Comfort began life in energy auditing and green building but moved into space when a customer asked co-founder Jiří Tencar about assessing the impact of brownfield sites on the urban environment. The search for an answer led him to a research team in Nantes that had developed a simulation tool for urban heat islands.
An agreement to commercialise this research tool followed, and two people involved with the Nantes research came to Prague to co-found the new start-up. One of them, Sagnik Bhattacharjee, had the idea of adding satellite data. "Microclimate simulation works on a neighbourhood scale, but in order to identify these neighbourhoods we need a much bigger picture at the city scale. Satellite imagery is perfect for that," he said.
Bhattacharjee also realised that cross-referencing satellite temperature measurements with social and demographic data would make it possible to produce an urban heat vulnerability map, showing areas where hot spots in a city coincide with at-risk social groups. Vienna commissioned a map from the company after hearing about the method in a climate hackathon. Prague and Las Vegas followed, the latter through American partner Fontis Technologies.
Having developed a product for city governments, the company has now joined the ESA BIC in Prague to develop an application programming interface (API) that can provide tailor made data on heat vulnerability to other services. "The ESA BIC is providing funding for the development of this API, consultation on business development, and technical support," said Bhattacharjee, who is now the company's chief technology officer.
Drone tracking
The ESA BIC was involved at an even earlier stage with Dronetag, which has developed a remote identification device for drones using satellite positioning data. This idea came from a group of CTU students who entered a space application hackathon organised by the ESA BIC in 2018.
Lukáš Brchl, co-founder and now chief executive of Dronetag, an experienced drone pilot, saw a gap in the available technology and potential for a system to pinpoint drones flying in cities, and around airports and industrial installations. He also anticipated regulations that would require drone pilots and manufacturers to make their craft identifiable.
The students won second prize at the hackathon but were not in a position to take their idea any further. "We had no finance, no experience, no team - basically nothing," Brchl said. So the staff at the ESA BIC helped them set up a company while they ran the idea past some drone companies in the Czech Republic and beyond. The interest shown was enough to get them into the incubator.
The university also proved supportive. "CTU really helped us in the beginning with facilities, with the loan of a professional drone that we could use for testing, and to photograph for marketing purposes," Brchl said. "They also promoted us in the media, which raised our profile among CTU students and made hiring easier."
With hardware to develop and build, money was tight from the start. Then the team won the Galileo masters EU-sponsored competition for projects using satellite navigation data. This gave Dronetag a further €62,000 to add to the €50,000 from the ESA BIC. "In the Czech Republic, this is enough to build a prototype," Brchl said.
The next struggle was to find a local contract manufacturer. Eventually Dronetag partnered with Y Soft in Brno, whose investment arm Y Soft Ventures added a further €600,000. That will support the company for the next couple of years, after which a substantial new investment will be required. Achieving that from Prague should not be a problem, Brchl thinks. "We are speaking with investors in the US, from Malaysia and Japan, so our geographic position really doesn't make a difference for now."
Pros and cons of Prague
Access to finance is one of the areas where Prague currently falls short. "The venture capital ecosystem here is not so well developed for technological projects," said Sohar. "Investors have a lower level of knowledge when it comes to technology and are maybe more focused on short-term returns on investment."
On the plus side, talent is affordable and abundant, and if the exact skills are not available locally, it is not too hard to persuade people to move. "Prague is located in the very centre of Europe, so it is convenient and the cost of living is less compared to other parts of Europe," Bhattacharjee said.
The city could reasonably expect to benefit from hosting space-related EU agencies, being home to the European Global Navigation Satellite System (GNSS) Agency since 2012, and the EU Agency for the Space Programme (EUSPA) since 2021. However, there is little experience or expectation of cross fertilisation among start-ups in the city.
Only Lukáš Brchl of Dronetag has a positive story to tell. Contacts with GNSS gave his company an inside track on the Galileo high accuracy service, before details were widely available. "So we have been able to plan development in order to use this technology," he said.
For Kobera, who is also chair of the EUSPA administrative board, the important impact is on the city's reputation. "The agency is growing, and it is growing in Prague," he said. "That attracts attention, it attracts companies to come to the Czech Republic to cooperate here, and it attracts young people to work here in space."
Innovation beyond space
Based on the example of the ESA BICs, the plan is to open incubators across the Czech Republic in other fields, such as artificial intelligence, the circular economy, and mobility. These are likely to be less rigidly connected than the ESA BICs to one municipality or region.
"We know that there is an appetite in other cities, like Ostrava, Plzeň, and Liberec, but we are considering a new approach, where the incubator has a virtual seat in each place," said Kobera. "We would like each hub to have an open door. Then, if we select a company that is outside of the municipality or the region, we can still fund it and bring it on board."
These new incubators or hubs will also draw on the momentum generated in the space ecosystem. "We would be very happy if a start-up with ideas linked to space was incubated in the AI hub. That would broaden the portfolio of space companies and show that space is not something that is isolated, but linked to other sectors that are among our priorities."
Elsewhere in the Ecosystem…
The European Commission has revealed the 37 members of its European Network of Innovative Higher Education Institutions, a forum to discuss how higher education can promote an innovation culture. In particular, the network will inform innovation aspects of the European Strategy for Universities and the talent pillar of the European Innovation Agenda. Membership, nominated by EU states and the Commission, is skewed away from the research elite, in favour of technical universities.
Blickfeld, a spin-out from the Technical University of Munich, is to receive €15 million in financing from the European Investment Bank (EIB). Established in 2017, the company makes hardware and software for smart LiDAR sensors. The money will accelerate development of its system for autonomous driving and industrial applications, and support expansion in the US and China.
The Commission last week approved a €5.4 billion state aid project to support research, innovation and first industrial deployment of hydrogen technologies across the EU. The IPCEI Hy2Tech is backed by 15 EU states, and is expected to unlock an additional €8.8 billion in private investments. Among the 35 companies involved in 41 projects are SMEs and start-ups such as H2B2 in Spain, Elcogen in Estonia, Nedstack in the Netherlands, and McPhy in France.