Germany's foremost basic research organisation has switched from sector-specific business incubators to a broader programme that will keep innovators in its institutes, while supporting a broader range of spin out companies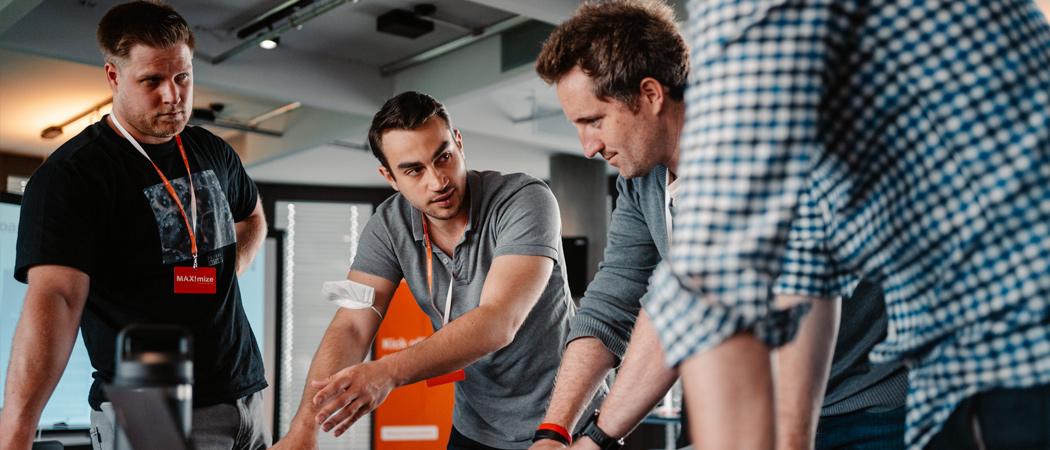 The Max Planck Society has set up a new incubator programme to support a broader range of start-ups emerging from the basic research taking place in its institutes across Germany. This follows a decision to discontinue two of the three sector-specific start-up incubators that it launched between 2009 and 2015.
The change in approach reflects a desire to support translation of a wider range of the research taking place in 86 Max Planck institutes and other facilities. While the basic research they carry out is clearly not going to generate as many start-ups as applied research institutions, notably the industry-focussed Fraunhofer Institutes, the feeling is that more could be achieved.
"We want to provide an offering for a larger group of individuals, both to create more start-ups and have more impact through those start-ups, but also to provide our scientists with an alternative career path," said Ulrich Mahr, a manager at Max Planck Innovation, the society's technology transfer arm.
Previously, Max Planck start-ups tended to be formed around distinct portfolios of patents in specific sectors, with leadership coming from institute directors. From 2009 onwards incubators were set up in three strategic areas: life sciences in Bonn; photonics in Göttingen; and IT in Saarbrücken.
The new approach involves letting ideas lead the way, in whatever sector, and engaging with a wider range of researchers. "That means younger scientists, who are not yet so established in science, such as research group leaders, post-docs and PhD students." Mahr said. "For them, we wanted to have a programmatic addition to the start-up support we were already offering on an individual basis."
While the new MAX!mize incubator programme offers financial support at various points on the route to commercialisation, the amounts involved and the overall budget have not been made public. The first round is currently under way, and Max Planck scientists have until 4 December to apply for the second round, to be awarded in 2023.
Validating the science
MAX!mize begins with a three-day bootcamp to stress-test the underlying idea in a very quick and intensive manner. "The researchers get a lot of input from experts we invite in, and they then consolidate that into a pitch, which forms the basis for a jury decision on the teams that we take up in the programme," said Mahr.
When the programme launched in May, 20 teams applied and 13 were selected for the bootcamp. Of these, 11 went through to the first phase, which lasts a maximum of six months. "Phase one is there to validate the opportunity, to have a deeper dive into what is needed for the idea to form the solid basis for a spin-off," Mahr said.
Attention is paid to the business opportunity, the team members needed to take it forward, and where there might be gaps and a need for further product development. There are workshops on topics including prototyping, market research, customer interviews and defining what problem a product will address. Checks are also made for any intellectual property issues that may arise.
Researchers get funding to take this work forward in parallel with their regular responsibilities within their institutes. "They get the liberty and time to focus on the project, but they certainly would not do this exclusively," Mahr said. "And part of the process is to continue working on the scientific side of the project."
At the end of phase one, each project goes before a jury to see if it can progress to phase two. Compared to transition from the bootcamp to phase one, the bar is set rather high. "We assume that not all of the teams will have been able, within a relatively short timeframe, to get where they need to be to actually prepare a start-up," said Mahr.
The second phase has two tracks. Teams with a technology that requires little further R&D before it is ready for the market can bid for internal funding to complete this work. "Hopefully, within approximately one and a half years, they will be able to establish a start-up," Mahr said. At that point, companies will be ready to look for private investment.
Teams with significant amounts of R&D or prototyping still to do will be supported to bid for external funding to do this, for example through the federal government's Exist Transfer of Research programme. "These teams will be offered bridging funding, so that they have the opportunity to apply and see if they are successful, and not simply drop out," Mahr said.
While the teams will prepare the bids for further funding, these will be submitted through their home institutes, so that the work can continue uninterrupted. "That is very important for us. We don't want them to be forced to seek outside opportunities in order to continue what they are doing, and then drop out because they can't find the right partner," said Mahr. This also gives them access to institute facilities, rather than having to find them elsewhere, or build their own from scratch.
Immersive experience
The first cohort to enter MAX!mize is working on products including a battery that can be built into clothing to power wearable devices, a system for optical lens optimisation and a method for colour laser marking. On the digital side, there are projects to create more realistic gaming avatars and a digital conference tool. In the life sciences are methods for culturing cells in 3D, for minimally invasive surgery and for applying mass spectrometry to drug discovery and analytics.
One of the most advanced teams is developing a surgery simulator based on research carried out at the Max Planck Institute for intelligent systems in Stuttgart. "We want to be the first company from the MAX!mize programme to start as a real company, in January or February next year," said Philipp Schmidt, who will be managing director of the start-up, Lifelike Surgical, alongside Dandan Lee as chief technology officer.
The underlying research goes back seven years, when urologist Arkadiusz Miernik from the University of Freiburg approached the Max Planck institute with the idea of developing a simulator so that surgeons would not have to learn by operating on patients. The main challenge was to develop a material that would mimic the feel and behaviour of tissues inside the human body.
The resulting hydrogels have been built into a physical model of the urethra that includes the penis, bladder, prostate and kidneys. This is combined with an augmented reality system to give an immersive training experience. Both the fabrication method and the assessment system that gives feedback on a trainee surgeon's performance are covered by patents.
When the researchers took their prototype to a congress at the end of 2021, the response was so positive they decided to set up a company. "At the research institute we can only build prototypes, not products, and the demand is huge," said Schmidt. Since then, requests have started coming in for surgery simulators for other organs, such as the heart and brain.
The team considered applying to the Exist programme for funding, but MAX!mize was closer to home and promised to be quicker. The only significant difference is that Exist funding would have supported the launch of the company, whereas MAX!mize money can only be used for further R&D. "But we have many connections to potential customers and a lot of contracts already, so we think we can start the company without any more [public] funding," Schmidt said.
In return for its support, the Max Planck Society takes some shares, and retains ownership of the patents, along with responsibility for defending them, if necessary. "That is good for us," Schmidt said. "We have so much to do as a start-up, and we can't think about everything, so it's good that the Max Planck takes that off our shoulders."
The MAX!mize experience has been positive so far, with the programme mainly helping the team develop its business skills. "The MAX!mize team did a good job finding tutors with start-up experience, so very much to the point. There were no dry lectures, everything was useful," said Schmidt. Max Planck Innovation was also able to help with practicalities, such as finding lab space for the new company, which has to leave the institute once it becomes commercial.
Closing sector-specific incubators
While the sector-specific Max Planck incubators have produced some successful start-ups, they are not all fit for the future. "With the IT incubator, we have achieved critical mass locally through the collaboration with Saarland University, but that is not the case for the others," Mahr said. However, the photonics incubator has already ceased operations, and the life science incubator stops taking in new start-ups in 2023. "There are still companies that have come out of them, which are developing nicely, but we will not be taking up new projects," said Mahr, who oversaw the launch of the life sciences incubator.
This decision reflects the increasing maturity of Germany's support system for start-ups over the past decade. "When we set up the incubators, there was much less opportunity to get outside funding that was both sufficient and specific enough for the needs of a start-up," said Mahr. "But over time, the funding levels have risen very significantly, and we have the opportunity now to focus our efforts on what we can provide beyond funding."
This also means that Max Planck can avoid having to pick and choose the sectors for which it provides infrastructure, which would limit the range of start-ups it could support. "If we can keep the teams in their institutes, most of the infrastructure will be there, and just a few additions need to be made," Mahr said. Meanwhile, Max Planck Innovation can focus on issues such as team development and other challenges of forming a start-up.
Even if teams do not stay the course, or a start-up does not emerge for other reasons, the process is still seen as beneficial. "Our goal is to equip individuals with a certain mindset and tools that are applicable to situations that they may run into in the future, and that could be quite valuable to them," Mahr said. "So we think that this programme will also have a significant impact from a cultural perspective within the institutes, and even beyond, if the people involved go on to industry or build something else later."
Elsewhere in the Ecosystem…
Hadean, a London-based start-up developing infrastructure technology for metaverse applications, has raised $30 million in a series A round lead by Molten Ventures. The technology, an open platform for distributed cloud computing, is used to host virtual worlds for immersive entertainment and digital twins, and provides tools for metaverse project building.
Start-ups Solar Foods, P2X Solutions and Everfuel are among the companies selected for Hy2Use, the second round of coordinated EU state aid for hydrogen energy infrastructure. Participating EU states will provide up to €5.2 billion in public funding for 35 projects involving research and innovation, first industrial deployment, and construction of hydrogen energy infrastructure. Solar Foods, a spin-off from VTT Technical Research Centre of Finland and Lappeenranta University of Technology, will get support for a hydrogen fermentation factory, which is being developed to grow protein for use in food. P2X Solutions, also from Finland, is building 70 megawatts of green hydrogen production capacity, combined with a methanation plant to produce renewable synthetic methane. And Everfuel from Denmark is leading a project to produce green hydrogen to decarbonise an adjacent refinery and other industrial processes.
Imperial College London has set up an Institute for Deep Tech Entrepreneurship, which will develop evidence-based best practice for policy makers and entrepreneurs who want to commercialise deep-tech innovations at universities. It will study Imperial start-ups from their earliest, pre-commercial stages, following through to assess the effectiveness of any support they receive. It also hopes to raise £50 million in philanthropic support over the next 10 years to support the commercialisation of Imperial College research.