In the name of competition, the European Commission wants to stop the US DNA sequencing company from buying a US leader in applying DNA sequencing to novel cancer diagnostics. The view from the ground in Europe is that it may not matter so much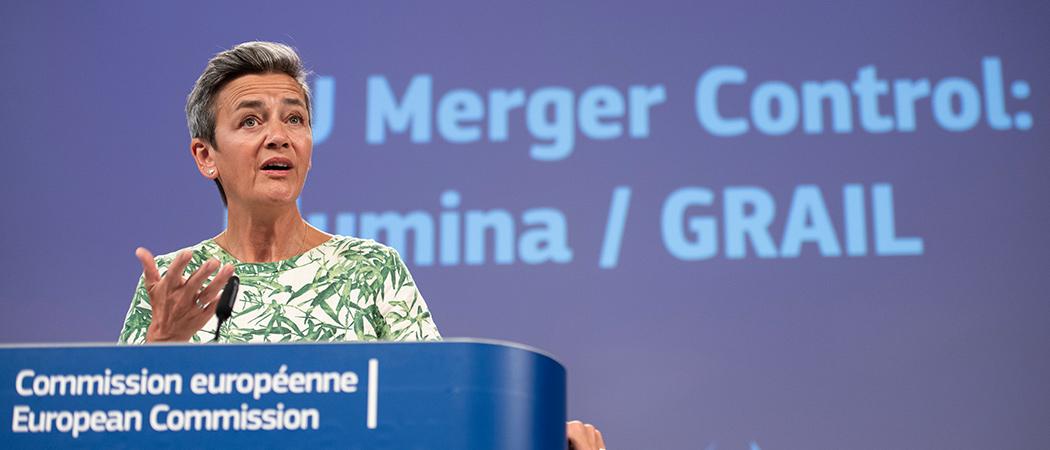 The European Commission this month vetoed a deal in which the leading DNA sequencing company Illumina acquired DNA-based cancer diagnostics specialist Grail, saying the ban is needed to leave the market open for competitor products that are in development.
The view from the ground is that the acquisition – which is technically speaking complete, but could be reversed – is indeed anti-competitive, but that its effect will not be dramatic.
"If you ask the question at the ethical level, the effect of the deal on competition would be negative, but in practice there is very little competition," said Marco Alessandro Pierotti, director of R&D and head of the Cancer Genetic Test Laboratory at Cogentech, a company with links to the Institute of Molecular Oncology (IFOM) in Milan.
One reason is that there are other barriers to developing diagnostics like Grail's Galleri test, which aims to detect the DNA signature of cancer in healthy, asymptomatic individuals.
"That involves a huge amount of investment, not only in money but also in effort to find an opportunity to do these kinds of experiments on healthy people, where there are concerns about the psychological impact of looking for cancers," Pierotti said. "That is very complex, and I don't see that blocking this deal, or not, really affects competition."
There is also a question mark over the usefulness of this kind of test. "The Grail system has the technical capability of detecting cancer at a low level, so early cancer, but what the healthcare system does with that information is another question," said Tim Moser, a business developer at the Netherlands Cancer Institute.
Yet the Commission is convinced, saying that its investigation heard from a large number of customers and competitors, experts in cancer testing, and national authorities. It is also vigorously defending its right to intervene in the deal, which was not notified in any EU state and did not meet the turnover thresholds of the EU Merger Regulation.
Grail's competitive significance, the Commission argues, is not reflected in its turnover, noting other pre-revenue start-ups have gone on to dominate markets.
Shared signals
The relationship between Grail and Illumina is a complicated one. Illumina was set up in the US in 1998, and through its own development work and a series of acquisitions in the US and UK has become the dominant presence in rapid, high-throughput DNA sequencing. Headquartered in San Diego, it now has offices world-wide.
In 2015, the company spun-off Grail with a mission to develop a diagnostic for detecting cancer before symptoms develop, using Illumina's DNA sequencing machines. The resultant test, called Galleri, sequences cell-free DNA that cancers shed into the blood stream, to look for methylation patterns common to a wide range of cancers.
Studies carried out by Grail have shown Galleri can pick up a shared signal from more than 50 types of cancer, far more than are routinely screened for at present.
Galleri does not yet have regulatory approval in either the US or Europe, but the most recent trial results presented by the company at the European Society of Medical Oncology meeting earlier in September, showed it is detecting cancer in around 1% of healthy participants, including cancers for which there is no population level screening. Accuracy is cited at 97%.
Having spun it out in 2015, in 2020 Illumina announced it was to re-acquire Grail. The following year, the US Federal Trade Commission (FTC) moved to block the deal as anti-competitive, and the European Commission launched an investigation on its implications for the EU market.
This should have put the acquisition on hold, but Illumina pushed ahead and completed the deal in August 2021. Both regulators protested, and ordered the companies to be kept separate pending resolution of legal proceedings.
This month an administrative law judge in the US ruled against the FTC challenge, but the FTC has decided to appeal against that ruling. Meanwhile, the Commission published the results of its own investigation, concluding that joining the two companies would stifle innovation and reduce choice in the emerging market for blood-based early cancer detection tests.
"Illumina is currently the only credible supplier of a technology allowing [companies] to develop and process these tests," said competition commissioner Margrethe Vestager. "With this transaction, Illumina would have an incentive to cut off Grail's rivals from accessing its technology, or otherwise disadvantage them. It is vital to preserve competition between early cancer detection test developers at this critical stage of development. As Illumina did not put forward remedies that would have solved our concerns, we prohibited the merger."
Illumina reacted by saying that it will appeal the decision. "Illumina can make Grail's life-saving multi-cancer early detection test more available, more affordable, and more accessible, saving lives and lowering healthcare costs," said Charles Dadswell, the company's general counsel. "As we continue to believe, this merger is pro-competitive and will accelerate innovation."
The company is also contesting the Commission's ability to challenge the Grail deal in the first place.
Chilling the market
For those working in this area, it is easy to see how Grail being owned by Illumina could affect other companies hoping to compete. "The scale of investment needed to bring such a test to the market is very high, because of the sheer number of subjects required and the scale of logistics in such a study," Moser said. "If there is already a competitor who has a dominant position, then it is obviously more difficult to get that kind of funding, even if the technology looks similar or even possibly better. So, it has a chilling effect on the investment climate."
Yet it is also possible this is a storm in a teacup, a struggle for a market in which few will want to compete. "It's hard to say how much competition Grail has," Moser said. "We won't really know until five years from now, when we see what the uptake is, because there is not an obviously clinical utility for this test."
First of all, Grail has not yet won regulatory approval for its test. And second, the health system needs to figure out how to handle any positive Grail test results that come its way. "Grail is betting on novel information creating its own value, but the impact of such information may need to be dealt with in a highly regimented, regulated, and cost-contained environment," said Moser.
Some of these questions are being worked out in Galleri trials, with people flagged as having early cancers in the recent US trial sent on for further diagnostic examinations.
Another trial in the UK is assessing how Galleri performs alongside existing population level cancer screening and diagnostic follow-up in the National Health Service. The primary endpoint of the study, which has completed recruitment 140,000 healthy volunteers, is a reduction in late stage cancer diagnoses in the intervention arm compared to the control arm.
Beyond the specifics of the Illumina-Grail deal, the Commission decision is also seen as significant for its reading of the technology. In the past, putting a diagnostic test on the market involved selling a reagent or a piece of technology with a proprietary element.
"But increasingly the kit just consists of a blood collection tube, and the blood is sent for sequencing, most often on the Illumina platform. The product is basically the service of analysing the sequencing results and the patient's mutation status," Moser said. "The EU has taken a position that, if you cannot decouple the machine from the sequencing reagents from the service that is used to interpret the results, then that is by its nature anti-competitive."
For Pierotti, the problem is less the merger of the two companies, than the hold they already have in their respective domains. "There are two sorts of monopoly here: one is the instrument from Illumina, and the other is the technology developed by Grail," he said. "Perhaps the intervention could not be at the level of blocking the merger, but putting in clear rules about the price of this kind of test, in a similar way to the price of the COVID vaccine."
Meanwhile, the best way to compete would be to innovate, rather than to imitate. "Maybe academia could also be competitive in looking for different features of tumours that can be picked up in blood, and generate a range of completely different tests," Pierotti said.
A tougher climate for diagnostics
While the Illumina-Grail deal represents a complication for companies developing a specific kind of early cancer test, there are broader barriers that affect anyone developing medical diagnostics. "What is increasingly slowing the pace are things like data privacy, how data can be used, whether patients opt in and allow their data to be used," Moser said.
Measures are in hand to address these problems, such as regulations on data interoperability and patient consent, but the impact of these has yet to be felt. "It takes a lot longer, and more effort and money, to run studies in this highly regulated market than in markets with a lower burden."
Then there is the EU In Vitro Diagnostics Regulation, which is currently being phased in across the region. This places higher demands on new products, and makes life much harder for hospitals that want to develop and use their own diagnostics. "The rules are starting to get much tighter about how diagnostics can be offered, which raises the bar in terms of the regulatory requirements, and the time and cost needed to get something that satisfies those demands," Moser said.
This complicates things for any company developing a new test. "It takes a long time for the dust to settle, and that hasn't happened yet for diagnostics. A company can be developing something that it thought was in one category, and had a certain regulatory trajectory to get to an approval stage, and that may have changed in the past couple of years," said Moser.
Ironically, it is the big companies that may benefit. Cogentech, for example, draws on research from IFOM to build gene panels as the basis of diagnostics that look for cancer-associated mutations across many different genes.
"We are creating a new gene panel with information that comes form our own research campus, and the current regulations allow us to validate the gene panel internally," Pierotti said. "With the new legislation, the cost and the complexity of the certification will push us not to do that, and go instead to big companies such as Illumina, Thermo Fisher and so on, and then they become the owners of the gene panel."
The shift in the balance of power is clear. "We have developed our own gene panels, and registered them as a trade mark, but apparently in a few years this will no longer be possible," Pierotti said. "In my opinion, this is a much more harmful issue than the agreement between Illumina and Grail."
Elsewhere in the Ecosystem…
A pivot towards deep tech is about to happen within the European Institute of Innovation and Technology (EIT) HEI Initiative, which supports innovation capacity building in higher education. A third call for proposals, due in November, will have "a very strong focus on nurturing talent and learners in the deep tech sector," said Marian Belko, head of the EIT's entrepreneurship education section, at an EIT event last week. The move aligns the HEI initiative with the EU Innovation Agenda. 
British quantum photonics start-up Aegiq, a 2019 spin-off from Sheffield University, is developing a field-deployable quantum light source in partnership with the Fraunhofer Centre for Applied Photonics (CAP) at the University of Strathclyde. The system will underpin scalable applications in quantum computing and quantum communications, and is part of a £500,000 project supported by Innovate UK. Fraunhofer CAP is the first, and so far the only centre set up in the UK by Germany's Fraunhofer Society.
Belgian growth equity fund Junction has closed its new energy fund at €75 million, including a €30 million contribution from the European Investment Fund. It will focus on companies developing energy transition solutions, particularly technologies that enable clean energy production, and energy efficiency technologies for the building and renovation industries. The main target will be the Benelux and Germany, but the fund remains open to opportunities in other countries.