Victor Dzau, President of US Academy of Medicine, calls on governments to establish a global health threats council, and says pharmaceutical companies should temporarily waive COVID-19 vaccine patents.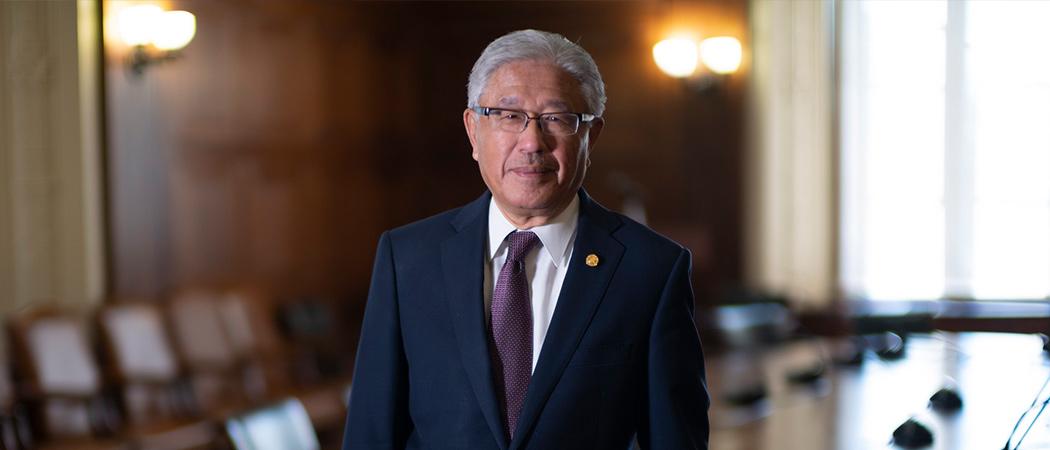 The COVID-19 crisis has shown the world needs to revamp the linear model of R&D, come up with new clinical trials designs and shorten the road from discovery to manufacturing, said Victor Dzau, president of the US national academy of medicine.
"The global R&D system is highly fragmented, with only a few countries that can support, end to end R&D from basic research, all the way to procurement," Dzau told a Science|Business conference on Wednesday.
While North America, Europe and certain parts of Asia have the funding and the infrastructure needed to develop, manufacture and distribute vaccines, the rest of the world is lagging behind. Dzau said governments should come together and establish a Global Health Threats Council, which would serve as an international system for pandemic preparedness and response.
This echoes a proposal by an independent panel set up by the World Health Organisation (WHO) to put together an impartial evaluation of global response during the COVID-19 pandemic. The panel concluded countries should back the establishment of a new health threats council through the United Nations, to improve response to future pandemics. 
Dzau and a team of researchers recently interviewed 16 world leaders of R&D and found out that most believe global research is fragmented, poorly coordinated, under-resourced and lacks the capacity to manufacture and distribute devices, drugs and vaccines needed during a health crisis, to all countries.  
Part of the problem is that the traditional linear model of R&D, from discovery and development, to application and on to manufacturing is "too slow" and needs to change. "We need to create through innovation, new ways of designing clinical trials, to make things faster," Dzau said. "You really have to permit multiple steps to proceed in parallel."
For example, companies and governments could agree to start manufacturing drugs and vaccines at risk, once they enter phase III clinical trials. "If you wait to get the results from phase III, and approval and [then] start manufacturing, it will be too late," said Dzau.
The rapid development of COVID-19 vaccines, with global rollout starting in December 2020, less than 12 months after the SARS-COV-2 virus was sequenced, is looked at as a major achievement, given vaccines usually take many years to develop.
Despite the success, Dzau said the delivery of COVID-19 vaccines could have happened faster if there had been better coordination of clinical trials and more incentives for collaboration. The vaccines were also approved at different times in different countries, by different drug agencies, under different regulations.
A key problem is that only a few countries had the infrastructure required to manufacture COVID-19 vaccines, which left poorer regions dependent on deliveries from richer parts of the world. "We have to find ways to expand manufacturing," said Dzau.
More global cooperation
Before the COVID-19 pandemic started in early 2020 countries had given little thought to agreeing a global strategy for preparedness, and a global entity with a mandate to finance and coordinate multiple actors did not exist. "I think we've seen a collective failure of the world to take pandemic prevention, preparedness and response seriously," Dzau said.
However, the crisis spurred "unprecedented" collaboration between countries and organisations, said Dzau, which could be clouded by a race between rich countries to purchase as many doses as they can and by pharmaceutical companies' refusal to temporarily waive vaccine patents.
"Competition between countries can be good, but in the times of COVID-19, competition can be bad," Dzau said.
About six billion doses of COVID-19 vaccines have been administered globally, 80% of which went to high and upper middle-income countries. Only 0.3% of the available doses have gone to low income countries.
To raise vaccination rates in poorer countries, Dzau said, governments and pharmaceutical companies need to agree on a temporary waiver of intellectual property (IP) protection. Rich countries should allow drug companies to make generic versions of COVID-19 vaccines for distribution in developing countries. "IP is absolutely important, but during this time of crisis, we can relax it for a short period of time," he said
Lars Fogh Iversen, senior vice president for global research technologies at Novo Nordisk said pharmaceutical companies are already changing their operations and shifting to decentralised clinical trials. However, he said patents enabled the development of vaccines in record time. "Without a global patent system, then we would have not accelerated these inventions as we have seen over the past 18 months," said Iversen.
A number of the main COVID-19 vaccines are based on mRNA, a field of biotechnology research that started to develop more than 30 years ago. The knowledge accumulated over this period had already been patented and licensed from one university to another, and then on to companies. "That's exactly how the global IP system is supposed to work in that instance," said Marion Dietterich, director for global challenges at the World Intellectual Property Organisation (WIPO).