Research in the Arctic is really important for shaping climate policy, but much of its landmass is within Russia. There were already difficulties working in Russia and getting data from Russia. Now the war in Ukraine has made the situation much worse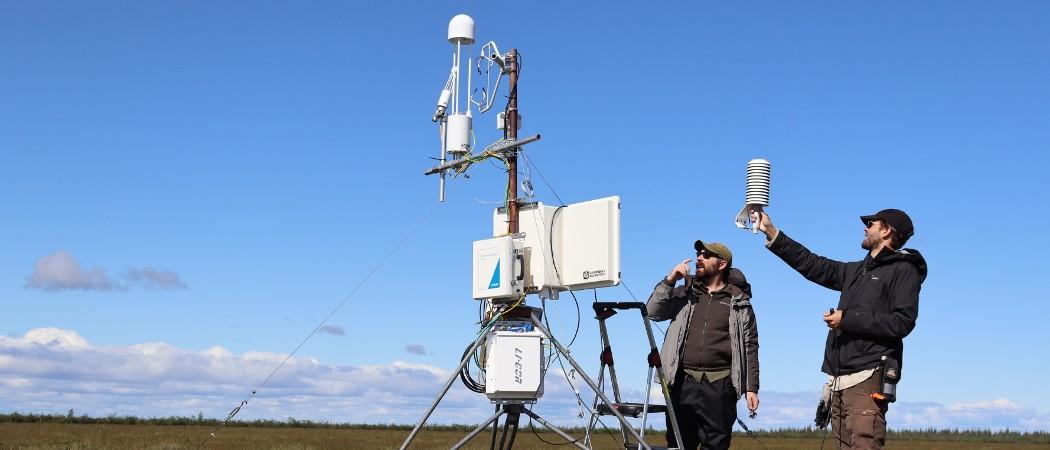 Arctic scientists are scrambling to modify projects that had involved Russian researchers as the war in Ukraine wears on, leaving questions about whether a data gap from such a key partner might be harmful to the ongoing body of scientific knowledge in the region.
A large percentage of the Arctic landmass lies within Russia's borders, including more than half of the coastline of the Arctic Ocean. This Russian territory is home to nearly half of the Arctic's population and Russia currently chairs the Arctic Council, which promotes cooperation among a group of eight Arctic nations.
Despite Russia holding the chair until 2023, in March the seven other members, Canada, Denmark, Finland, Iceland, Norway, Sweden, and the US paused their participation in the council. In June, the seven decided to resume Arctic Council work, except in projects involving Russia's participation. But doing research without a key colleague is uncomfortable and sensitive.
"Our Arctic research in general has continued, but without Russian scientists," said Christine Barnard, executive director of ArcticNet, the world's largest Arctic research network, which is based at the University of Laval in Quebec. "There's great discomfort in speaking against Russian science and Russian scientists because it's not against them personally, it's against the actions of their country."
Marisol Maddox, senior Arctic analyst at the Polar Institute of the Woodrow Wilson International Center for Scholars in Washington, D.C., said it is concerning to see how, across the board, a lot of different types of scientific research have been impacted. One example is monitoring the Chukchi Sea sub-population of polar bears in Russia.
"The researchers who monitor that population are Canadian and American, but they need to have access to Russia to be able to do their research and that's no longer possible," she said.
Gas exchange in permafrost
Some researchers have found a way to keep some degree of Russian participation. Brendan Rogers, associate scientist at the Woodwell Climate Research Center in Woods Hole, Massachusetts, is working on a project with a $40 million grant to set up a network of micrometeorological towers across the Arctic to monitor greenhouse gas exchange in permafrost systems.
The project started in April, just after Russia invaded Ukraine. The original idea was to put up towers in Canada and Russia, but Rogers had to change course immediately.
"We had plans in place right up until the invasion happened to be working with Russian colleagues and sending them instrumentation," Rogers said. "We had to put that on hold. We just focused all of our efforts in Canada."
European collaborators at the Max Planck Institute in Germany, who had a different project with similar goals, also moved to Canada, he said.
"Collaboration with the Russian colleagues involved in the original research plan is not possible at this time," said Mathias Göckede, a researcher in the Max Planck Institute for Biogeochemistry in Jena.
For other ongoing activities with planned field work in Russia, Göckede's team had to go back to the drawing board and redesign field campaigns in different places outside Russia. That involved several projects by PhD students, who had to revise their research plans, he said.
Russian research also is struggling. Göckede said he knows of several research stations in Russia that are having trouble keeping instruments operating, including some that Max Planck set up on its own, or with Russian collaborators in Siberia.
"Our Russian colleagues do their best in keeping instruments running, but without maintenance support from our side, and no options for sending spare parts, there are limits," he said. "They are also not allowed to exchange data with partners outside of Russia currently. I cannot tell how many sites are affected at this time, but depending on the duration of the current situation, there may be substantial losses in operational observational infrastructure within Russia."
Göckede said a lot of field campaigns from partners outside Russia planned for 2022 and beyond have had to be cancelled, resulting in more gaps in data coverage.
Rogers also worries about data gaps. His team is making some headway installing monitoring towers in Canada, with help in where to locate them from Russian scientists on its international steering committee, but he worries about keeping scientific efforts in the Arctic going and gathering historical data.
"My colleagues and I very much believe that what we're doing in terms of the science and the Arctic is really important for climate policy," he said. "And you just can't get around the fact that half or more of the Arctic permafrost region is in Russia. There already were some challenges in terms of working in Russia and getting data from Russia. The war situation has just made it much worse."