---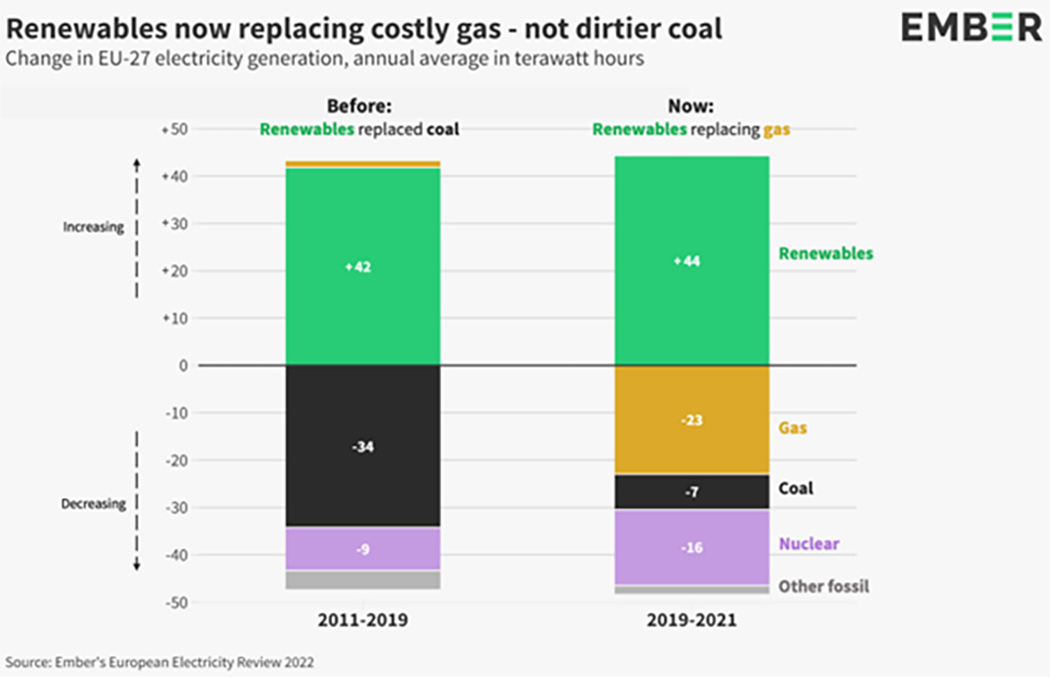 Growing demand and soaring prices for gas are threatening EU's climate targets because solar power is now being substituted for gas and not coal, according to the latest edition of the European Electricity Review, an annual report published by the environmental think tank Ember.
Until now, renewable energy coming on stream in Europe has been used to replace coal power, but due to soaring gas prices in the second half of 2021, new renewables have replaced fossil gas instead, slowing down the EU's coal phase-out.
The report says Europe's renewable electricity continues to grow every year by an average 44 TWh. Since 2019, half of the newly produced renewables have replaced gas power, and a third replaced nuclear, while only a sixth replaced coal. This is in contrast to 2011 - 2019, when over 80% of new renewables was used to replace coal.
Over the past two years, coal power production declined in countries that closed coal power stations like Spain and Greece.
According to the report, the shift from fossil fuels to clean power is not happening fast enough. Fossil fuels still account for 37% of EU electricity production in 2021, down from 39% in 2019, while renewables generated 37% and nuclear 26%.
"The gas crisis is a paradigm shift for the EU's electricity transition. Action is needed to ensure Europe's coal phase-out stays on track," said Charles Moore, author of the report.
This week, the European Commission added natural gas and nuclear energy to its list of "green investments."