---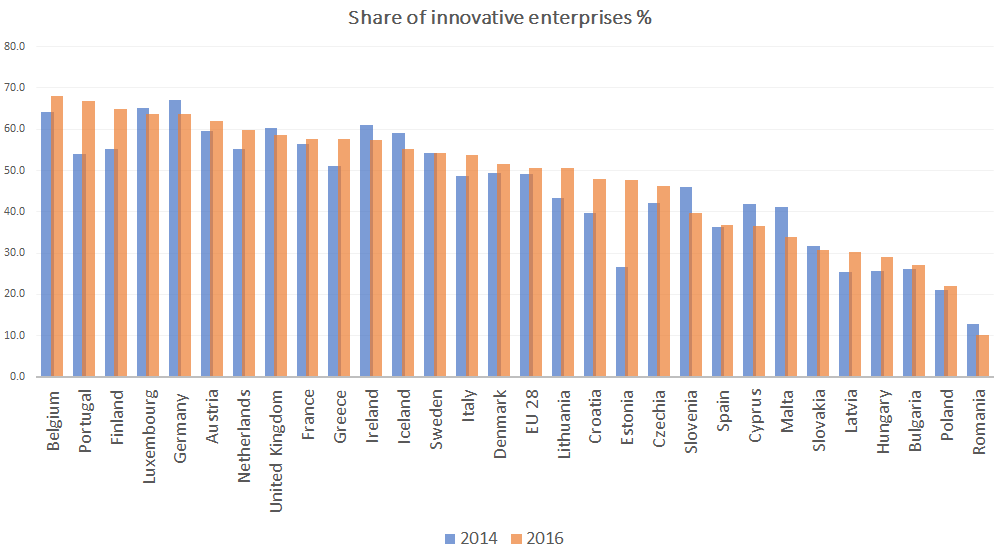 In 2016, the share of innovative companies in Estonia increased to 47.7 per cent from only 26.5 in 2014, while in Portugal the share increased to 67 per cent from 54, according to the latest data from Eurostat's Community Innovation Survey.
Strong increases were also reported for Finland, Croatia and Lithuania. The share of innovative companies in Finland grew from 55 to 65 per cent, helping the country, along with Portugal, to move into EU's top five member states with the largest share of innovative companies.
However, the number of innovative companies decreased in eight member states, while the EU average only increased slightly. According to the survey, 51 per cent of enterprises with more than 10 employees reported innovation activities between 2014 and 2016, while only 49 per cent did so between 2012 and 2014.
Between 2014 and 2016, the highest proportions of enterprises with innovation activity were recorded in Belgium (68 per cent), Portugal (67 per cent), Finland (65 per cent), Luxembourg (64 per cent) and Germany (64 per cent). In the same period, the share was below 30 per cent in Romania (10 per cent), Poland (22 per cent), Bulgaria (27 per cent) and Hungary (29 per cent).
The Community Innovation Survey is tracking the number of enterprises that have either introduced an innovation or have any kind of innovation activity, including enterprises with abandoned and suspended innovation activities.