---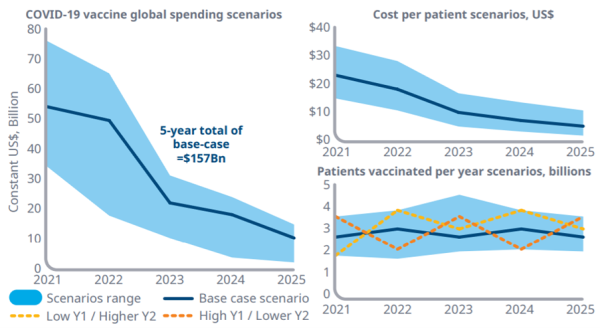 Global spending on COVID-19 vaccines is projected to be $157 billion over the next five years, according to a new report by healthcare data specialist IQVIA.
Spending will be extra high in the coming year, during which a mix of one- and two-dose vaccines is expected to average out 1.8 doses per person. From 2023, spending will drop, assuming people who have been vaccinated will require one booster shot every two years to keep up immunity.
Vaccines are also projected to get cheaper as more single dose products are introduced and usage increases in low-price countries.
In parallel, spending on other drugs is expected to fall by $68 billion by 2025. After this, if the spread of the virus is controlled, spending is largely expected to return to the pre-COVID outlook.
Return to the pre-pandemic scenario depends on successful vaccination campaigns. If countries fail to reach herd immunity, which is said to be attained when 70% of the population has been vaccinated, waves of infections will continue, with negative economic and health impacts.
At the lower end of vaccine expenditure, the report foresees spending of $73 billion on COVID-19 vaccines, but says spending less on vaccines may not necessarily lead to higher spending and better outcomes in other areas.