---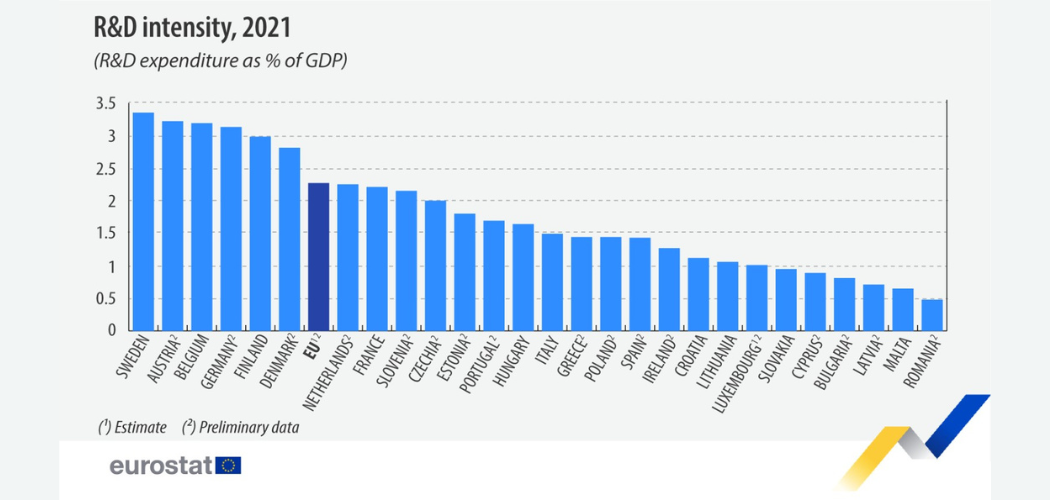 EU member states spent a combined €328 billion on research and development in 2021, an increase of 6% over €310 billion in 2020, according to the latest data from the EU statistics agency Eurostat. 
Despite the rise, R&D intensity, which is defined as the average amount each country spent as a percentage of its GDP, dropped from 2.31% in 2020 to 2.27% in 2021. Eurostat says this could be because GDP of member states rebounded after the sharp fall in 2020, caused by the COVID-19 pandemic. 
Sweden leads the way for R&D intensity, spending 3.35% of its GDP on R&D. It is followed by Austria, Belgium, Germany and Finland, which invested at least 3% of GDP in research. At the other end of the spectrum Romania, Malta and Latvia, spent just 0.48%, 0.65% and 0.71% of their total GDP on R&D, respectively. 
Over the past decade, two thirds of member states increased their R&D intensity. However, there were some slight decreases, with Finland going down by 0.64%, Estonia 0.51%, Ireland 0.49% and Luxembourg 0.41%. 
Belgium, Greece, Poland, Austria and Croatia have all made notable increases their R&D intensity over the past decade. 
The private sector continues to spend the most, pumping in 66.08% of total spending on research and development in 2021. This is followed by higher education at 21.58% and governments at 11.89%.