Erasmus University Rotterdam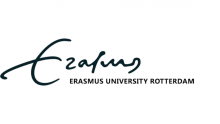 Erasmus University Rotterdam is a dynamic, international and curiosity-driven research university. With strong ties to the diverse city of Rotterdam, strategic alliances and in close cooperation with its global community, Erasmus University Rotterdam creates positive societal impact.
Our university was founded in 1913. Together with a population of 30,000 enthusiastic students and around 1,600 curious academic staff, we focus on solving society's challenges. Through the emphasis on the social, behavioural, cultural, and historical context, we are in a unique position to help academia, industry and policymakers to understand the causes, mechanisms, and effects of societal challenges, as well as how to deal with these challenges.
A solid foundation in monodisciplinary knowledge and an increased focus on interdisciplinarity leads to a research portfolio covering the full spectrum from fundamental to more applied research. With the Erasmus Initiatives, we join forces for science that matters. The three themes of the Erasmus Initiatives – Dynamics of Inclusive Prosperity; Smarter Choices for Better Health; Vital Cities, Vital Citizens – are a good reflection of our academic and societal strengths. These themes will be complemented by an initiative focused on the societal impact of disruptive technologies.
Solving societal challenges is only possible when a diverse community works together in close collaboration. Therefore, we work closely with TU Delft and Erasmus MC to strengthen our collaboration and explore the added value of closer scientific collaboration in a range of fields. Through this initiative, we also continue shaping the existing ties within Medical Delta, with the city of Rotterdam and between Leiden University, TU Delft and EUR (known as the LDE Alliance). In the future, we will continue exploring new partnership opportunities.
Together we create positive societal impact, the Erasmian way.
Learn more
---
Erasmus University Rotterdam News