---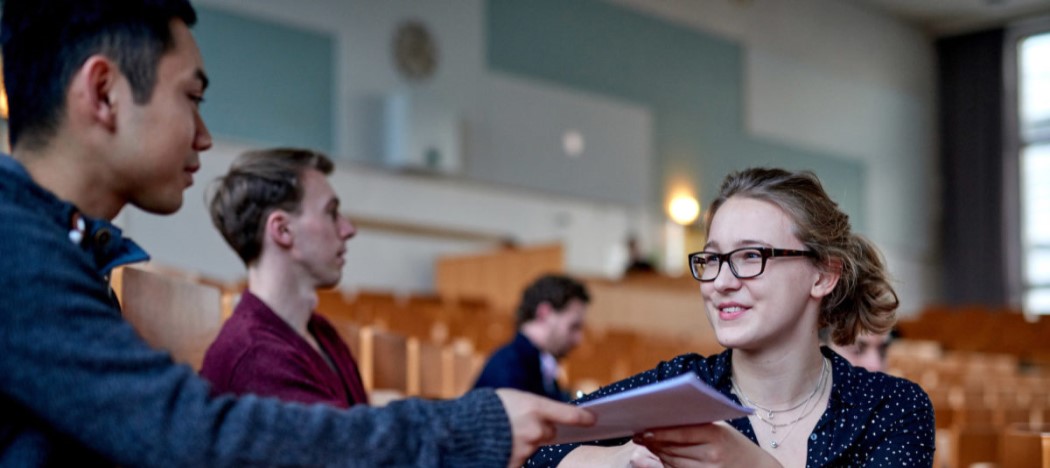 Photo: Philipp Arnoldt.
The seven member universities of the ENHANCE Alliance have agreed to promote essential activities to achieve their objectives: Creating One Campus, developing innovative teaching methods and widening the spectrum of beneficiaries for educational offers
The Alliance published its Education Strategy focusing on the development of future-proven skills like intercultural competences, sustainable and interdisciplinary innovation, co-creation and research oriented learning.
The strategy aims to include not only students but also non-traditional learners like high school students and professionals.
The Education Strategy of ENHANCE, consisting of Technische Universität Berlin, Warsaw University of Technology (WUT), RWTH Aachen University, Norwegian University of Science and Technology (NTNU), Chalmers University of Technology, Politecnico di Milano (POLIMI) and Universitat Politècnica de València (UPV), describes the strategic goals as well as the methods."The primary focus of the Education Strategy is a truly integrated international learning and teaching environment, combining individual strengths of our universities", underlines Professor Andrzej Kraśniewski from WUT and co-author of the strategy.
Kraśniewski explains that following the concept of ENHANCE European Education Pathways and One Campus, the students will be able to take advantage of our rich joint educational offer, providing them with an opportunity for individually customised education, increased mobility, and an understanding of Europe's values and diversity. One of the main ideas of the strategy is, with Kraśniewski's words, "to involve our students in co-creation of all educational processes and activities, encourage them to service-based learning and offering their skills to local communities and other forms of civic engagement".
Professor Hans-Ulrich Heiß, Vice President for Teaching, Digitization and Sustainability at TU Berlin, explains on behalf of his institution: "The ENHANCE Education Strategy deepens and expands the mission statement for teaching that we have already given ourselves at TU Berlin. Around the topics of mobility, social integration and diversity, as well as sustainability and digitalization, ENHANCE is thus developing an attractive offer to all students of the alliance." Heiß is convinced that all partners of the alliance will successfully meet the challenge of filling this offer with life over the coming years.
The Strategy Officer at the ENHANCE Alliance, Ana-Marija Cvitic, underlines that students will profit the most from the Education Strategy of ENHANCE: "Students are agents of change and that's why our Education Strategy goes beyond the pure acquisition of knowledge and skills: It empowers young people to work on future challenges holistically, across disciplines, while using critical thinking, creative and entrepreneurial skills. European Universities offer the best eco-system for the development of future-proven skills".
The eleven goals
The three first goals of the ENHANCE Education Strategy focus on providing students with a rich and diversified joint educational offer and an opportunity to customise their journeys across the ENHANCE network (1) and also exposing them to physical and virtual mobility (2). At the same time, this commitment aims to provide a balance between on-campus and off-campus education as well as the opportunity for switching between physical and remote attendance (3).
Co-creation is a conceptual basis for developing and implementing the education processes. For that, the ENHANCE Education Strategy promotes strengthening engagement with key stakeholders in combination with a transdisciplinary approach to research-based education (4) and implementing a holistic approach to education, creating international student teams from different educational and cultural backgrounds (5).
The ENHANCE Alliance is committed to green and digital transitions. As a result, the Education Strategy focuses on sustainability, equipping students with sustainable thinking (6). And, at the same time, providing students with innovative, digitally enhanced learning environments and applying student-centred teaching (7) and strengthening the links between education, research and innovation (8).
Finally, the ENHANCE Education Strategy focuses on diversity and gender equality as well as life-long learning with an international perspective. In this way, the strategy ensures social diversity of the student body, enhancing access, participation and completion for groups with fewer opportunities (9) and widening the spectrum of beneficiaries of the educational offer through an enhanced life-long learning provision (10). The ENHANCE Alliance underlines the need to eliminate barriers to effective international cooperation in education by promoting necessary regulatory changes (11).
About
The ENHANCE Alliance was founded in 2020, with the aim to develop one joint European campus, free of physical, administrative, or educational barriers, where students, faculty and staff can move freely to experience the European Education Area. The mission of ENHANCE is to drive responsible societal transformation and promote the development and utilisation of science and technology – for the benefit of society. ENHANCE is part of the ERASMUS+ programme European University Initiative. The Alliance brings together seven member universities: Technische Universität Berlin (TUB), as the Coordinator, Chalmers University of Technology (Chalmers), Norwegian University of Science and Technology (NTNU), Polytechnic University of Milan (Polimi), RWTH Aachen, Universitat Politècnica de València (UPV) and Warsaw University of Technology (WUT).
This article was first published on 23 February 2023