---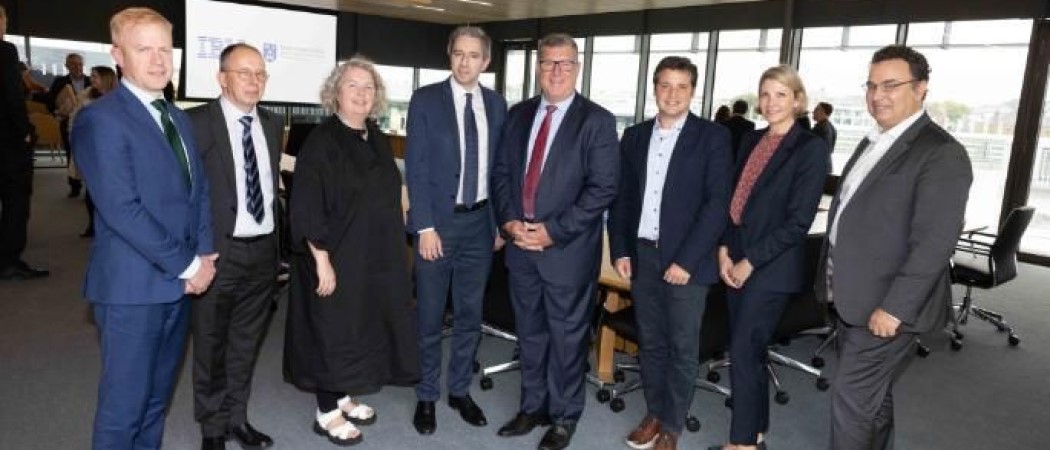 Photo: Trinity College Dublin website.
Trinity and IBM aim to pursue research and accelerated discovery of new materials, further expanding upon the parties' existing relationship which includes a pre-PhD programme for talented students interested in completing PhDs in the areas of quantum computing, artificial intelligence, security, and accelerated discovery. 
Additionally, the two organisations intend to engage in industrial partnerships in the Irish and EU ecosystem and participate in teaching and upskilling outreach activities. Trinity and IBM will also consider co-locating research activities to enhance the co-supervision of PhD students, execution of joint research projects, and operation of the accelerated discovery research.
Professor Wolfgang Schmitt, Dean of Research at Trinity, said:  
"Both Trinity and IBM are committed to research excellence. We look forward to working closely together to develop exciting innovations that will provide the basis for societal and technological progress at a time when issues of sustainability and energy use and storage have never been so pertinent.  
"The joint activities supported by this MOU will position Ireland to develop new partnerships between industry and academia and help to attract new industry partners to Ireland. Given the great potential for accelerated discovery to revolutionise the way we work and conduct research, we are also committed to including a pre-PhD programme to train the next generation of talent in this area.  
"AI-driven, automated synthetic laboratories that apply state-of-the-art computational, synthetic and analytical methods, provide fascinating perspectives for scientists. Future accelerated discovery concepts will significantly reduce the time requirement for materials discovery and help us to make our laboratories more sustainable using smaller quantities of solvents and reagents." 
Juan Bernabe-Moreno, Director of IBM Research Europe, Ireland said: "This agreement reinforces the close partnership between IBM and Trinity College Dublin including research in accelerated discovery, and an intent to extend our pre-PhD programme to help pursue a joint research agenda to tackle some of the world's biggest challenges. This MoU reflects IBM's commitment to building a vibrant research ecosystem with strong academic, corporate and government partners. Ireland is a key part of that ecosystem, and today's announcement underscores our ever-deepening commitment to the country which dates back to 1956."  
Simon Harris, Minister for Further and Higher Education, Research, Innovation and Science, said: "It is wonderful to be asked to be a part of this significant announcement. It is well recognised that Ireland's national research and innovation system provides a critical platform upon which much of Ireland's economic and social development is dependent. It attracts FDI and generates new ideas, technologies, skills, knowledge and solutions which have proven to be transformative to our prosperity and the way we work and live. In working together, between those three important strands of academia, industry, and government, we are preparing the next generation of researchers to deliver the science and technology-based for the challenges we face." 
Quantum Computing Engagement  
Quantum computing is a rapidly emerging technology that harnesses the laws of quantum mechanics to solve problems too complex for classical computers. The technology is expected to provide enormous opportunities for Ireland's research, industrial and commercial activities.  
Accelerated discovery of new materials 
Researchers from Trinity and IBM aim to work together to create new materials with targeted properties via exciting new approaches that include the use of cloud-based, AI-driven laboratories, remote robotic laboratories, and computational methods. 
The approach seeks to significantly reduce the timescale of the discovery of important materials, some of which will make impacts in the strategic areas of environmental sustainability, energy storage and energy conversion, decarbonisation, and polymer science. Other materials that can aid circular economy concepts will be targeted, while some of the scientific work may focus on the discovery of drugs and pharmaceuticals using various computational and synthetic approaches.  
Pre-PhD programme 
The MOU will see an extension of a promising pre-PhD programme between Trinity and IBM. Launched in 2021 and supported by the Irish Development Authority (IDA Ireland), the programme offers exceptional PhD candidates the unique opportunity to work with scientists tackling real-world problems while simultaneously gaining industry experience via a co-supervised project. The programme has already produced outstanding contributions, and there is a joint desire from Trinity and IBM to scale up to create more PhD opportunities to create research leaders of tomorrow. 
This article was first published on 15 September by Trinity College Dublin.