---
Several members of the Polytechnique community have launched initiatives in recent days in an effort to help halt the spread of the SARS-CoV-2 virus and COVID-19. Here are some examples: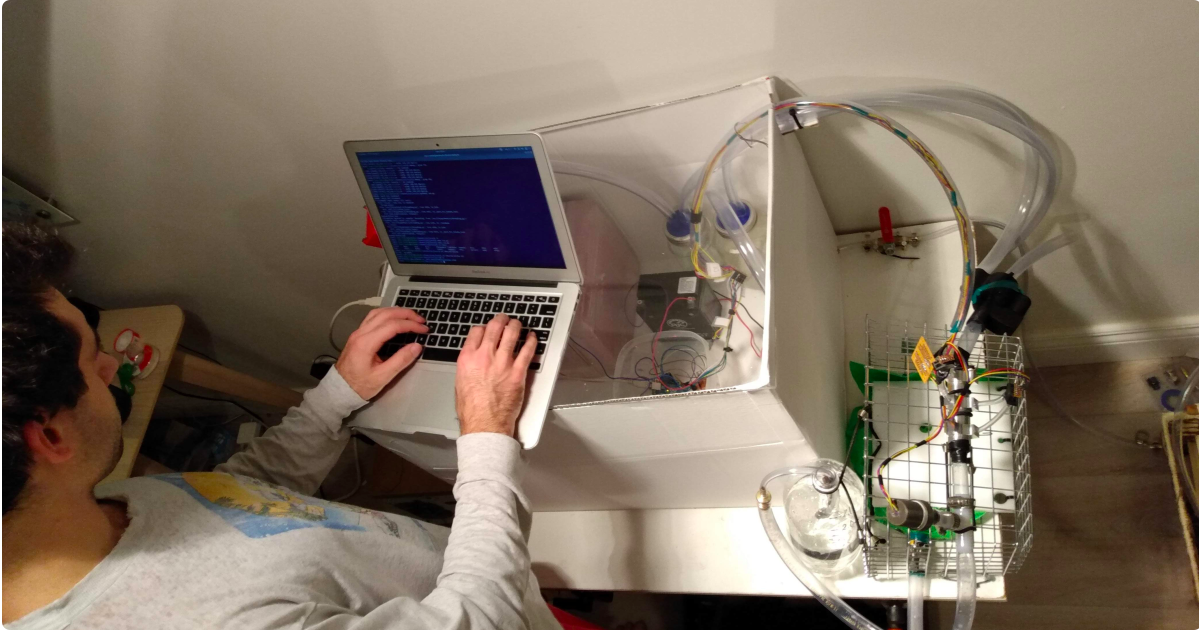 Creating a ventilator… in 10 days
Holed up in his home in Montréal's Mile-End neighbourhood, Jean-Romain Roy is among members of the Polytechnique community who are putting their skills to use to contribute to the fight against COVID-19.
In a very short time, the part-time student in the electrical engineering program has transformed his studio into a true prototyping laboratory. And this is where, last weekend,  the ventilator was created that he and his team will submit today, March 31, 2020, to judges at the Code Life Ventilator Challenge.
Innovative ventilators
The objective of the Code Life Ventilator Challenge is to bring together the best ideas from around the world to create or design ventilators, the devices that have become indispensable to the survival of thousands of people planet-wide suffering from COVID-19.
Jean-Romain became interested on March 18, the day the Challenge was launched. Within minutes, he had already recruited to his team three of his friends, who in turn called on their own networks.
"In less than 24 hours, there were 24 of us in our Slack (instant messaging) group," he explains. "There were engineering students, doctors and even respiratory therapists. It was fantastic to feel that so many people wanted to give their time!"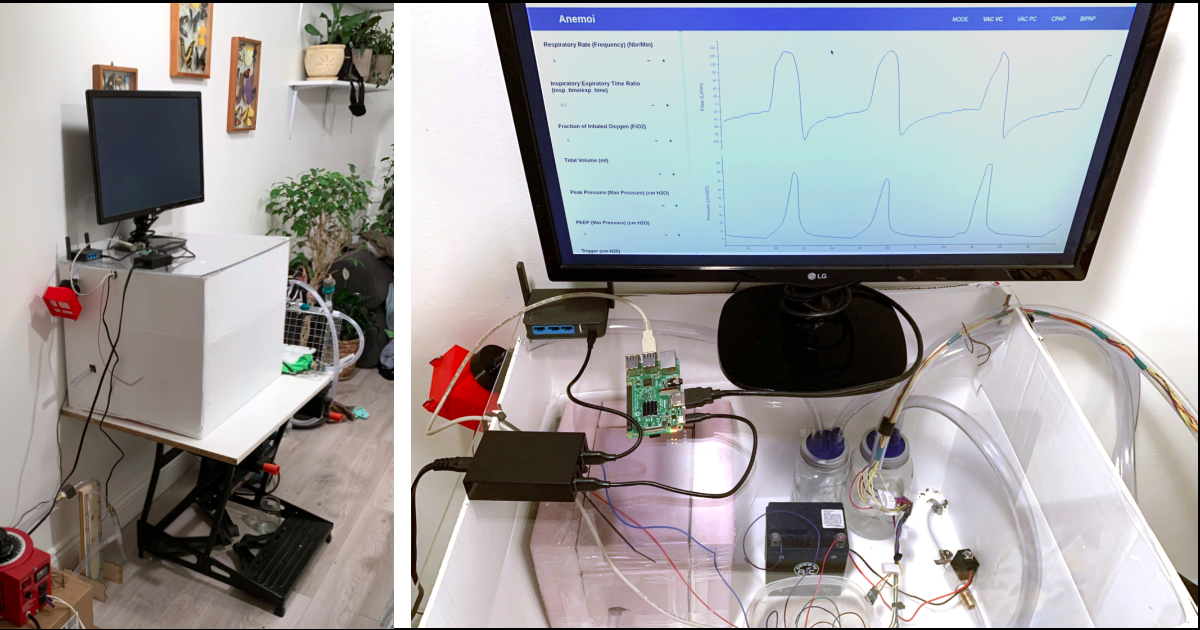 Top chrono speed
The group wasted no time getting to work. After studying the various models of existing ventilators, the group's engineers-in-training attacked their keyboards to design plans for every module. The health experts, for their part, advised them at every step of the process.
Obviously, videoconferencing and messaging tools were essential for these exchanges, especially since two of the participants are now in France.
Ian Gagnon, a student in the integrated bachelor's-masters' program in biomedical engineering, visited the PolyFab Normand-Brais to gratefully borrow superb equipment as a result of the unusual situation in which Québec finds itself these days. "I was able to borrow two 3D printers and two welding stations," says the regular user of Polytechnique's collaborative manufacturing shop.
Combining the work of these tools with that of the two 3D printers that already belonged to group members, and adding the contribution of an expert who machined stainless steel parts, Jean-Romain's team was able to accelerate the pace of production.
"Everyone worked individually or in teams of two to develop the modules, then they came to my place alternately to assemble them," he explains.
Just a few hours before submitting a video and written documents to present their  prototype, the group's leader is already proud of the work accomplished. "It's fantastic to have succeeded in doing all that in just 10 days!" he enthuses.
A team partially comprising Polytechnique Montréal students, created a video to demonstrate how their ventilator works, to Code Life Ventilator Challenge judges: https://www.youtube.com/watch?v=byYzmZaZTXc
Now he is hoping that the tools his team has developed will benefit others, since the documents of every team entered in the Challenge are rights-free and made public on the Internet.
"In some countries, it is hard to have access to a ventilator," he emphasizes. "If others can be inspired by what we have done to create their own device, that would be a nice reward."
A platform for exchange for project start-ups
While several teams were preparing to design a ventilator prototype, Alexandre Ferreira Benevides was offering them a series of information technologies tools for online chatting, work planning and modelling.
"It was able to bring more than 70 people from different teams together quickly," says the engineer and technical resources coordinator for Polytechnique's Laboratoire d'enseignement des systèmes intégrés en aérospatiale du Québec (Québec laboratory for teaching integrated aerospace systems, LÉSIAQ). "Everyone immediately started exchanging ideas and solutions."
In addition to attracting engineering specialists and healthcare experts, the initiative drew people from the communications and letters communities, who launched SantéLibre.ca, a Web portal that is seeking to connect the needs of the healthcare field with teams of engineers able to provide them with solutions.
"For example, the CIUSSS du Nord-de-l'Île-de-Montréal (integrated university health and social services centre covering the north part of Montréal Island), asked us to provide them with 50 3D printed connecters until their supplies arrive," Mr. Benevides says. "We also started a project to design a protective box to help caregivers responsible for intubations."
The innovations that emerge from these collaborative efforts will all be rights-free. "We are hoping to help as many people as possible," he adds.
The group is currently looking to expand its ranks with contributors offering a variety of expertise, including CAD designers, writers, back- and front-end application programmers, as well as people with access to 3D printers or to industrial-grade prototyping capacity.
Virus-tracking application
While many are seeking to facilitate the work of caregivers, others want to track the virus to halt the pandemic.
Several Québec groups are now working on an application that would track the travel of infected people via their cellphone, as long as they have downloaded the app. This is a solution that obviously raises privacy protection issues.
It's why one of these groups approached Gabriela Nicolescu, professor in Polytechnique Montréal's Department of Computer Engineering and Software Engineering and a specialist in cybersecurity issues. "The idea is to ensure that an individual's travel data remains on the phone," she explains.
The project is currently awaiting the blessing of governments before moving ahead, she adds. If it is approved, Ms. Nicolescu and other Polytechnique professors could get involved to guarantee the application's security.
Dozens of other projects
Aside from projects being developed on an emergency basis, more than a dozen other initiatives related to the COVID-19 crisis and involving Polytechnique professors have kicked off in the past two weeks.
One of them is looking at detection of the virus, while others are aiming to improve the safety of hospital staff or accelerate the manufacture of prototypes. Equipment from the PolyFab Normand-Brais and from the Centre de caractérisation microscopique des matériaux (CM)2 (centre for characterization and microscopy of materials (CM)2), among others, will be put to use.
Although the COVID-19 crisis has showed humans how vulnerable they are, it has also demonstrated the exceptional flexibility of members of the Polytechnique community, as well as their desire to serve the common good.
Learn more
SantéLibre.ca Web portal https://www.santelibre.ca/
Code Life Ventilator Challenge website https://www.mghfoundation.com/en/news/code-life-ventilator-challenge/
PolyFab Normand-Brais website https://polyfab.polymtl.ca/
Laboratoire d'enseignement des systèmes intégrés en aérospatiale du Québec (LÉSIAQ) web page https://www.polymtl.ca/meca/en/networks-research-facilities/research-facilities/laboratoire-denseignement-des-systemes-integres-en-aerospatiale-du-quebec  
Centre de caractérisation microscopique des matériaux (CM)2 web page https://www.polymtl.ca/expertises/en/centre-characterization-and-microscopy-materials-cm2
Department of Electrical Engineering website https://www.polymtl.ca/ge/
Biomedical engineering program web page https://www.polymtl.ca/biomed/
Department of Computer Engineering and Software Engineering website https://www.polymtl.ca/gigl/
This article was first published on 31 March by Polytechnique Montréal.