---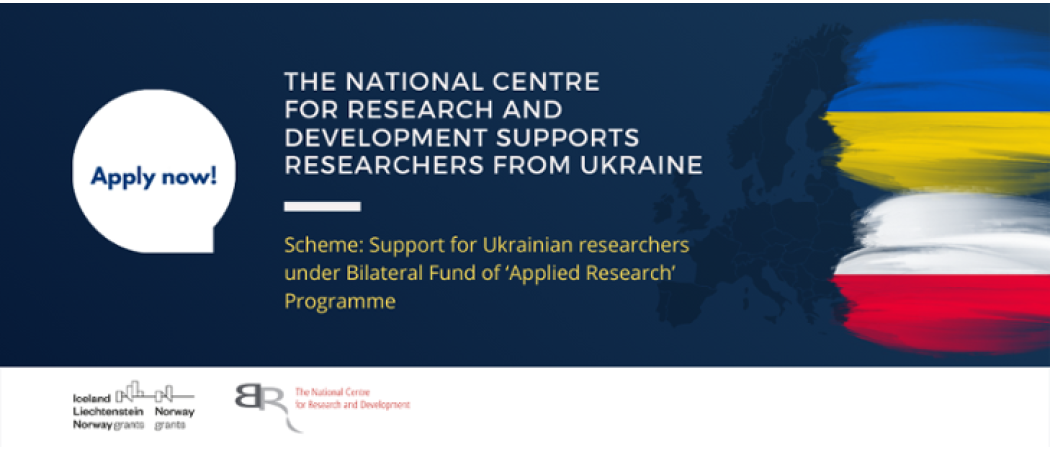 Photo: NCBR website.
The National Centre for Research and Development as Programme Operator of the Programme 'Applied Research' implemented under the European Economic Area Financial Mechanism (EEA FM) 2014-2021 and the Norwegian Financial Mechanism (NMF) 2014-2021 announces Scheme: Support for Ukrainian Researchers under Bilateral Fund
The purpose of the proposed Scheme is to provide the support to Ukrainian researchers affected by the armed conflict on the territory of Ukraine via the mechanism that will allow them to join the Polish-Norwegian teams and continue their scientific careers.
The Scheme will contribute to support and develop the human capital and the cooperation with the Ukrainian academic community by enhancing Ukrainian participation in the European research networks, and R&D&I programs.
Eligible entities to apply for funding are Project Promoters and Polish Project Partners of the active research projects funded under POLNOR 2019 Call, POLNOR CCS 2019 Call or IdeaLab Call for Full Proposals, which are research organisations.
The funding is intended to cover the costs of employment of the Ukrainian researcher to implement the additional tasks in the field of fundamental/basic research, industrial research, experimental development or other types of work relevant to the project specified in the Form template.
The electronic submission via ePUAP is available for applicants from June 24, 2022 and the deadline for submission of the Forms is July 25, 2022 11:00 CET.
This process will be repeated on a monthly basis until the budget is exhausted.
To get more detailed information about Scheme: Support for Ukrainian researchers under Bilateral Fund of 'Applied Research' Programme please visit the website of the III edition of EEA and Norway grants - Fund for Bilateral Relations or the NCBR platform of the open call for application.
This article was first published on 6 July by NCBR.