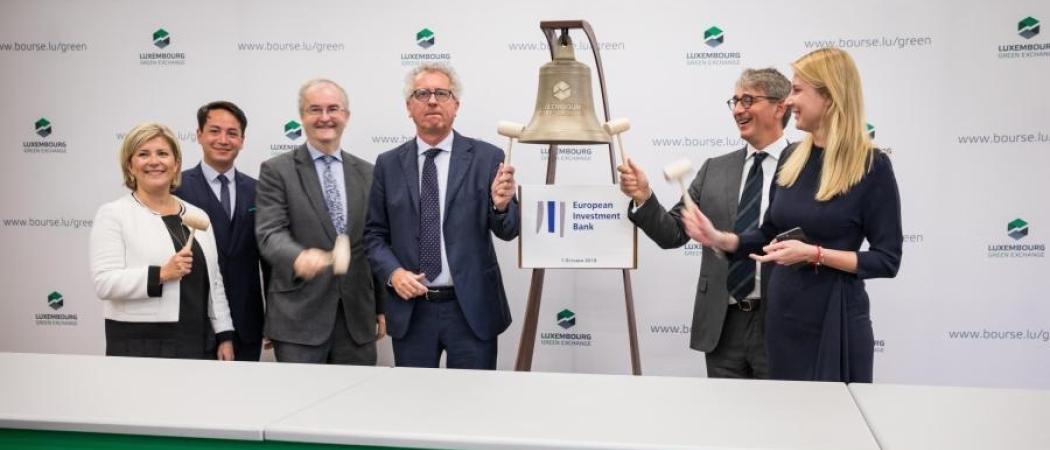 Luxembourg's key global role supporting sustainable finance was highlighted at the official launch of the European Investment Bank's first Sustainability Awareness Bond earlier today.
The EUR 500 million transaction, listed on the Luxembourg Stock Exchange and displayed on the Luxembourg Green Exchange, represents the first EIB funding intended to directly support sustainable finance and builds on the EIB's pioneering role unlocking investment through green bonds.
The European Investment Bank is the world's largest international public bank and last year raised EUR 56 billion from global bond markets in Europe, Asia and the Americas.
"Luxembourg is the Eurozone's leading international financial centre and globally recognized as being the ideal platform to help companies, governments and investors around the world to meet their sustainable development targets. Over more than 10 years, Luxembourg and the EIB have been working closely together to enhance global efforts to tackle climate change and support sustainable development around the world. I thus welcome the EIB's decision to list their first Sustainability Awareness Bond here today at the Luxembourg Stock Exchange. This marks a key moment in our joint engagement to support sustainable finance." said Pierre Gramegna, Luxembourg Minister of Finance and Governor of the European Investment Bank.
"The launch of the EIB's first Sustainability Awareness Bonds demonstrates the EU Bank's firm commitment to unlocking finance for high impact projects in sustainable sectors beyond climate. We are pleased to list the first Sustainability Awareness Bonds here at the Luxembourg Stock Exchange. This reflects Luxembourg's key role enabling investors and capital markets to support sustainable development. Tackling the global challenges of sustainable development is only possible by combining capital market expertise, investor trust and political ambition." said Jonathan Taylor, Vice-President of the European Investment Bank.
"The Luxembourg Green Exchange is the world's first platform exclusively dedicated to green, social and sustainability securities, and today displays half of the world's listed green bonds. We are pleased to continue our long-lasting partnership with the EIB, the world's largest financier for climate action. We firmly believe that EIB's new Sustainability Awareness Bonds have the potential to show how sustainable finance can make a real difference worldwide." said Robert Scharfe, CEO of the Luxembourg Stock Exchange.
The new Sustainability Awareness Bonds build on the success of EIB's Climate Awareness Bonds (CAB's). The EIB pioneered the green bond market in 2007. It has since issued more than EUR 23 billion equivalent of CABs, and continues to be one of the largest issuers of green bonds.
The EIB's first Sustainability Awareness Bonds were issued in Luxembourg on 6thSeptember and will initially focus on investment in water supply, sanitation and flood protection. They are expected to expand to other sectors such as health and education once detailed reporting frameworks are in place.
Reflecting the high-impact focus and specific sustainable investment challenges the new bonds will include stronger support for projects outside the European Union than overall EIB financing activity.
Sustainability Awareness Bonds will focus on high-impact projects selected on the basis of comprehensive sector and impact definitions, developed in consultation with the European Commission Technical Expert Group on Sustainable Finance, which includes both EIB and Luxembourg Stock Exchange experts, that will enable detailed investor reporting and transparency and contribute to ongoing international sustainable finance best practice.
Harnessing financial support from global investors and capital markets is essential to achieving Sustainable Development Goals (SDGs) and improving people's daily lives. The United Nations estimates that USD 6 trillion of new annual investment is needed to successfully tackle SDGs and the new Sustainability Awareness Bonds will strengthen investor support for transformational sustainable investment.
This release was first published 1 October 2018 by the European Investment Bank.