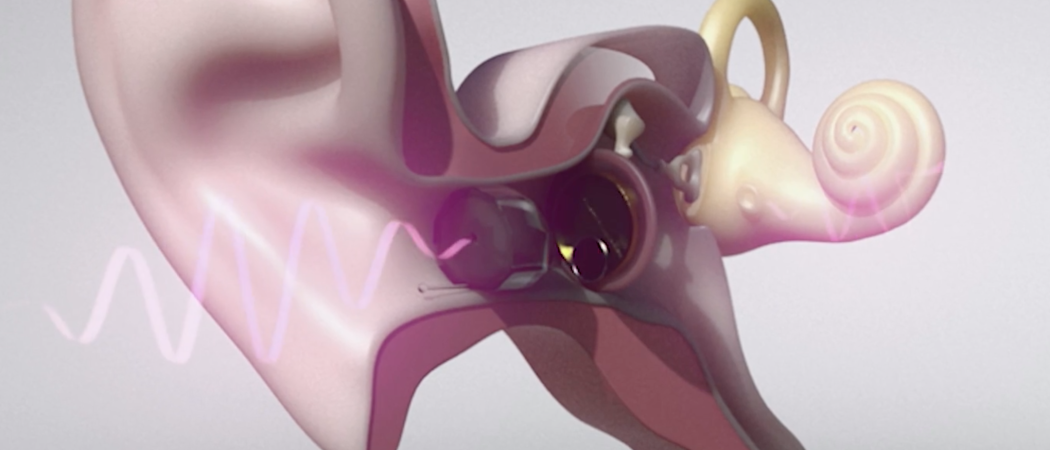 In 2016 PIEMACS, a start-up and spin-off from l'école polytechnique fédérale de Lausanne (EPFL) won the EIT Health Germany Headstart Grant for its idea to use a piezoelectric MEMS (Micro Electro Mechanical Systems) transducer for a new type of hearing aid (pictured above), that is in direct contact with the eardrum – so called hearing contacts. The goal of this innovative project was to deliver a functional prototype with a multilayer transducer for the hearing contacts. The complementary partner for this ambitious project became Vibrosonic, a start-up and spin-off from FRAUNHOFER IPA (Fraunhofer-Projektgruppe für Automatisierung in der Medizin und Biotechnologie PAMB at Mannheim).
EIT Health Germany talked to Dr. Ramin Matloub, General Manager of PIEMACS Sàrl and Dr. Dominik Kaltenbacher, Managing Director of Vibrosonic GmbHon about their common story ever since 2016.
Can you give us a short intro on the product?
D. Kaltenbacher: "We developed nothing less but the "contact lens for the ear". It's a completely new alternative to a normal hearing device. The special thing about it is that the loudspeaker of the device is not located in the auditory canal, but that a flat disc (lens) is placed directly on the eardrum of the patient. This fact has two crucial advantages: Due to the direct stimulation of the eardrum, the hearing-impaired person experiences a better hearing sound quality, i.e. the use of the hearing contacts enables a rather natural hearing experience. Secondly since the lens is placed deep in the auditory canal all other components of the device are accordingly small and thus hardly visible. The combination of both with this completely new loudspeaker technology (MEMS) makes the product a very special one with a significant high potential for the market."
How did the collaboration of PIEMACS and Vibrosonic got started?
R. Matloub: "The teams of PIEMACS and VIBROSONIC have been in contact before PIEMACS and Vibrosonic existed. The first collaboration on ear implants started between Fraunhofer IPA and EPFL. The collaboration continued when PIEMACS and Vibrosonic were incorporated."
At what stage of development are the "hearing contacts" right now?
D. Kaltenbacher: "At the moment we are at the threshold of clinical testing. There have already been some users within the framework of a pilot programme. However, the official clinical registration study will hopefully lead to a CE mark in the course of next year, i.e. a Europe-wide registration. But, since the device requires an application directly to the eardrum, we will be conducting after the registration broad application studies to adequately train physicians and hearing aid acousticians. It is important that patients get the right and competent support in everyday use of such a technically advanced device.
What were challenges of the collaboration?
R. Matloub: "The main challenge was to select the best providers of piezoelectric thin films. Due to the limited resources, we could not study all the materials that are offered by different suppliers. However, thanks to the very good relation and coordination between Vibrosonic and PIEMACS, we could perform a very successful project and achieve our goals."
D. Kaltenbacher: "We knew what the draft and the design should look like. PIEMACS had the know-how and technical equipment to realize the respective loudspeaker. Nevertheless, it was a big challenge to align the processes and to establish a constant performance of the loudspeaker.  That costs a lot of effort. But we were ambitious and finally successful."
What role did EIT Health play?
R. Matloub: "A very important step for any product before entering the market is to be compatible with the "state of the art" technologies without compromising the performance of the product. PIEMACS and Vibrosonic decided, for the first time, to benchmark different technologies used for deposition of piezoelectric thin film, in our case Lead Zirconate Titanate (PZT), for hearing aid. However, this work was not only important for this application but all piezoelectric MEMS applications.
"The support we received from EIT Health was crucial to make this work possible. The know-how generated thanks to this work not only helps VIBROSONIC to enter the market but also put PIEMACS in a better position for expanding its market and help more clients. Thanks to the support from EIT Health, PIEMACS and Vibrosonic are discussing next steps of development before entering the market. In future other designs can be tested."
What are the learnings? What would you advise other start-ups or young entrepreneurs who have a special project or business ideas?
D. Kaltenbacher: "EIT Health provided fast-track project funding so that we could rapidly initiate our activities. It was literally in four weeks that we got the go for the funding. We experienced a very unbureaucratic and unconventional way to support. That was really special!"
R. Matloub: "We definitely recommend this type of collaborations between startups using supports from EIT Health or similar organizations. As a small company working on co-development projects with big corporates might seem more attractive however, in this collaboration both partners had mutual understanding of working cultures and short and strategic long-term goals. Start-ups are normally more passionate about their product or services and more open to challenges and new ideas so that they should pay a lot of attention to with whom they partner."
To learn more about PIEMACS and Vibrosonic please read here:
www.vibrosonic.de
This article was first published 2 April 2019 by EIT Health.