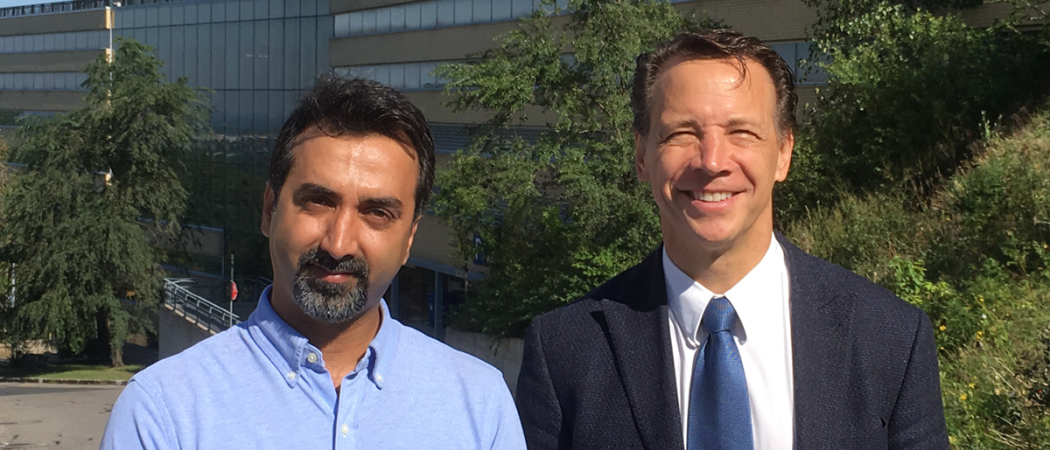 An article by postdoctoral fellow Jaber Darabi and Professor Gregory Patience of the Department of Chemical Engineering at Polytechnique Montréal, written in collaboration with international contributors, has been published in the prestigious journal of the Royal Society of Chemistry.
The article, "Catalysis for the Synthesis of Methacrylic Acid and Methyl Methacrylate," is a literature review of the various processes and catalysts used to produce methacrylic acid (MAA) as well as methyl methacrylate (MMA), an organic compound for which annual demand will exceed 4.8 million tonnes in 2020.
The reason for this high demand? MMA is the main component of polymethyl methacrylate (PMMA), a polymer better known commercially as Perspex or Plexiglas. This durable, transparent material, which blocks ultraviolet rays and can replace glass, is used in a range of industries, such as construction and fibre optics, as well as in health, for example to produce bone implants and dental prostheses. Demand for this versatile material is constantly on the rise, and the market capacity to produce it is currently equal to the demand, which is why it's important for the industry to be able to produce it quickly and efficiently.
The method most commonly used to produce PMMA, mixing MMA with acetone and hydrogen cyanide, also produces toxic and environmentally hazardous intermediate substances, however. Industry and research are therefore trying to remedy this problem by studying alternative processes and raw materials, such as MAA (which is used to produce MMA), as well as catalysts, or substances that can make the process cleaner. Catalysts can also be used to speed up the process and make it more efficient.
Chemical Society Reviews, a flagship journal that primarily publishes expert-written review articles, is published by the Royal Society of Chemistry, a leading international scholarly society in the field of chemistry. Based in the United Kingdom, this society has been active for 175 years and has more than 54,000 members. Its 2017 impact factor (40.18) is comparable to that of the most prestigious multidisciplinary journals, such as Nature and Science, ranking it second among 171 journals in the multidisciplinary chemistry category according to the bibliometric information publication Journal Citation Reports. Articles published in Chemical Society Reviews are widely read and cited by the scientific community; for example, the journal ranks fifth in the Google Scholar online scientific article search engine.
Also, Professor Patience and postdoctoral fellow Darabi are among the few professors and researchers on the university campus comprising Polytechnique Montréal, Université de Montréal and HEC Montréal to have contributed to this leading journal.
"It's a great honour to be published in Chemical Society Reviews, and I congratulate Jaber and the contributors on this great achievement," said Professor Patience, who oversaw the review. "They worked very hard to present a review that was as complete and informative as possible."
A unique review in the chemistry field
The review published by Jaber Darabi and Gregory Patience is unique because it is the first to describe not only all the existing processes, but also all currently known catalysts. It covers the processes used by industry, but also new technologies that are not yet in use.
"A review such as this one is important because it can be useful for large industries, emerging industries and researchers alike," says Mr. Darabi. "They can find information on all existing processes and catalysts, as well as their advantages and disadvantages, in a single text. This can help them quickly target their needs, as well as the needs for future research."
Professor Patience adds: "This is particularly useful in the current context, where the industry has to find cleaner processes. The review helps to advance knowledge in this field, and hopefully, speed up the implementation of processes that are greener and therefore better for the environment."
Moreover, the literature review has allowed researchers to conclude that although the current industry processes will probably still be used in the coming years, some of the new clean technologies being developed will be credible alternatives for the future.
The article "Catalysis for the Synthesis of Methacrylic Acid and Methyl Methacrylate" appears in the September 21, 2018, edition of Chemical Society Reviews (Issue 18, Volume 47) and can be read online at http://pubs.rsc.org/en/content/articlelanding/2018/cs/c8cs00117k#!divAbstract (subscription required). The lead author of the article is Jaber Darabi, a postdoctoral fellow in the Department of Chemical Engineering at Polytechnique Montréal. Co-authors are Jean-Luc Dubois, Scientific Director of the French chemical group Arkema; Fabrizio Cavani, Director of the "Toso Montanari" Department of Industrial Chemistry at the University of Bologna, Italy; Mohammad Rostamizadeh, Assistant Professor in the Department of Chemical Engineering at Sahand University of Technology, Iran; and Gregory Patience, full professor, Department of Chemical Engineering, Polytechnique Montréal.
This release was first published by Polytechnique Montréal.