In an interview with Science|Business, Director-General Robert-Jan Smits looks forward to greater synergies for research among EU policy areas, from agriculture to development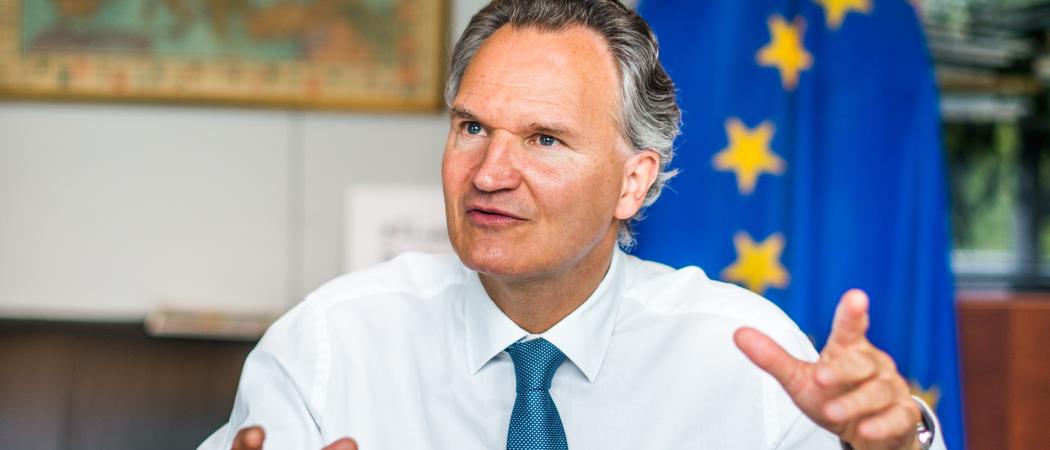 BRUSSELS – Robert-Jan Smits, head of one of the European Commission's biggest departments, is just back from a conference in South Africa and is in an enthusiastic mood – as usual – about what science and technology can do for the world.
He mentions a few new ideas circulating in Pretoria, for combining science and development aid - with European Union help. One would create a hospital and clinic to speed trials of new medicines, under a big drug development programme for the region funded jointly by the Directorate-General for Research and Innovation and the Directorate-General for Development. Another would build a solar energy plant in the South African desert, to power the massive new radio telescopes of the Square Kilometre Array, as well as the villages surrounding it. 
The prospect excites him. "I have the best job in the world," he says.
These kind of science and technology projects have been part of the daily routine of Smits since 2010, as director-general for research and innovation. And they reflect a growing mission – some might say crusade – of Smits, Research Commissioner Carlos Moedas, and others in the Commission to expand the role and impact of science and technology programmes. They see more research and innovation as essential to keeping Europe together following Brexit, feeding its population, rebuilding its poorer regions and advancing its diplomacy. "This is the future of Europe," Smits says in an interview with Science|Business.
The next steps in this mission are politically complicated. The main programme, Horizon 2020, will spend €30 billion over the next three years to fund blue-sky research from brain science to economics; provide grants and loans to thousands of tech start-ups across the EU; and fund big, collaborative projects from developing better water and food for the southern Mediterranean to supporting advanced manufacturing and Big Data technologies for industry.
Beyond this, Smits and colleagues are currently drafting the next big Framework Programme 9, to start in 2021, which Smits wants to be bigger than Horizon 2020. 
The need to collaborate
But they are also negotiating with other Commission departments and member states to expand the role of research and innovation in agriculture, regional development and foreign development aid. This has been an objective of past research commissioners for years, with mixed results. But the next 18 months hold the prospect of more action than in the past – partly because, with the UK leaving the EU, taking its 12.5 per cent net budget contribution with it, everybody's budget in Brussels is under threat. Everybody needs more political allies from other sectors, and that means collaborating across departments more than in the past. 
On agriculture, for instance, Smits cites recent statements from the EU Agriculture Commissioner, Phil Hogan, about the importance of science and technology to the revival of farming, as has happened in Ireland. Smits says he has proposed to his agriculture counterparts a plan to boost science and innovation spending inside the EU's Common Agriculture Policy budget for "down-stream" work, and at the same time increase upstream, early-stage agri-food research inside his own DG's Framework Programme beyond the €3.7 billion allocated from 2014 to 2020.
"If you look at the ecological footprint of agriculture, science and innovation is the only way to change that. This is the only way forward," Smits said.
A similar expansion of the science and technology mission, in individual projects such as the South African initiatives, is under discussion with the Commission's development-aid department.
Smits also cites progress in the €60 billion earmarked through 2020 for innovation-related projects inside the EU's Structural Funds budget. He appears not discouraged by recent European Court of Auditors reports criticising the management of existing carbon-cycle projects in agriculture, and 'smart specialisation' projects in Structural Funds – focusing instead on what he views as high-impact projects in Brno, Krakow and other regions using EU funds to beef up their science and technology infrastructure.
The MFF schedule
Negotiations on all these cross-budget issues – in Brussels-speak, the Multiannual Financial Framework - intensify from the New Year. The Commission plans a public conference on the topic in Brussels on 8 - 9 January, and on 10 January the Commissioners meet for an "Orientation Debate" on the issue. Budget Commissioner Gunther Oettinger plans to release a draft budget plan by May 31; and, despite the huge uncertainty of Brexit, intends to work through the year to get a deal agreed by the member-states before the June 2019 Parliamentary elections.
At the same time, working in parallel, Moedas and Smits will be preparing plans for their piece of that budget, Framework Programme 9. Smits says the aim would be to have the discussions launched with the current Parliament.
For this, Smits says, he has been going back over his old notes – because he has been here before. A Dutchman, Smits has spent his career at the Commission running science and technology programmes at his current Directorate-General or the Commission's in-house laboratories, the Joint Research Centre. He has been through repeated budget cycles, seeing the main Framework Programme more than double over a decade to become the second largest civilian research programme in the world (after the US National Institutes of Health.) 
How much longer he will be in the post, however, has been a subject of speculation in Brussels. It is unusual for a Director-General to stay in the same position for seven years. "Mobility is the rule of the house," Smits says, and a rotation of directors-general – the top civil service positions in the Commission – is to happen sooner or later. When asked his own plans, he said he is keen to shape the next Framework proposals – but beyond that, "we'll see what will happen."
Three goals for the DG
When he became Director-General in 2010, Smits had three main goals: to put science and innovation "at the heart of policy making", to develop "framework conditions" for research and innovation to thrive, and to improve strategy to enhance the quality, impact and image of the Framework Programme. 2017 was a year of "enormous progress" on all three points, Smits says, citing, for instance on impact, the fact that 10 country-specific recommendations for research and innovation were sent by the Commission to EU member-states under its formal policy-monitoring system, the European Semester.
In addition, the Commission's new scientific-advice system got fully up to speed in 2017, to improve the delivery of scientific evidence to all areas of EU policy; and a new advisory group on science and technology ethics was formed.
Moreover, there was an expansion of the use of loans, guarantees and other non-grant financing for innovation projects and start-ups. Action began to create a "science cloud" interlinking labs across Europe, to test the idea of a new European Innovation Council promoting market-creating innovators, to coordinate work to develop new antibiotics, and to advance several international science and technology projects – for instance, in the southern Mediterranean and the north and south Atlantic oceans. (Indeed, reflecting all this, the South Africans gave him a "science diplomacy" award when he was in Pretoria on December 7-8.) And, on a more prosaic note, a new online job market for scientists, Euraxess, now has 28,000 jobs posted, 10 million page views and 30,000 registrants.
But does all of this work make Europe any better at science and technology? It does, Smits thinks – but the difficulty is that the pace of technological improvement is picking up elsewhere in the world, with China, India and other countries rising fast. "The problem is not so much that we are in any way bad; the problem is that others are faster."