Talks inch forward, but central and eastern countries left unhappy at decision not to limit spending on industry partnerships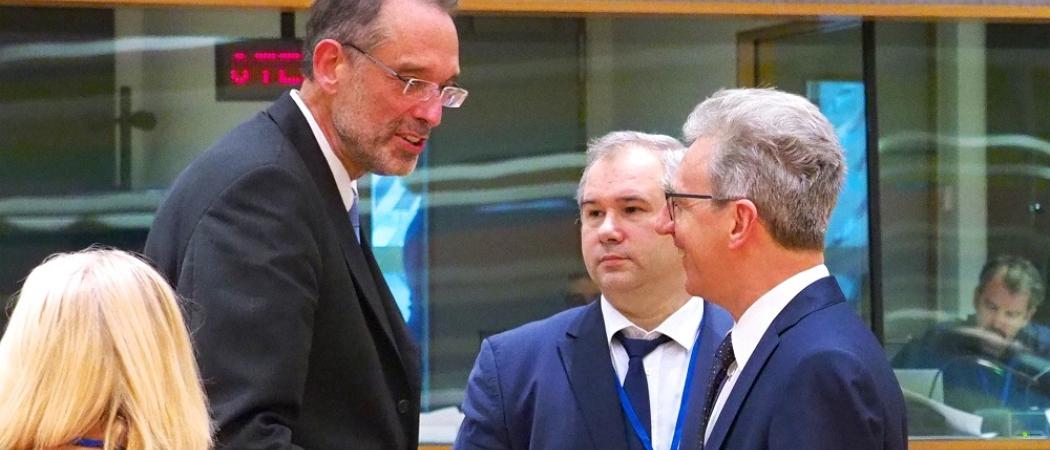 Europe's research ministers reached an outline deal on the EU's 2021-2027 research programme, Horizon Europe, late Friday, November 30, in Brussels, but failed to agree on a number of tricky issues.
Following marathon eight and a half hour talks, a majority of EU countries held out against demands from a bloc of central and eastern countries to cap spending on huge industry partnerships. Member states also swung behind a proposal to carve out more room for space-related research in the €94.1 billion programme.   
"We were able to bring together very different interests," Austria's research minister Heinz Fassmann, who has been leading negotiations while his country holds the EU's rotating presidency, told journalists. His legislative haggling and corralling of a sometimes fractious group of member states won praise from many research delegations. "We solved all the issues we had to solve. Specific issues will be handed over [to Romania, the next EU presidency]," the minister said.  
Member states promised to look again at two areas that sharply divided the room: the structure of the EU's new technology commercialisation body, the European Innovation Council (EIC), and how much money – if any – to earmark for special grants to entice expat scientists home.
The negotiations exposed the European divide in research: on every issue, support or opposition fitted a familiar east-west pattern.
The cap would not fit
A group of member states including Bulgaria, Czech Republic, Hungary, Poland, Lithuania and Latvia pushed hard for a commitment in the legal text that most of the budget in the research programme's second pillar, where the largest chunk of the budget is earmarked, would go to broad cluster topics, rather than specific industry-led partnerships.
These partnerships – such as the Innovative Medicines Initiative and the Clean Sky initiative – focus on everything from drugs and planes, to trains and cars. The perception among some countries is that they are too difficult for smaller companies to join.
Poland's deputy state secretary at the Ministry of Science and Higher Education, Piotr Dardziński, said, "We strongly favour capping for partnerships – we want it to be of the level of 25 per cent of the budget of pillar II." Bulgaria's delegation called the proposal "a red line".
The EU research commissioner, Carlos Moedas, was against the proposal. "Caps generate rigidity," he said. Moedas has advocated for as much flexibility in the new programme as possible. By contrast, the tendency of member states in talks has generally been to spell out everything in the legal text. On this issue, countries including Germany, France, the Netherlands and Sweden backed his side of the argument.
When it became clear there would be no majority agreement for a cap on partnerships, dissenting member states changed tack, and requested instead that the legal text commit to a percentage of funding in pillar two for all research outside the industry partnerships.
With the group of member states digging in their heels, Fassman threw the negotiations back open, even as some ministers were leaving to catch late flights back home. "I'm Austrian, so I try and get as large a consensus as possible," he said.
Again, Germany, France, the Netherlands and Sweden blocked the request. The Dutch minister for education, Ingrid Van Engelshoven, said including a percentage when the final budget for Horizon Europe is not yet known by anyone created too much uncertainty. "We don't really like that you could allocate part of the budget without any proper negotiations," said Sweden's Minister for Higher Education and Research, Helene Hellmark Knutsson.
The proposal "is a no-go," agreed Georg Schütte, state secretary of the Federal Ministry of Education and Research. "It's impossible, and would lead to a negative vote on the German side."
The effort was painstaking, and the clock ticked well beyond the point member states had expected everything to be wrapped up. In the end, Austria found consensus around a commitment to allocate a "majority" of funding outside of partnerships.
The wording was too vague for several countries. "We did not find any better formulation," Fassmann said.
Open issues
Noting some progress, Moedas said, "I just wish that the same spirit will keep going."
Solutions proved harder to find for other conflict areas, however.
Central and east European countries again combined to lobby for funding for grants aimed at helping expat researchers return home. In a letter circulated before the meeting, the Hungarian government pointed out that the share of Horizon 2020 funding won by the poorer EU-13 countries – those that joined the EU after 2004 – has been less than 5 per cent to date.
"We want to prevent one-way streets in Europe," said Portugal's minister for science, Manuel Heitor, referring to the brain drain out of the east and south of Europe towards countries where researchers could expect higher salaries.
A joint statement by Slovakia, Croatia, the Czech Republic, Hungary and Lithuania said the issue of unequal payment for the same work in excellent projects needed to be addressed in Horizon Europe. "We are convinced that disparities in remuneration negatively affect motivation of researchers in the low performing countries to participate in Framework programme and lead to brain drain within and outside the union," the statement read.
But not enough member states could be sold on the pitch, resulting in a gridlock. "Countries should support the return of their own researchers. It could prove to be very costly if the EU does it," Luxembourg's deputy permanent representative to the EU, Mike Hentges, said.
The UK and Ireland agreed. "We are concerned it could generate large costs. Deleting the provision – this is our clear wish," said Katrina Williams deputy permanent representative of the UK to the EU.
The disagreement threatened to scupper delicate consensus in other parts of the programme, with the Lithuanian delegation declaring it was prepared to walk away without sanctioning any deal.
"We did not get an answer on our concerns regarding unequal participation or on remuneration, which is why we abstain from support for a general approach," said Marius Skuodis, deputy minister for the economy.
But determined opposition from Lithuania and others eventually wore away. For the dissenters, Moedas had warm words of encouragement. "This is not the final negotiation; it's the first step; nothing is set in stone." Austria's Fassmann was more direct. "Not everyone can achieve 100 per cent of their interests," he said.
For a compromise, Austria suggested that the programme explore "mapping exercises" to determine brain drain effects in countries before committing any funding. The issue is unlikely to end here.
Meanwhile, the EIC, in line to receive €10.5 billion in Horizon Europe, remains a particular bone of contention for member states. The Commission's new technology commercialisation body is to arrive in 2021 in two parts – a "pathfinder" for new ideas, and an "accelerator" for those that are closer to market.
A bloc of countries that includes Spain, Croatia, Italy, Lithuania, Malta, Slovenia and Slovakia said they would like to earmark funding in the EIC accelerator for SMEs only (the Commission has proposed that the EIC will also fund small mid-caps, meaning companies with up to 499 employees).
The issue could not be resolved on Friday, and will be parked until next year, when negotiations are taken over by the Romanian government, in its first ever six-month turn at the helm of the Council of the EU.
Just as contentious was a proposal that successful applicants at the national level should be able to benefit from a fast track evaluation at the EIC. Austria suggested the idea should be trialled first in a pilot programme.
Poland and some of its neighbours rejected the proposal. "We definitely cannot accept the scheme, even as a pilot," said Dardziński.
"We think a mass of proposals would flood the programme," said Slovenia's deputy prime minister and minister of education, Jernej Pikalo.
While some issues were "bracketed", or kicked into the future, Moedas concluded that the meeting had been, "a long one, but also a fantastic one." He added words of caution. With Europe's leaders still in disagreement over the amount of money to allocate for the EU budget in 2021-2027, "there's a lot that doesn't depend on us," Moedas said.