Budget negotiations under way in Brussels will decide which industry-led research partnerships are worth keeping, amid pressure to wind some up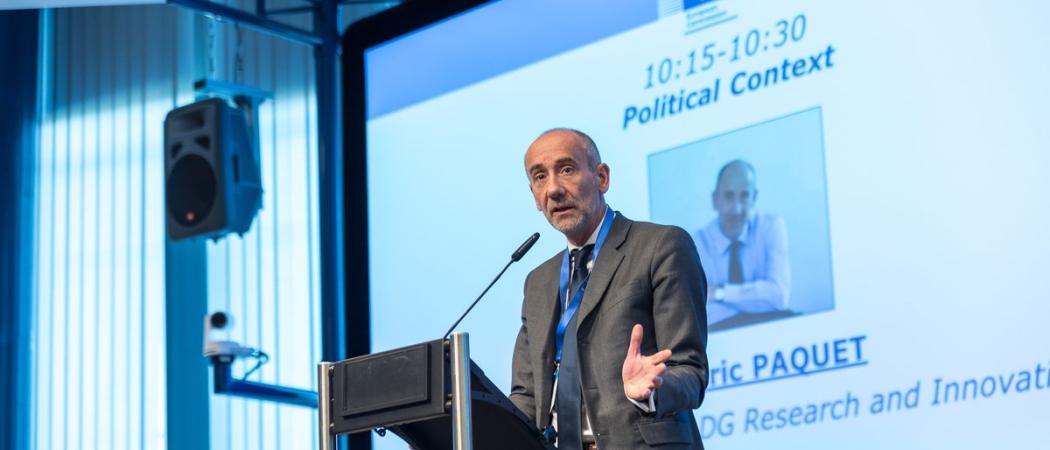 Electric vehicle groups, chip manufacturers, pharmaceutical companies and other industry groups are gearing up for a fight to hold onto their EU funding, as the European Commission begins a review into the billions of euros it gives in research incentives to companies.
The EU funds 19 big industry-led partnerships, with beneficiaries from nearly all corners of the corporate world, encompassing drugs, planes, trains and automobiles. Partnerships include Clean Sky, which funds research into cleaner, quieter aircraft, and the European Green Vehicles Initiative, which looks to develop technologies like longer-life batteries.
The Commission's legal text for its next research programme, Horizon Europe, talks of "rationalisation" of these partnerships. "I'm telling you, there will be changes," the director general of DG Research and Innovation Jean-Eric Paquet told an audience of industry and research heads in Brussels on Tuesday, though he did not make a concrete promise on which partnerships would be kept.
The partnerships tie together companies, universities, laboratories, SMEs and other groups and organisations around big research and innovation challenges. For each partnership, the EU puts up cash, typically billions. Member states might chip in money too, depending on the particular arrangement.
Industry matches the funding with cash of its own, or funds all or part of its own costs, and gets free rein to set research agendas. Most of the partnerships started as a response to the economic crisis of 2008 and in 2014 saw their budgets go up under Horizon 2020.
But there are questions about whether they are an effective or equitable tool for driving research and technology advances, and Paquet said there is growing pressure to wind some of them up. "There is a lot of expectation from member states to revisit partnerships."
Commission officials will feel that member states have not always pulled their weight in programmes they helped design. The four so-called EU public-public partnerships – which cover clinical trials in sub-Saharan Africa, active and assisted living projects, metrology, and funding for high tech SMEs – have at times struggled to raise cash from governments, the conference heard.
Former EU trade commissioner Pascal Lamy made this observation in his report last year on Brussels-funded research. "The public-to-public partnerships are building lasting collaborations but appear not to have been influential on member states' policies and strategies," the report said.
"As policymakers, we're good at creating things, but not finishing things," said Christian Naczinsky, head of department at the Austrian Ministry for Science, Research and Economy. "So one important criteria will be sunset clauses."
But killing programmes will be hard. "These are big dinosaurs on the move, with hundreds and thousands of organisations committed and throwing in money; they are hard to stop," a Commission official said.
Which partnerships to bump?
No two people can agree – at least publicly – on which ones to cut. "The partnerships are all doing their job. They are increasing industry commitment to research," said Paolo Annunziato, president of the Italian Aerospace Research Centre.
"We're keen to maintain the current ones, in so far as industry continue to pull their weight," agreed Hélène Barthélémy, deputy director of innovation, at the French Ministry for Ecological and Inclusive Transition.
The hint is that, as happened in Horizon 2020, some partnerships will be forced to merge. "Many of our partnerships are sector driven. We want something more cross-cutting. All would benefit from a broader remit," said Paquet.
The director general was vague on the process of identifying partnerships under Horizon Europe, however. "How we do this, I don't know…[but] in the next six months, we should converge on partnerships that can make a difference," he said.
'Radical opposition' warning
Not everyone appreciates this approach to deciding the fate of partnerships.
"It's unacceptable that the Parliament has no say in the process which will define substantial parts of the budget.This is the prerogative of co-legislators," German MEP Christian Ehler, one of the two lead draftsmen on Horizon Europe, said this week.
Others voice similar reservations. "The strategic programming is not very clear – it's very open. It's not very well defined," said Muriel Attané, secretary general at the European Association of Research and Technology Organisations.
Ehler said the situation is already creating uncertainty, and "sending the wrong signal to industry, research and technology organisations and universities, who have now for years demonstrated their commitment to these partnerships."
The MEP also warned that a proposal to kill any of the EU partnerships "will face radical opposition from the Parliament".
Industry prepares its pitch
For now, it's not clear either what Paquet means when he says that partnerships should become more "cross-cutting". Already, they combine many business areas and probably shouldn't widen much further, industry officials said.
"I would not mix everything. We need sector-specific approaches as well as cross-sectoral partnerships," said Daniel Gauthier, president of Horizon 2020's sustainable process industry partnership.
A full accounting of the economic benefits of these partnerships is difficult. It is also hard to know whether this activity would have happened without the EU aid – but officials say they fear that companies would move jobs overseas if the EU does not continue with subsidies.
The Commission, however, is also wary of a perception that partnerships are adding up to a gigantic bill for taxpayers and diverting money from other worthy causes.
Bernadette Ségol, former General Secretary of the European Trade Union Confederation, said that public-private partnerships in general have "a bad reputation with trade unions". She suggested that any future EU partnerships set aside money for re-skilling.
One Commission official at the event was exasperated at an almost complete lack of civil society bodies in attendance. "We invited them; they didn't come," the official said.
For those that did come, the event, organised by the Commission, was an opportunity to present the case for funding expansions.
Joaquim Menezes, chairman of the European Factories of the Future Research Association, reminded the audience that his EU partnership "has been evaluated and considered a success".
"We have worked with the Commission for 10 years, and attracted more than 3,000 organisations," he said. And, lest anyone was worried, he added that his company had "never fired someone because of automation".
Emmanuel Forest, president of the European Construction Technology Platform, which is involved in the EU's Energy-efficient Buildings programme, said that "people don't feel that construction is high-tech. I say to them, an airplane is only an energy efficient building that flies".
During all of this, the Commission was careful not to designate favourites – although it couldn't avoid praising one partnership.
On Wednesday, at an event celebrating the tenth anniversary of the Innovative Medicines Initiative, Paquet said, that, "No other programme in the world has enabled such collaboration between industry and research institutes. [This] puts IMI on a very solid foundation going into Horizon Europe review process."
EU Research Commissioner Carlos Moedas, speaking after Paquet, had similar warm words, but added: "What I can say today is that IMI is not a done deal. It's a work in progress. It needs to be adapted, made more agile, and we need to see how we can involve SMEs more, and other like-minded bodies."
The partnership has done much for research but also the image of big pharma in Europe, said Jonathan Knowles, the first chairman of the IMI board. "Before, we were below tobacco [in public opinion]; we weren't doing our best to convey all the scientific and research we invest in. There used to be arrogance from both sides – industry and academia – but look at how we work together now," he said.