The political puzzles and tensions at play in member states' latest round of talks for the EU's 2021-2027 research programme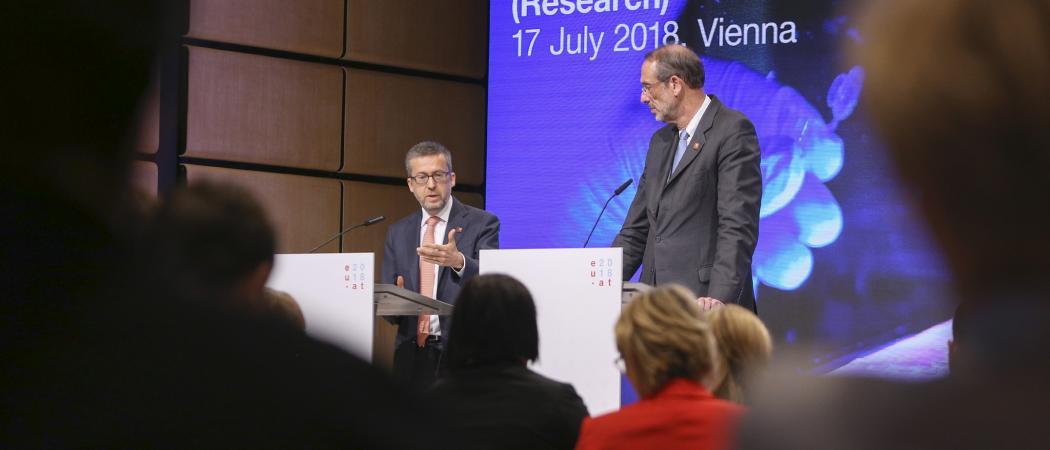 Research ministers from the 28 EU member states go into today's talks on Horizon Europe looking to settle differences on how the bloc's 2021-2027 research budget should be spent.
A draft compromise plan drawn up by Austria, which currently holds the council's rotating presidency and has been leading negotiations for the past five months, seeks to find agreement on a number of issues, but is facing opposition among various blocs of member states.
Member states' aim is to have an outline deal by the end of the day – a blueprint that could keep everything on track to approve the research programme before EU elections in 2019.
Here's a run-down of the main unresolved issues.
Clusters
According to a Council draft dated November 26, a majority of countries back a re-ordering of spending under the programme's second pillar, which is slated to receive the biggest slice of the budget pie – €52.7 billion.
According to the European Commission's original proposal for Horizon Europe, published in July, this amount should be divided among five clusters and the Joint Research Centre, which performs in-house research for the Commission.
The clusters:
Health, €7.7 billion
Inclusive and secure societies, €2.8 billion
Digital and industry, €15 billion
Climate, energy and mobility, €15 billion
Food and natural resources, €10 billion
Now, a majority of member states want to see the cluster "inclusive and secure society" split into one on "culture and inclusive society" and another on "civil security for society".
Additional debate on splitting the other clusters "has proved to be more controversial", the draft text says.
While some counties – including Estonia, Spain, Finland and Ireland – are coming out against any further atomising of the clusters, there is support elsewhere for a cluster that focuses solely on "mobility". Sources say the proposal is being pushed mainly from those countries, like France and Germany, with car industries.
Another group of countries – including Czech Republic, France, Poland and Portugal – want a new cluster on space. Austria, in search of a final compromise, is proposing to open up the digital and industry cluster to include all space-related research, and rename it, "digital, industry and space". 

Funding to reverse brain drain
A new proposal put on the table by Austria is to fund grants for researchers to return to their home countries. This would apply to researchers working within or outside the EU.
The proposal has split countries into familiar west-east voting blocs.
Unsurprisingly, poorer European countries that experience brain drains of their best young professionals and college graduates are supporting the proposal. This group includes Czech Republic, Croatia, Latvia, Lithuania, Portugal, Slovenia and Slovakia.
Richer countries, including Belgium, Germany, Denmark, Finland, France, the Netherlands, Ireland and Sweden, are questioning "the European Added Value" of EU funding for researcher returns, according to the Council text.
Terms of a new funder
Talks are probably most intensive over the future shape of the European Innovation Council.
The Commission's new technology commercialisation body is to arrive in 2021 in two parts – a "pathfinder" for new ideas, and an "accelerator" for those that are closer to market. The funder is in line to receive €10.5 billion.
But a bloc of countries that includes Spain, Croatia, Ireland, Italy, Lithuania, Malta, Slovenia and Slovakia have said they would like to earmark funding in the EIC accelerator for SMEs only (the Commission has proposed that the EIC will also fund mid-sized companies). According to the Council text, the EIC accelerator should also provide grant-only and equity-only support to projects, rather than a blend of both.
Talks have also focused on a contentious proposal to include "legal entities from low research and innovation (R&I) performing member states [in] already selected collaborative R&I actions."
Limiting spend on industry partnerships
A majority of countries, including Germany, Hungary, Estonia and Poland, are backing a proposal to cap the amount of EU funding industry-led partnerships, such as the Innovative Medicines Initiative, receive.
However, Denmark, Finland, France, Italy, the Netherlands and Sweden have "expressed concerns about a limitation of partnerships", the text says.
A solution for what to do about the partnerships – Brussels, in its own words, also wants to rationalise them – now looks likely to be parked until next year, the Council text indicates, when negotiations are taken over by the Romanian government, in its first ever six-month turn at the helm of the Council of the EU.
Stem cells
The November 26 text also notes that Malta and Poland have reservations on embryonic stem cell research. The Commission proposal says that research on human stem cells "may be financed", but not if the research is prohibited in a member state.