Günther Oettinger calls for 'flexible' approach on post-Brexit science deal, while standing firm on freedom of movement. And, he acknowledges, losing the UK's scientific heft could damage the EU's global standing in R&D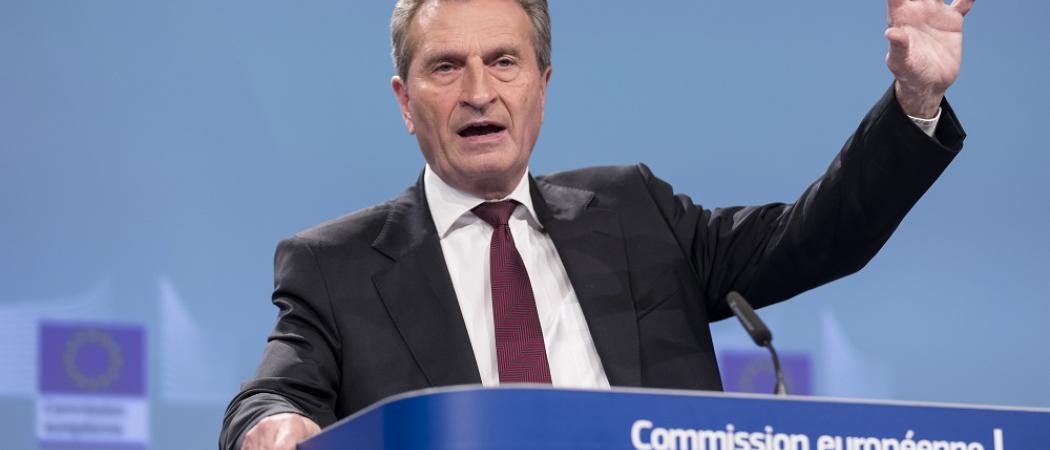 The EU's budget commissioner is calling for a "flexible" arrangement to allow the UK to access EU research funding post-Brexit, but warns that the country will have to satisfy the EU's core principle of freedom of movement if it wants a deal.
"We should be pragmatic and flexible to come to a solution on research," Günther Oettinger told a Science|Business conference on Tuesday in Brussels. "[But] the UK should accept some of our fundamental rules and values."
The UK government argues that its 44 year membership means it should get a "creative", bespoke deal on research, with significant influence on the future research direction. But Oettinger said he had in mind the "Swiss blueprint" for the UK, meaning an arrangement subject to freedom of movement.
"We have clear rules – freedom of movement is one of these rules. Researchers need freedom of movement. Here the [UK] prime minister has to jump and convince [foreign secretary] Boris Johnson and others [of this] or has to fight against them."
"Hard Brexit will finish our collaboration," Oettinger said, a scenario he wants to avoid. "[Our global edge] will be damaged by losing the UK."
To date, exit negotiations have  agreed the size of the UK's divorce bill and legal protocols to protect the rights of the three million European citizens in the UK and the million British citizens in the EU.
Debate over the third element of the withdrawal agreement, which is the UK's future position vis a vis the single market and the customs union, are stuck on how to avoid checkpoints on the border between the Republic of Ireland and Northern Ireland.
A requirement of continued freedom of movement would be hard to swallow for the UK government, pledged to control immigration. However, Oettinger ruled out any special immigration rights for researchers in the eventual Brexit deal. 
"Is it really fair to have special rules for researchers? And who is a researcher – is it just a professor, or is it his assistant too? Where should we begin? And where do we end?" Oettinger said.
Guarding research
Oettinger's draft budget for 2021 – 2027, announced last month, included hundreds of billions of euros for research and digital infrastructure. "We need this increase to compete in science with Silicon Valley, the Pentagon and Beijing," he said.
The new investment will help in a continent where it is still "phenomenally hard" to become a giant company, Werner Hoyer, president of the European Investment Bank, told delegates. "We could all name a couple of hundred 'lighthouses', he said. "But these companies lack growth potential."
The EU bank supported total investments worth €280 billion in 2016, and is expected to take on an even bigger role during the next budget period.
Researchers cheered the research budget increase to €97.6 billion, even as reality and national interests threaten to get in the way.
Net contributors such as the Netherlands, Austria and Sweden say the overall €1.279 trillion EU budget is too big, while the European Parliament wants to grow it even bigger.
Meanwhile, farmers and regional leaders are outraged over planned cuts to agricultural subsidies and cohesion funds.
"There's a lot of critical comments – nobody is happy, so I'm happy," Oettinger said.
The new budget requires the agreement of all member countries, as well as the approval of the Parliament. Oettinger's advice for how research can survive gruelling talks unharmed is,"Speak with your research minister, but better yet, your finance minister."
Few believe the budget negotiations can be wrapped up quickly. If the legislation is not approved before Parliament elections in May 2019, it will probably fall by the wayside until 2020. "If there's good will, it's feasible [to clear it]," Oettinger said.
By 2020, the Commission will be under new leadership, and a new roster of commissioners will need to oversee the proposals going into law. Unlike Germany's chancellor Angela Merkel, or Austria's prime minister Sebastian Kurz, Oettinger is not in favour of reducing the number of commissioners in the next executive. 
"Which member states should lose a commissioner? There's more than 100 ministers in Austria for less than nine million people. There's a lot to do [at home] to be more efficient," he said.