Seven-year research programme labelled the EU's 'most ambitious ever'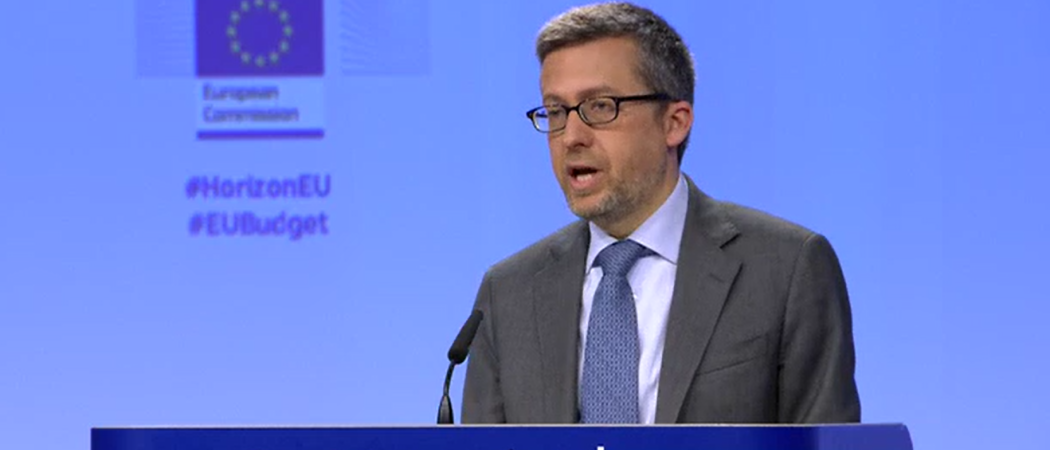 EU Research Commissioner Carlos Moedas sent the European Parliament and member states a €94.1 billion research budget proposal on Thursday outlining increases in basic science spending and a blueprint for a new innovation council to spawn transformative inventions.
The Commission's budget breakdown for its next research programme, Horizon Europe, running between 2021 and 2027, devotes the biggest share of funding, €52.7 billion, to a series of projects to tackle climate change, boost digital technologies, improve food, handle other 'global challenges' and boost industrial competitiveness.
The balance of the €94.1 billion will go to fund fundamental science and innovation. The total for Horizon Europe represents about 10 per cent of government research funding across the EU.
"We're aiming higher than ever," the Commissioner said in an interview Wednesday. Horizon Europe follows the current Horizon 2020, which has provided around €77 billion in research funding. From the start, its competitions have been extremely popular and sometimes heavily over-subscribed.
Moedas is obviously thrilled about the proposed funding increase, which comes at the expense of EU investment in agriculture and poorer regions, the two main staples of the Brussels budget.
His colleagues can't help but feel a little envious of the budget increase. One commissioner, riding a lift with some journalists in the Berlaymont on Wednesday, said: "When he goes to countries, he goes with money, while I go to issue moral imperatives." Another, vice-president Jyrki Katainen, said on Thursday that Moedas was "lucky" to have his hands on the portfolio at this moment.
All the numbers announced by Moedas assume no contribution from the UK, although the country has expressed a wish to access the next EU research programme after it has left the EU next March, in exchange for a membership fee, and a large say in how priorities are set. Membership has still to be negotiated, though.
He promises several novelties in Horizon Europe, including 'moonshot' missions and new rules to ease foreign access.
Missions, which are not specified in the programme, will get somewhere between €5 - €10 billion, the Commissioner said. "It's very difficult to create missions today for 2021-2027. So we are just going to set down criteria," Moedas said. "It would be a little bit arrogant to define the missions now."
Nevertheless, he gave two examples of possible missions that he feels the European public would get behind and support: finding a cure for Alzheimer's disease, and creating zero-carbon boats.
The desire to create missions is also borne out of a niggling feeling the Commissioner has that there is not enough awareness or credit today for EU-funded research. "When IMI [the EU-funded Innovative Medicines Initiative] helped create a new Ebola vaccine in 2015, nobody knew it was us," Moedas said.
Brussels also wants to tighten and, in its words, streamline the management of public-private research partnerships. "We have too many names, too many acronyms," Moedas said.
Some ingenuity with numbers means the Commission is claiming a total research budget of €100 billion.
A sum of €3.5 billion will fall under the budget line of a new programme called InvestEU, to be managed by the European Investment Bank and other banks, and steered towards investment under the broad policy heading of research and innovation. Another sum of money, €2.4 billion, goes to the Euratom nuclear research programme.
In addition to Horizon Europe, the Commission is taking a contentious step towards defence research: setting aside €4.1 billion over seven years in a separate budget line.
Changes for foreign access
A big change for Horizon Europe sees new rules for international cooperation. From 2021, non-EU "third countries", such as Canada, Japan and South Africa, will pay as they go in Horizon Europe, providing they have a free trade agreement with EU, and a programme-specific agreement. These countries will not put in more than they get out, and vice versa.
Foreign funding into EU research has dried up: the share of international programme participants from outside Europe has fallen to 2.5 per cent under Horizon 2020, in contrast to 4.3 per cent in the preceding Framework Programme 7.
The general idea for the new programme is that a third countries will not take out more than they put in. The new rules will apply to all the third countries – but not to European Economic Area countries, such as Norway and Iceland, which will not be affected by new rules.
The UK's imminent "third country status" means it stands to lose access to a significant amount of extra funding.
Moedas said the UK's situation was not the main motivation behind a rule-change. "No, no, this is not because of the UK. Even without the UK, we would have done it. I have witnesses that can tell you we have been talking about this from the very beginning."
If the UK is allowed back into the research programme it will obviously increase the scope of what the Commission can achieve. "I think there's a political and a scientific will that we have to find a solution. I'm sure we'll find a solution," Moedas said.
Five clusters
The biggest slice of the budget pie – €52.7 billion – would go to pillar two, 'global challenges and industrial competitiveness'.
The budget spells out some of the proposed spending details of the so-called "clusters" of policy challenges, under pillar two, for which the Commission wants to encourage more research and innovation in search of solutions. The amount is divided among five clusters and the Joint Research Centre, which performs in-house research for the Commission.
The clusters:
Health, €7.7 billion

Inclusive and secure societies, €2.8 billion

Digital and industry, €15 billion

Climate, energy and mobility, €15 billion

Food and natural resources, €10 billion (a figure already confirmed in the Commission's agricultural spending preview)
The JRC stands to get €2.2 billion. 
Top ups for ERC, EIT
Within the three-pillar Horizon Europe, pillar one, 'open science', is in line to receive €25.8 billion.
The spending breaks down into €16.6 billion for what Moedas calls the "jewel in the EU research crown", the European Research Council (ERC), €6.8 billion for Marie Sklodowska-Curie Actions fellowships for doctoral programmes, postdocs, and staff exchanges, and €2.4 billion for research infrastructures.
"A lot of people were questioning – is Europe going to keep investing in fundamental science? The proof is in the funding increase for the ERC," Moedas said.
The money proposed for the ERC is up €3.6 billion on the previous budget period, but will be less than some had hoped.
The third component, 'open innovation', is given €13.5 billion. From this total, the new European Innovation Council (EIC), which is supposed to reward bold, interesting ideas, is in line to receive at least €10.5 billion – an amount that includes €500 million for 'European innovation ecosystems'.
Against some expectations, the European Institute of Innovation and Technology (EIT) budget is expected to go up slightly, from €2.7 billion in the current period to €3 billion.
After a rocky few years, the increase will be celebrated, but only a little. The EIT is now roughly twice the size it was in 2014, having added three more "Knowledge and Innovation Communities", so it would be hard to see the relatively small amount of extra cash going far enough.
An east-west bridge
Money for poorer-performing EU countries – which used to fall under the EU's 'widening participation' programme, now renamed as 'strengthening the European Research Area' – is expected to be €2.1 billion. This breaks down into €1.7 billion for 'sharing excellence' spending and €400 million for 'reforming and enhancing the European R&I system'.
Central and eastern member states had told Brussels to do more to tackle the persistent research and innovation divide. In Framework Programme 7, which ran from 2007 - 2013, these countries only won four per cent of total EU research monies. In the current Horizon 2020, that number has improved, but only by 0.4 per cent. The lion's share of funding continues to go to research institutes and companies in the UK, Germany, France and the Netherlands.
"We need this funding to help countries go up the ladder," Moedas said.
The extra money for research between 2021 and 2027 will not necessarily improve application success rates, which have fallen to 11.9 per cent under Horizon 2020. The extra money may simply stimulate higher numbers of applicants, Jean-Eric Paquet, director-general for research and innovation at the Commission warned this week.
"It's something we need to look at collectively. Funding programmes in national countries are [being] reduced, so more applicants come to us," he said.
Not a copy-and-paste Darpa
Moedas is frequently asked if the new EIC is his take on the Defense Advanced Research Projects Agency (Darpa), the breakthrough technology arm of the Pentagon that gave rise to technologies including Global Positioning Systems, Stealth aircraft technology, and other now-famous ideas that, while initially planned for warfare, have since proved 'disruptive' in civilian markets, as well.
"No, but it shares Darpa's objective to spur breakthrough technologies. We cannot copy and paste things from elsewhere. You have to adapt them to a European system," Moedas said.
The EIC will have two funding parts, the pathfinder, for new and maybe even slightly oddball ideas without a business plan, and an accelerator for the more road-tested ideas.
For Moedas, the Council, is a means to address the problem of Europe's shortage of successful innovative businesses,  and also a way to shake up the work culture of the Commission, and mix some business geniuses in with the bureaucrats. "We need to have evaluators who are entrepreneurs themselves," Moedas said. Quite whether the Commission will be able to attract top evaluators remains to be seen, since a general problem for EU research has been enticing corporate figures to give up a few days of work to grade applications.
Moedas also wants the Commission to interview applicants. "You cannot be just a bureaucratic institution. You have to meet people," he said.
Merkel, Macron on side
When asked if the political powerhouses of Europe, German chancellor Angela Merkel and French president Emmanuel Macron, would back the EIC, Moedas said, "I feel I have their support."
And Moedas added, he is open to tweaking the proposal. "We are open to change. Finland, Germany and France have sent us position papers. The only thing I'm not for is an intergovernmental structure, where everyone is saying give me X-amount of money."
The French government originally suggested an innovation agency should be outside the normal EU framework, in a similar vein to bodies such as the European Defence Agency.
The overall research pot could eventually grow bigger if rich countries like Switzerland, Israel, and Norway join the programme as expected.
Like all EU decisions, the proposal will require many rounds of scrutiny before final adoption. It will need to go through the normal democratic channels: unanimous agreement from the EU's member countries and consent from the Parliament – a process that could easily stretch beyond a year.
There is no guarantee at the end of the process that the numbers will stay the same.
"I'm not afraid of cuts but I have my eyes wide open," Moedas said. "The Parliament will be with the Commission. If you look at the latest statements of the leaders: Chancellor Merkel and President Macron were all talking about disruptive innovation. This is still a relatively new thing."
For Moedas, it bodes very well.
Editor's note: An earlier version of this document mistakenly listed Switzerland as a member of the European Economic Area group of countries.