Rising support for populist parties is disrupting the politics of member states. A leaked plan for FP9 proposes a bigger focus on research to understand the roots of populism and how it may be defused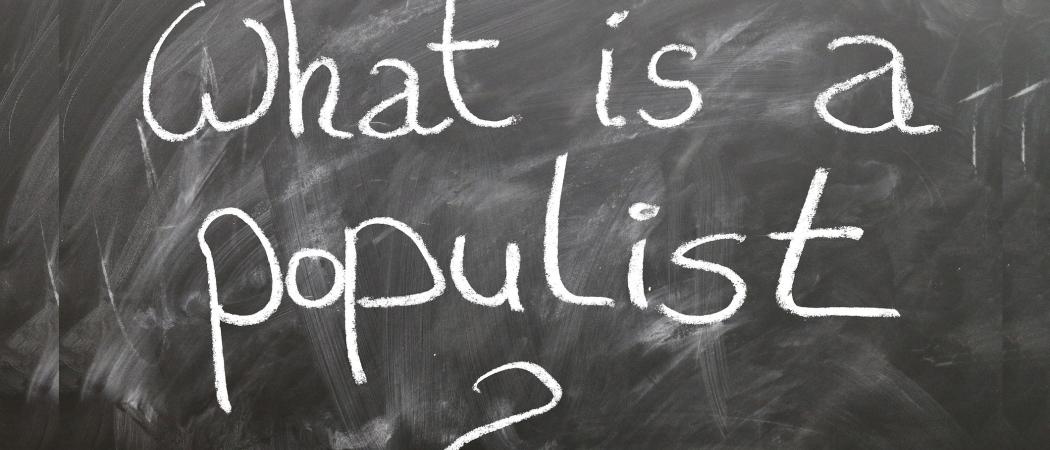 The European Commission wants Framework Programme 9 to back research projects that aim to strengthen democracy and address the wave of populism, amid concerns that the rule of law and democratic checks and balances are being undermined in member states including Poland and Hungary.
"European democracies and democratic governance are experiencing fundamental challenges," says an internal EU paper, seen by Science|Business, setting out draft plans for FP9. "Trust towards democratic institutions seems to be receding whereas disenchantment with politics is increasingly articulated by anti-establishment and populist parties and a resurgent nativism," the plan says.
The leaked proposal, dating from February and subject to change before the Commission publishes its broad EU budget plans on May 2, would put FP9 squarely into some of the touchiest political issues faced by Europe.
The amount that might be invested is not discussed, but the paper says R&D funding in the 2020s could, "contribute directly and considerably to positive narrative constructions about democracy."
The intent is to enable the objective "scrutiny" of "various levels of governance, from local to global."
Commission officials declined to comment on the proposals.
The document suggests funding to investigate whether artificial intelligence is undermining democracy. French president Emmanuel Macron recently said AI could "totally jeopardise democracy" if left unchecked.
Experts also raised this fear in a recent report to the Commission, suggesting the technology behind e-government, e-voting, and e-health platforms needs to be more secure.
The proposal to fund research into populist movements and safeguarding democratic institutions can be placed the wider context of recent measures by Brussels to buttress democracy and face up to Eurosceptic, right wing populist parties, fake news and suspicions of Russian-backed interference in elections.
Over the past year, officials and politicians in Brussels have discussed cutting funds to Poland, Hungary and other states for allegedly disregarding on EU rules. Both Hungary and Poland face legal action by the EU on matters ranging from the treatment of civil groups to environmental policy.
There have also been proposals, mainly coming from Germany, to tie EU cohesion funding to member states' adherence to democratic principles and human rights.
More recently, the EU has begun scoping measures to deal with fake news and will propose that internet companies take on a bigger role here, in a new strategy to be published this month.
The strategy is expected to call for more transparency on the algorithms used by internet platforms and for technology companies to disclose who funds sponsored content on their websites.
FP9 takes shape
The FP9 paper also gives some fresh details on the structure of the programme, with the draft showing four sections for fundamental science, open innovation, global challenges and widening participation.  
This greater emphasis on widening participation, or "spreading excellence", follows calls by east European member states to spend more money on boosting science and technology capabilities across the EU.
Besides democracy-focussed projects, the document lists a range of possible funding priorities, including investment in low carbon steel, high performance computing, and climate science research to help Europe towards goals set by the Paris Agreement.
In addition, there is more detail on the evolving European Innovation Council, which here is presented in two parts.
First is an instrument called the EIC Pathfinder, which would accept proposals from any legal entity, including universities. The expected outcome of this funding would be a new start-up or business plan.
The second element is an EIC Accelerator to scale-up promising products in development by companies with a tailor-made mix of grants, debt and equity. Banks, venture capital firms and public innovation bodies would be invited to co-partner projects.
The paper also suggests the three €1 billion EU Future and Emerging Technologies (FET) flagship mega-projects could be scaled back. The graphene flagship, which is focusing on developing commercial applications of the material, and the human brain project, which aims to develop a computer model of all the processes in the brain, began in 2013. Last year the Commission announced a third €1 billion flagship in quantum research.
"The research priorities covered by the existing FET flagships may, where appropriate, be included in regular calls in work programmes, in order to deliver and develop new synergies with research and innovation activities of strategic importance," the paper says.
Editor's note: Article was amended on April 6 to replace the word 'pillars' with the word 'sections'.