Research ministers agree to erect barriers against Chinese and US giants taking part in EU research programme, in strategic move against foreign technology dominance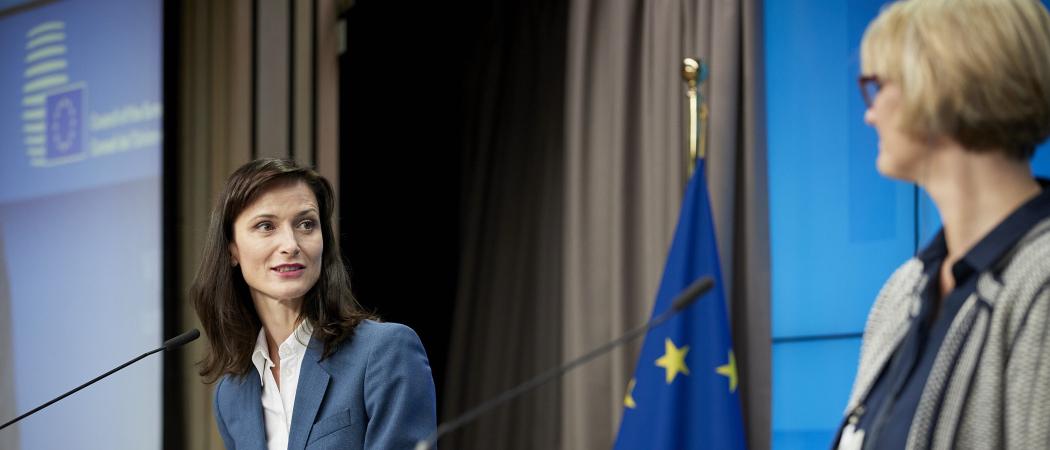 Research ministers have agreed to more aggressively police foreign participation in the EU's research programme, adding a new provision to Horizon Europe that is aimed primarily at preventing China and the US from getting access to sensitive European research.
The toughened legislation will allow Brussels to limit or block a far wider array of entities from participating in Horizon Europe, as Europe tries to prevent China and the US from gaining an edge in industries projected to power the economy of the future.
According to a new provision inserted to article 18 of the Horizon Europe text, which spells out eligibility requirements, Brussels will now have the scope to "exclude the participation of legal entities established in the union or in associated countries directly or indirectly controlled by non-associated third countries or by legal entities of non-associated third countries from individual calls".
The EU will exercise this power for "duly justified and exceptional reasons", the text says.
Analysts said this is the latest strategic move to reduce Chinese and US dominance in cutting-edge technology.
"It's clear that the main driver of this change in Europe's research policy is the fight between the US and China for global technology leadership," said Robert-Jan Smits, former director-general of the European Commission's research directorate.
"This is increasingly becoming an ugly fight in which the global rules of respect and engagement are thrown out of the window and Europe threatens to be squeezed between these world powers, unless it starts to take better care of its own interests and that's what it is starting to do," he said.
It remains to be seen how broadly the commission will apply its new authority, though EU officials are particularly concerned about the potential for Chinese state-controlled enterprises to take data or intellectual property from European companies and export it to China.
Individual member states have already taken steps to block China's Huawei from supplying equipment to their next-generation of 5G mobile wireless technology (the telecoms giant has repeatedly denied allegations of spying and stealing trade secrets). Politicians in Brussels have also warned about shielding European industries during the COVID-19 economic downturn, and plan to introduce a tougher mechanism to vet acquisitions of Europe's technology jewels.
"Policymakers certainly had China in mind when they were drafting this article," said Smits, who is now president of Eindhoven University of Technology. "China has not hidden that it wants to become the number one tech leader in the world and that it will do everything and anything, even through its Europe-based companies, to get there, without scruples."
China is the primary target with this new legislation, agreed Peter Tindemans, former secretary general of EuroScience, the grass roots science group. "You could hear it in quite a few remarks by [current EU research director-general] Jean-Eric Paquet."
Last week Paquet said the EU would be more selective about research partners for Horizon Europe. "The DNA of [the Horizon programme] does not change. Cooperation in science is a no-brainer for us. At the same time, the world is deeply changing and we need to revisit the way this is done in practice," he said.
The EU will become more "specific, nuanced" on how "we open our programmes to the world," said Paquet.
Smits believes the powerful American tech giants will also have been in the drafters' minds. "I would not be surprised if this article will be also used to avoid that GAFA [Google, Apple, Facebook, Amazon] becomes too dominant in [Horizon Europe] projects, vacuuming, through its EU-based subsidiaries, Europe's data and sending these over to the US," Smits said.
He said the new legislation "shows that Europe wants to be less naive and keep an eye on its most precious asset – knowledge."
On the offensive
The new powers, which need to be confirmed by the European Parliament, were cheered by the chair of the parliament's delegation for relations with China.
"It is of necessity that Brussels can in the future authorise the exclusion of would-be-recipients of Horizon Europe funding in case they are directly or indirectly controlled by third countries," said Reinhard Bütikofer.
"Why should we, for instance, allow a hypothetical Chinese recipient, that is part of China's civil-military fusion programme, to benefit from EU research funding?"
However, "playing defence is not enough, the EU must also play offense," said Bütikofer. "And that means we should invest much more into research and development."
The German MEP said he "deplored" recent cuts to Horizon Europe, with the programme seeing its €94.4 billion budget over the next seven reduced to €80.9 billion (in 2018 prices) by EU leaders.
"We are falling short of giving an adequate priority to fostering European innovation," he said.
What of open science?
Other analysts said it was still unclear under what circumstances this new power would be used.
"I am not sure if it is positive or not," said Thomas Jørgensen, senior policy coordinator at the European University Association. "I do not think that the EU has yet found the formula that avoids knowledge silos between the world regions on the one side, and prevents uncritical sharing of knowledge and technologies on the other."
Thinking about examples for when Brussels could exclude certain companies, or countries, from its research projects, Jørgensen said, "China comes to mind if you think about developing, for example, facial recognition or other technologies where the use might be problematic." The Chinese Communist Party has been criticised for rolling out facial recognitions systems in stations, schools, and other public spaces across the country.
However, Jørgensen pointed out that there are no detailed criteria given in the Horizon Europe text for when you would exclude a particular company or research organisation.
"It could be for ethical reasons, and you would think about Saudi Arabia or China. It could be more security related, and it would be for example Russia. It could also be about competitiveness and you might think about the US," he said.
Smits said wielding the new power would be difficult, as it wouldn't be easy to identify those companies "fully controlled by an outside power with dubious intentions."
Yet the move represented, for him, a visible break with the vision of the former research commissioner Carlos Moedas, who had previously called for EU research programmes to be "open to the world".
"It could mean a step away from – and perhaps the end of – the EU's '3-O policy' of open science, open innovation and open to the world, which I would regret," said Smits.