The European Institute of Innovation and Technology awards its best innovators as director Martin Kern tells Science|Business about future plans in the upcoming Horizon Europe research programme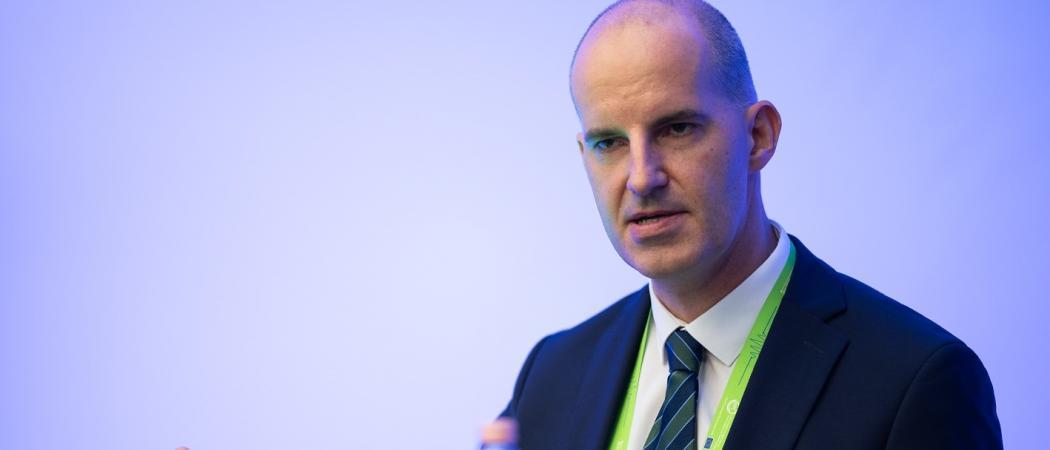 The European Institute of Innovation and Technology (EIT) is to scale up education initiatives and work on broadening its geographical reach in the EU's upcoming Horizon Europe research programme, EIT director Martin Kern told Science|Business.
EIT is still waiting for EU policymakers to sort out the final details of its mandate in Horizon Europe, but the direction is already clear, Kern said. On education, EIT will boost cooperation with universities starting in 2021. The aim is to help graduates acquire targeted innovation skills, "and also deliver the skills that students need to become entrepreneurs themselves," he said.
EIT will also expand its regional innovation scheme, in which innovators in countries that rank low in the EU Innovation Scoreboard are supported to get involved with the work of EIT. In 2018 alone, the scheme supported 600 start-ups and dispensed over €15 million in grants.
With Joe Biden due to enter the White House, EIT has plans to expand its activities in the US, where it already runs a hub in Silicon Valley.
"We already have a good basis to link up better to the ecosystems in the US. One thing is to learn for each other, but of course there are also opportunities and market access for start-ups. There might be opportunities for investments to be attracted," said Kern. "This is part of our future strategy, to build on that and to have a strong ecosystem with a global dimension."
The ways in which different EIT communities aim to forge closer ties with the US is detailed in strategy documents that are yet to be made public.
EIT's eight knowledge and innovation communities (KICs) are due to be joined by a ninth KIC dedicated to cultural industries in 2022. Kern said this is significant, "Not just because the topic is so relevant after the industry has been hit by the [COVID-19] crisis, but also because it will complement in a great way the existing KICs."
Contributing to a European Innovation Area
KICs connect universities, start-ups, industry, and research, and working together with other EU innovation instruments, EIT will underpin and provide advice on the European Commission's ambition to create a European Innovation Area, Kern said.
For example, one of the main lessons EIT has learnt over the years is that one-size-fits-all does not work. Companies need targeted support in a range of areas including financing, finding partnerships, linking to the ecosystem and working with industry. EIT has been providing such help for years on an EU-wide scale.
The EIT's experience in forming ecosystems can also provide a guide to the building of alliances in the European Innovation Area. "This is also how we will become more competitive in key technologies or innovation areas and can compete better with the US and China and others," Kern said.
Speaking at this week's EIT awards ceremony, research commissioner Mariya Gabriel outlined her ideas for the creation of a European Innovation Area, saying it should be decentralised and empower all innovators and entrepreneurs to realise their full potential, wherever they are in Europe.
EIT will have a key role to play in creating the European Innovation Area. EIT is the first EU initiative "focused on technological and non-technological innovation following an ecosystem approach, fostering innovation coming from the research labs, but also directly from the classroom," said Gabriel.
The expansion of EIT's regional innovation scheme also supports the ambition to create a European Innovation Area, because it will contribute to a key European objective of closing the innovation gap, which, noted Gabriel, "Is greater than the gap in GDP and productivity."
Awarding innovators
The EIT awarded its five leading innovators €50,000 each in the virtual award ceremony.
The EIT woman award went to Cristina Aleixendri Muñoz, chief operating officer of bound4blue, a Barcelona-based company developing autonomous wingsail systems.
The change award, which recognises graduates of EIT education programmes, went to Chaitanya Dhumasker, CEO of Monitor Fish, a Berlin-based start-up that is developing a real-time, cloud-based fish welfare monitoring system.
Stockholm Water Technology, a start-up developing sustainable water purification systems, led by CEO Karthik Laxman, won the public award, after being voted most impactful innovator by the public.
The innovators award, which rewards the producers of high impact products, went to the team behind Corify Care, a medical start-up developing technology to improve the treatment of atrial fibrillation, led by Andreu Martinez Climent.
Filippo Bosco, CEO of BluSense Diagnostics, a Danish producer of diagnostic tests for Dengue fever and COVID-19, received the venture award, which recognises the most successful companies to have benefitted from EIT's business acceleration support.