Nominated for Innovation and Youth commissioner, Gabriel is expected to take on an expanded portfolio, merging education with research and innovation. She will move from her current post overseeing digital policy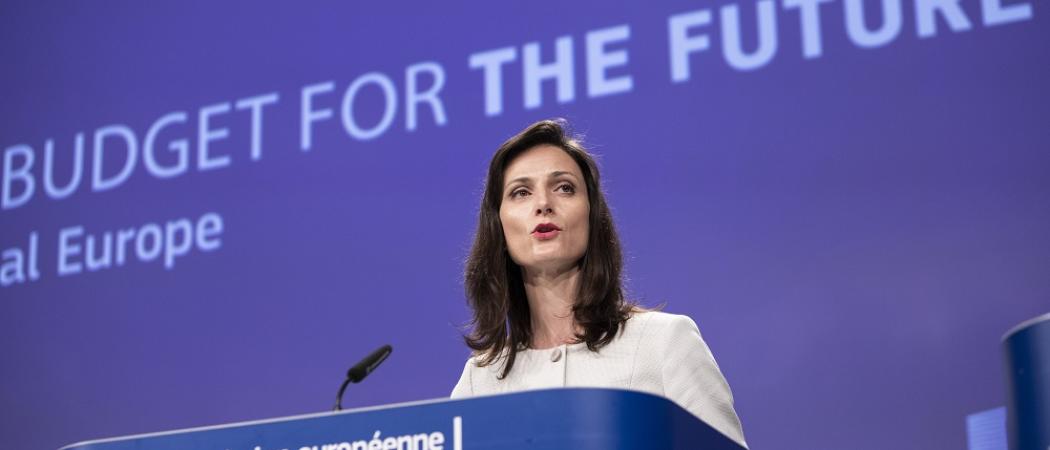 The incoming president of the European Commission, Ursula von der Leyen, nominated Bulgaria's Mariya Gabriel to take charge of research, innovation and education, but has scotched research from the name of the brief for the first time, relabelling it the 'Innovation and Youth' portfolio.
While it won't be in the job title, Gabriel will take over management of the €94.1 billion Horizon Europe, the EU's largest ever research programme. Assuming the European Parliament approves the appointment, she will move over from her current post as European commissioner for digital economy and society, to take over from the outgoing Carlos Moedas on November 1.
In addition to Horizon Europe, Gabriel's sprawling portfolio will absorb education duties, currently performed by education commissioner Tibor Navracsics.
According to the "mission letter" addressed to Gabriel by von der Leyen, the brief is to "ensure sufficient investment flows to disruptive research and breakthrough innovations, notably through the European Innovation Council."
Gabriel is also called on to work with member states "to build a true European Research Area", oversee a "tripling" of the Erasmus+ student exchange programme, and ensure the "full implementation" of the European universities initiative, all programmes currently under Navracsics.
The mix and match of education and research files implies changes are coming to commission services and raises the question of whether the directorates for research and education will be combined.
However, Jean-Eric Paquet, director-general for research, quashed this idea, telling a Science|Business conference on Tuesday afternoon that research and education will remain separate directorates.
The commission also announced the creation of a new directorate for defence to manage the recently-established European Defence Fund.
Naming the nominees, von der Leyen highlighted the central role assigned to Gabriel, saying the brief is an "enormous responsibility, but she is determined, and capable, she'll manage."
The rise of Gabriel will be seen as a victory for Bulgaria, whose government is pushing to improve research and innovation at home from its current low standing. In its yearly innovation scoreboard, the EU classes the country as a "modest innovation performer", with R&D spending "well below the EU average".
The appointment of a commissioner from eastern Europe has a broader symbolic purpose. The EU-13's participation in Brussels research programmes remains at a low level. From 2007 to 2013, the poorer countries got 4.2 per cent of all Framework funding; from 2014 to mid-2018, it was 4.8 per cent. These countries account for about 10 per cent of all Horizon 2020 applications, but their success rate is 11.8 per cent, compared to 14.9 per cent in the EU-15.
They do especially poorly in the toughest competitions, such as the European Research Council and its frontier research grants.
Small jump
Early reaction to the make-up of the portfolio and Gabriel's appointment among researchers was positive. "It's the best portfolio we could imagine, integrating everything we care about, and Gabriel was my number one pick in the lottery," said Christian Ehler, German MEP and one of two lead draftsmen from the parliament on Horizon Europe legislation. "She is intrinsically interested in all these topics, which is not always the case with commissioners. And the jump from DG CONNECT to DG Research is a small one."
The former director general of the European Commission's research directorate, Robert-Jan Smits, said the merging of education and research made sense. They "are two sides of the same coin," he said.
But Smits, now president of TU Eindhoven, said he was "a bit surprised and disappointed" that the European Research Council did not warrant mention in Gabriel's mission letter.  
Ehler, meanwhile, raised a point many were making, saying "The only downside is that there's a small headline for research" in the brief. However, in terms of money, power and status, things remain the same, he argues. And if anyone is still in doubt, the MEP promised to "make sure research gets the same support as it has always done."
Jan Palmowski, secretary general of the Guild of European Research-intensive Universities, said "It is a matter of some concern that research does not feature in the title of the brief, and we will be working closely with the Commission to ensure that the work of universities are recognised."
There is also some concern the expanded brief could prove unwieldly to manage. 
"Gabriel has experience in the commission, has followed the creation of Horizon Europe and Erasmus, and knows the financial game," said Kurt Deketelaere, secretary general of the League of European Research Universities. "But she will have a huge job in coordinating the co-creation of Horizon Europe over different DGs and commissioners."
For Thomas Jørgensen, senior policy coordinator at the European University Association, combining education, research and innovation under one commissioner is "a great opportunity". However, he noted that von der Leyen has given Gabriel a lot of responsibilities. "We need to keep [Gabriel] on her toes," said Jorgenssen. "There is a lot to look after."
Fighting to protect and grow budget lines for research, education and innovation is a big task, others agreed. "My quick, early thoughts are that having a commissioner that needs to fight for both Erasmus and Horizon Europe in the college makes the latter programme vulnerable," said Gosse Vuijk, head of the EU office of TNO, the Dutch Organisation for Applied Scientific Research.
The final line-up of the team has been closely guarded. Earlier reports had Lithuania's economy and innovation minister Virginijus Sinkevičius in line for the research post, but in the event he will take on environment and oceans.
In other jobs with relevance to research, the nominee for the cohesion portfolio is Elisa Ferreira of Portugal, and for health is Stella Kyriakides of Cyprus
Tuesday's appointments complete the regime that will run Europe for the next five years, subject to approval by the European Parliament.
In addition to changes in the portfolios, von der Leyen's line-up creates a new and vastly more complex pecking order of commissioners, with the addition of three executive vice-presidents and five vice-presidents.
The three executive vice-presidents are Valdis Dombrovskis for 'an economy that works for people', Frans Timmermans for a 'European Green Deal', and Margarethe Vestager for a 'Europe fit for the digital age' (she will retain her responsibility for competition law).
Von der Leyen has said that she plans major initiatives in her five-year term, including mobilising billions of euros in public and private investment for a European Green Deal.