Chris Whitty and Patrick Vallance defend government's response to deadly disease and say not enough is known yet about how the virus will mutate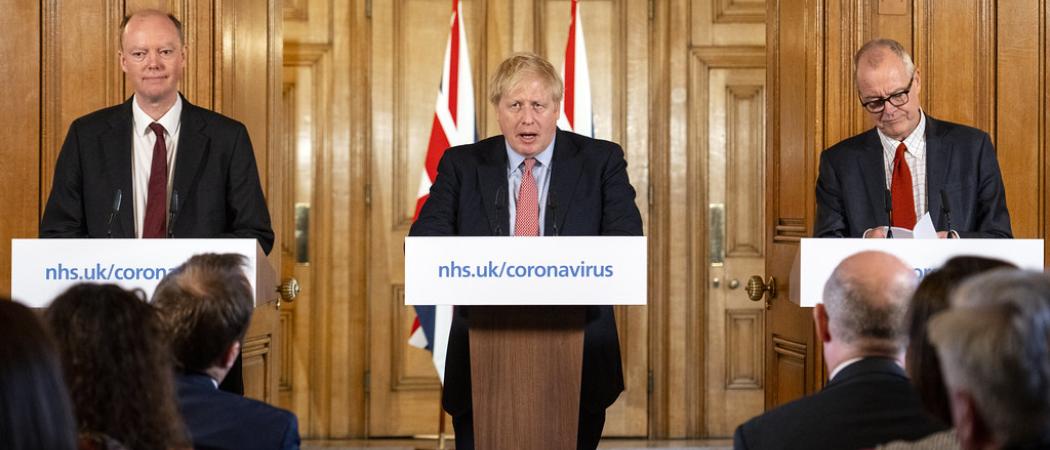 England's chief medical officer Chris Whitty says, "the coronavirus epidemic has followed the path we expected," but the UK government response to the crisis will evolve as more becomes known about the deadly disease.
"There is no settled science on any new virus," said Whitty. The last few months has seen an "accelerating of knowledge from virtually nothing".
Together with the UK government's chief scientific adviser, Patrick Vallance, Whitty explained the uncertainty around how the virus could mutate, and whether there would be any intermission during the partial lockdown that would allow people to return to normal lives.
"The priority is to make sure we [make] the peak as reduced as we can. We must get numbers [of infected cases] down to a manageable point. Then we can think about relaxing measures," said Vallance.
The government could not commit to a timetable for this, however. "We're dealing with a brand new virus – timelines are not possible," said Vallance.
Vallance explained how mass testing, which has been shown to help control the spread of COVID-19 in other countries, could be a means to allow certain people to return to normal lives.
"If you can scale up to mass testing, it will tell us who has had [the virus] and who now has an antibody and won't catch it again," Vallance said. As a result, it should be possible to say who is fit to leave their homes and return into the workforce.
The World Health Organisation is urging all countries to test aggressively, noting how South Korea was successful in limiting infections by doing so. "Our key message is: test, test, test," WHO chief Tedros Adhanom Ghebreyesus said on Monday.
But so far, rather than extensive testing, the UK had been pursuing a "herd immunity" strategy, which involved allowing more people to catch the virus and develop immunity, as a way of building up resistance.
As more data accumulated, the government is now changing the policy, and is ready to ramp up the numbers of people being screened.
Testing is "being worked up actively as we speak," Vallance said. He warned however that this would not happen overnight.
Vallance suggested the UK population could expect further stringent measures to halt the virus flow.
"Mixing in pubs and restaurants needs to stop," Vallance said. Before joining the government, Vallance was president of research and development at pharma giant GlaxoSmithKline from 2012-2017.
Whitty, an epidemiologist who played a leading role in the UK effort on Ebola in 2014, said while older people and those with underlying health issues are more at risk from coronavirus, "It is important we don't give the impression that every [young person] will breeze through this."
He said any interventions against the virus would continue to balance "significant health and social downsides".
A full lockdown could induce loneliness among people living alone, for example. "If you do things too early, you could get the negative consequences without affecting the flow of the pandemic," he said.
Virus mutation
Whitty said it was not possible to say whether the virus would eventually mutate "in such a way that it evolves around a [potential] vaccine".  
"There's a lot of chatter around that this virus could become more dangerous as it mutates. While theoretically possible the general tendency is if there's a direction of travel for mutations over time they tend to become less virulent," Whitty said.
The government's advice on the virus will continue to evolve as the data accumulates, he said. "We'd answer the same question differently now than six months ago."
Scientific critiques of the government's coronavirus strategy are helpful, so long as they are "courteous rather than ranting," said Whitty. "It's always important to be very honest about what we know and what we don't. There are quite a lot of really critical questions we don't know the answer to now," he said.
Making predictions on virus behaviour is improving with more data to work off but the longer-term future is more uncertain and harder to model, said Whitty.
"Clearly a vaccine is one way out of this," he said. However, a "vaccine riding to the rescue in six months' time is improbable."