Mauro Ferrari quits after just three months at helm of EU research agency, citing "uncoordinated" COVID-19 response. But MEP Ehler denounces the move as 'window-dressing'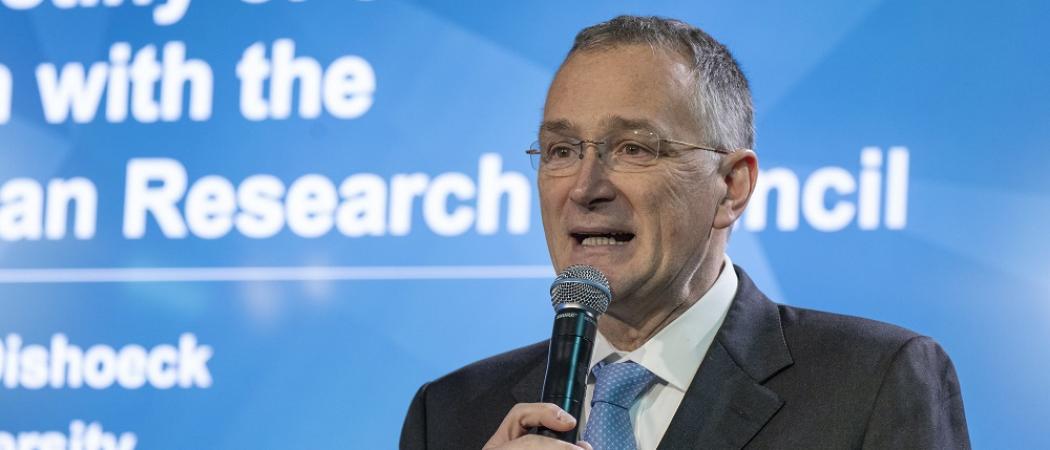 Mauro Ferrari resigned unexpectedly as president of the European Research Council, triggering a noisy public spat over why and how he left.
Ferrari, an Italian-American expert in nano-medicine, fired off an angry resignation memo – provided first to the Financial Times – castigating the European Commission for "a largely uncoordinated cluster of initiatives." He said he pushed to have the ERC, which focuses on frontier research, launch a special funding round for COVID-19 research. As a result, he said, "I have lost faith in the system itself" and submitted his resignation on 7 April.
But that version of events was quickly disputed in Brussels. Christian Ehler, a German member of the European Parliament who leads research legislation, issued a late-night statement calling Ferrari's actions "a window-dressing public relations stand on the coronavirus crisis and it was a contradiction to the legal basis of the ERC."
Other sources said the agency's governing body, the 21-member Scientific Council, had decided days earlier to ask for Ferrari's resignation. Among the issues was a belief that he was spending too much time on non-ERC, private activities.
The Commission issued a statement confirming Ferrari's immediate resignation and noting that his contract as ERC president only gave him the legal powers of a "special advisor" to the Commission. Legally, it said, the Scientific Council "defines the scientific funding strategy and methodologies of the ERC." It went on to thank him "for the strong personal investment" he made in the months leading up to his appointment 1 January.
When he took office on 1 January, Ferrari was allowed to continue some outside activities back in the US, where he had built his career in engineering, nanotechnology and medicine. Among these was a paid board position at a US biotech company, Arrowhead Pharmaceuticals. He also continued as an affiliate professor in pharmaceutical science at the University of Washington. But the arrangement was unusual for an agency like the ERC, and had already prompted some outside criticism. As European nations began entering COVID-19 lockdown last month, he was in the US, where his grown children work. 
A Commission spokesman late on 7 April confirmed Ferrari's resignation, but declined to elaborate. Ferrari couldn't be reached immediately for direct comment, but the Financial Times published his statement excoriating the ERC and the Commission.
In the statement, he said that he proposed that the ERC set up a special COVID-19 programme, because "at a time like this, the very best scientists in the world should be provided with resources and opportunities to fight the pandemic." He said it was rejected unanimously by the Scientific Council "without even considering what shape or form it may take." He added that he was later invited by Commission President Ursula von der Leyen "for my input" on COVID-19, which created "an internal political thunderstorm" inside the Commission bureaucracy.
The ERC, by law, funds research proposed directly by scientists – based on their own judgment of what's important; they get the money - €2.2 billion in all for 2020 – if peer review panels organised by the agency agrees with them. Ferrari's statement says he knew his idea for "top-down" COVID-19 grants ran counter to the agency's normal "bottom-up" practice, but it was justified by the emergency.
Agency officials declined to comment publicly, but the MEP, Ehler, issued a public defence of the ERC, pushing back at Ferrari.
Besides calling Ferrari's COVID-19 plan "window-dressing," Ehler said Ferrari was "never really acquainting with the independent nature of the ERC." He continued: "We are sorry that things have turned out this way for a brilliant researcher and entrepreneur like Mr. Ferrari. However, this should not serve as argument to accuse the ERC or the EU of not doing enough."
The ERC focuses on fundamental rather than applied research – and numbers among its existing grantees virologists, epidemiologists and others who have been doing basic research for the agency, and have now joined applied COVID-research teams in the Commission's other programmes.
They include €48.5 million for emergency Horizon 2020 collaborative projects for vaccines, cures and tools; €45 million to its Innovative Medicines Initiative; €80 million in financial support for German vaccine maker Curevac; and up to €164 million in grants to small business with COVID-19 solutions to develop.
On taking office in January, Ferrari quickly unveiled ambitious plans for the ERC. In an interview with Science|Business in February, he spoke enthusiastically of the need for what he called "super-disciplinary" research, in which scientists break out of their normal disciplines and think across domains. He was also a strong advocate of researchers helping to get their discoveries commercialised and into widespread use – something he did repeatedly in his own career.
Ferrari, now 60 years old, is credited as one of the founders of nanomedicine. In 2016, his research team made headlines with a new cancer treatment that uses nanoparticles loaded with a chemotherapeutic to target metastatic cells directly, thereby minimising collateral damage to healthy tissue and allowing more sustained and aggressive treatment. Ferrari has around 480 publications to his name, with over 20,000 citations. He also holds dozens of patents for inventions including different varieties of nanoparticles for drug delivery.
Originally from northern Italy, he studied mathematics at the University of Padua before moving to University of California, Berkeley, where he studied for a masters and a PhD in mechanical engineering. He went on to become an associate professor at Berkeley and moved into medicine when he became a professor of bioengineering and mechanical engineering at Ohio State University.
Ferrari later moved to the MD Anderson Center and the University of Texas Health Science Center in Houston. In 2010 he became president and CEO of the Houston Methodist Research Institute.