In exclusive written Q&A with Science|Business, EU commissioner for research, innovation, education and youth vows hundreds of millions for coronavirus R&D but calls on member states to agree on the multiannual budget to avoid delaying critical research.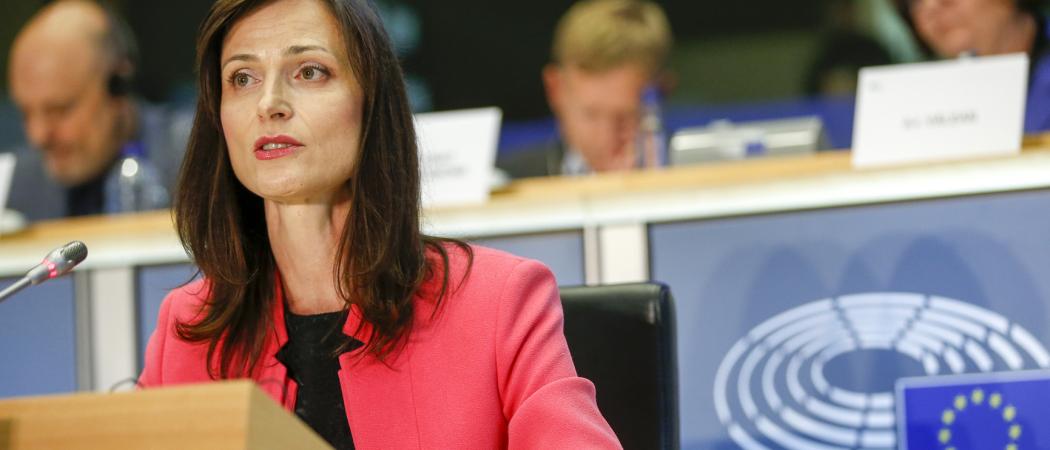 Science|Business: What is the role of research now in a crisis? The world is counting on miracle cures and vaccines fast. What's your forecast? What's a reasonable expectation?
Mariya Gabriel: Research and innovation is critical to tackle this global crisis. Only with the help of R&I, we can address the full spectrum of needs. Understanding the disease and how it spreads. Developing more efficient diagnosis, treatment and preparedness. Developing vaccines.
I was therefore particularly proud to see that the emergency funding for research, which we provided from Horizon 2020, mobilised the research community. Only under this particular call, we already have 136 research teams from across the EU, which got into action rapidly to tackle on several fronts the outbreak of the coronavirus.
There is currently no COVID-19 vaccine as such. There is however an important number of researchers and laboratories which are already active in this field. CureVac, a highly innovative European vaccine developer, for example, is making promising steps. The Commission has offered up to €80 million of financial support to CureVac to scale up development and production of a vaccine. The company has already started its COVID-19 vaccine development program and estimates to launch clinical testing by June 2020.
My message to all researchers, companies, universities working in this important area: we fully recognise the value of your excellent - and indispensable - work. This makes us proud – as European Commission, and as Europeans. Your home is here, in Europe. And your work will benefit everyone, in Europe and beyond!
Q: If you add it all up – ERC, EIC, EIT, RTD etc. – how much money in total do you think is being spent by the EU on coronavirus-related research? How much of the 2020 budget will be redirected for COVID-19 and health? Do you need emergency legislation to give you more freedom to act on this?
A: It is important to stress that we work on all fronts. Support to coronavirus-related research though dedicated calls but also by calls for proposals involving the pharmaceutical sector. Support by bottom-up calls, such as the on-going European Innovation Council Accelerator call.  Support via the direct research actions of the Joint Research Centre. Support for fundamental research by top sciences funded by the European Research Council. Last, but not least – support via other programmes, e.g. via many relevant projects funded by Erasmus+ and what we do in the area of supercomputing.
Therefore, any amount that one mentions will be incomplete. Just for the most recent actions, we are talking about mobilising hundreds of millions of euro for research projects, e.g.:
Firstly, and this is important to note – we started much earlier than the current emergency. According to a preliminary assessment, the EU had already invested €31 million through FP7 and €73 million through Horizon 2020, with some projects focusing entirely on coronaviruses and others being broader.
Secondly, as I mentioned under the previous question, already in January, we launched a request for expressions of interest, with a budget of €10 million, which was subsequently increased to €47.5 million given the scale of the outbreak and the potential of the research projects submitted. This allows 17 projects to start working immediately on developing diagnostic tests, new treatments, vaccines as well as monitoring and other medical systems.
Thirdly, earlier this month, through the Innovative Medicines Initiative (IMI) we launched a special fast track call for research proposals. The call invites proposals for projects to develop treatments and diagnostics to better tackle the outbreak and to increase preparedness for future outbreaks. The Commission funds IMI through Horizon 2020 and will contribute up to €45 million to this call. A commitment of a similar scale is expected from the pharmaceutical industry so that the total investment could reach up to €90 million. The call is open until 31 March and I encourage all R&I stakeholders with innovative ideas to apply.
Fourthly, the Commission is also calling for start-ups and SMEs with technologies and innovations that could help in treating, testing, monitoring or other aspects of the outbreak to apply urgently to the current round of funding from the European Innovation Council (deadline extended by 20 March).
Additionally, the Commission is working with other research funders through the "Global research collaboration for infectious disease preparedness" (GloPID-R) network. This network is mobilised to facilitate a rapid and effective response to this outbreak, through the coordination of research agenda and addressing priority research needs.
And again – our efforts are much wider. In this context, I would like to stress the important role played by supercomputers. They help simulate and analyse millions of molecules and identify drugs and treatments for the coronavirus. Supported by the EU, Exscalate4CoV is an example of a project acting in this area. To identify solutions, the project is leveraging the power of supercomputing centres, including Italy's CINECA, Germany's Jülich and Spain's Barcelona Supercomputing Centre.
Q: What operational impact on Horizon 2020? You're moving fast on applications for the EIC and coronavirus. What about the ERC, EIT Health, Horizon 2020 health? How will you manage review panels? Will you also extend deadlines for applications or deliverables in non-Corona projects? Has the commission received any such requests from Italy and other areas under lockdown?
A: We move extremely fast, as we should, given the current developments. Allow me to give you an example with the abovementioned emergency call for proposals launched on 30 January. The proposals were evaluated within two weeks. With the help of 43 experts, we were able to evaluate the proposals remotely and through consensus meetings in Brussels. The applicants received the results within a week - an impressive accomplishment.
It is important to note that there was strong involvement from Italian researchers in this call. One of the 17 selected projects is led by an Italian organisation – the company Dompe farmaceutici S.p.A. In total, there are Italian partners in 9 of the projects. I would like to use the opportunity to share my solidarity with Italy, with the medical professionals in the country and all Italians.
At the same time, we should be realistic – we live in unprecedented times. We are fully aware that restrictions related to the outbreak may hinder applicants' ability to prepare and finalise high-quality proposals.
We are taking all relevant measures to address the challenges experienced by applicants. Just during the last days, we extended the deadlines for submission of proposals and applications under Horizon 2020, incl.  European Innovation Council Accelerator, but also the Erasmus+ Programme, and the European Solidarity Corps. However, due to the urgency, deadlines for calls related to the coronavirus will be unchanged when possible.
On operational impact - when individuals who were to take part in meetings or events are prevented from doing so and occur expenses of travel or accommodation that could not be cancelled and which are not reimbursed from other sources, the expenses can be regarded as eligible costs.
Where the execution of contracts is impeded because of COVID-19, this can be regarded as force majeure. For example, key staff might be unavailable or it might be impossible to carry out work in a zone affected by the virus. Funding bodies will exercise their discretion in permitting substitute performance or delayed performance. This could be done following a justified request by the beneficiary to amend the contract including by extending the period of its implementation/ performance. At the same time, the maximum grant amount cannot be increased.
Regarding evaluation - all evaluations will be carried out remotely, meaning that the review panels will also be organised via video or web conferencing. For deliverables in running projects, the decisions will be taken case by case, but as mentioned before, the crisis could make interaction between consortia members difficult and therefore extensions of deliverables' due date may be accepted.
And finally – we are receiving requests to extend deadlines and we are evaluating carefully on a case by case basis.
Q: Is Erasmus or MSCA going to be suspended temporarily? What is happening with students stuck in red areas? What about the European University Networks, which are also about mobility?
A: No, we are not planning to suspend Erasmus+ or MSCA. At the same time, we are fully aware of the consequences that the current situation poses for certain Erasmus+ participants, MSCA fellows and other project staff. What we are doing is to respond to the uncertainties they face. We also apply maximum flexibility within the limits of the legal framework.
On Erasmus+, we have issued guidance to National Agencies that they can invoke the force majeure clauses. This will allow them to accept additional costs up to a maximum grant amount. It may also enable them to postpone the planned activities by up to 12 months per project. This is also valid for the mobilities undertaken in the context of the European Universities. For MSCA, we have informed all host organisations as well as project coordinators of the possibility to invoke the force majeure clauses and will assess the circumstances on a case-by-case basis.
In addition, as I already mentioned, in order to help applicants, we extended deadlines for submission of applications. Under the European Solidarity Corps, we have extended until 7 May the deadlines for Volunteering projects, Traineeships and jobs, Volunteering Partnerships and Solidarity Projects Under. Under Erasmus+: until 21 April for  all Erasmus+ Sport, until 23 April for some Key Actions 2, until 7 May for Key Actions 1, 2 (partially) and 3, and 26 May for  the Erasmus Charter for Higher Education.
We are monitoring the situation very closely and will adopt any additional measure that may become necessary.
Q: In Horizon Europe, should there be a mission and/or partnership on virology? Should the PGA be reopened to permit more funding in health?
A: Please bear in mind that research in infectious diseases is already supported under Horizon Europe. Five mission areas have already been agreed by the Member States for the start of the programme. There may be further areas identified at a later stage, but it is too early to prejudge this now.
We are exploring solutions with full respect of the March/April 2019 political agreement between the European Parliament and the Council. This is without prejudice to the competences of the co-legislators.
On the PGA, the scope of the health cluster is agreed. It notably provides a framework to address a situation such as the one we are facing today. One of the identified intervention area is focused specifically on infectious diseases. The scope of actions includes for example understanding, prevention, and research response to outbreaks. Other areas also give a possibility to look at different aspects of the situation, such as environmental and social health determinants or health care systems.
A key element in this context are partnerships. We have built a solid base, but we need to go further in Horizon Europe. For a first time, we have developed an overall policy approach for all kinds of partnerships with one main goal – uniting forces to achieve stronger impact.
Q: Rules on association: will the commission be more flexible considering the circumstances and the growing need for international cooperation in health research?
A: The Commission is very well aware of the value of international cooperation in health and other global challenges. It is undisputable that most health-related issues have a global nature and therefore require global solutions. Horizon 2020 is already generally open for participation of researchers from any nationality and the Commission proposed to keep this openness for Horizon Europe as well. On 28 February, I had the opportunity to have a first exchange of views with the Ministers of Research during the Competitiveness Council.
The EU particularly encourages participation and joint up efforts between entities of EU Member States and Associated Countries on equal footing. While the currently 16 associated countries are all in close EU proximity, for Horizon Europe we proposed to the co-legislators to take a more flexible approach while ensuring reciprocity and the safeguard of our strategic interests. This includes expanding association to like-minded third countries with high Science, Technology and Innovation capacity located also beyond Europe's immediate geographic neighbourhood. Several such countries have already expressed their interest in association and in particular cooperation on global challenges, where health research is a prominent component. We see great potential in this openness to association to combine best skills and outcomes and deliver tangible results to citizens, but always keeping in mind reciprocity and the safeguard of our strategic interests.
Q: Where are we on MFF talks? Will the frugals change their mind?
A: We have proposed an ambitious €100 billion budget the Horizon Europe. The reason is very simple – investment in R&I is investment in our future. The ambitious policy initiatives we have at European level can only be achieved with the help of research and by innovating.
The same is of course true for the fight against the corona virus. We are talking about concrete R&I deliverables: better diagnostics tests, new treatments, development of new vaccines which will be used for prevention and treatment.
I believe that in the current context – and this is true for all EU Member States - there is no better example about the critical role R&I plays in addressing the most important societal challenges. What I call the knowledge square – research, education, innovation combined with benefits for the citizens – will play a key role for our success as a society in the months to come.
Q: Is it still reasonable to expect a timely launch on 1 January?
A: At this stage, the indicative launch of Horizon Europe is maintained. Continuity of EU research and innovation investment is crucial to support research efforts on the ground, and to facilitate the sharing of relevant data and know-how, for the benefit of all EU citizens.
We have to be clear about the consequences on Horizon Europe of no timely deal on the Multi-annual Financial Framework. We, as a society, have to adapt to the changing situation – today more than ever. To be able to react fast, to have the necessarily flexibility – ultimately we are talking about saving people's lives – we need Horizon Europe to start with a timely launch on 1 January 2021.
I would like to make a strong appeal to the Member States to reach an agreement on MFF in time, while keeping the ambitious budgets for Horizon Europe and Erasmus+. We need to send a strong signal to the European citizens that R&I, education and culture play a critical role for the next European budget. To send a signal to all Europeans that Europe is there for them!