Participants came up with 2,000 ideas on how to defeat COVID-19 over one frenzied weekend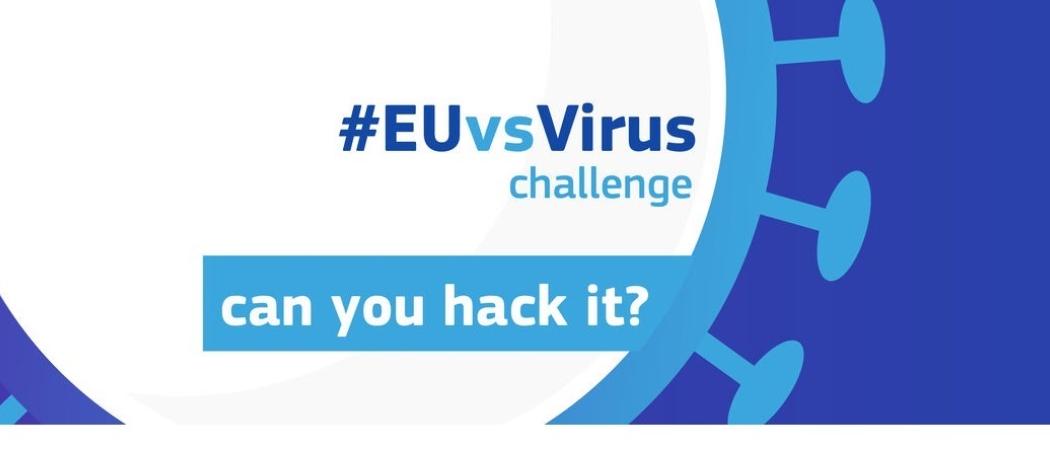 Matija Podreznik, a first year student studying computer science in Slovenia, spent last weekend studying the feasibility of turning idle planes into hyperbaric oxygen chambers for COVID-19 patients.
"Airlines really don't have anything to do now, so why not repurpose them?" he said.
Planes, Podreznik argued, could make ideal oxygen chambers – facilities that Europe lacks. "They are already designed to be pressurised. They also have masks and oxygen supply lines," he said.
Podreznik was one of 20,000 people from around the world who took part in the EU's online hackathon challenge last weekend, from their temporary workstations in bedrooms, living rooms and even bathrooms.
They were all participating in EUvsVirus, a 62-hour contest to come up with new ideas for managing COVID-19, which has barrelled through Europe, shutting down businesses and ordinary life.
Hackathons have emerged as prime places for networking, entrepreneurial pitching and, in many cases, winning funding during the crisis.
The EU effort was a step up in size and scale. The pandemic has had people questioning the relevance of the EU institutions, with member states largely going their own way in dealing with the emergency, but here was an effort that provoked genuine interest and enthusiasm. Participation was highest in Italy and Spain, two of the worst hit countries during the emergency.
By the Monday morning deadline for submissions, over 2,000 project ideas had come in – a "world record amount for a hackathon," according to Isidro Ballestero, deputy head of unit of the European Innovation Council, which set up the competition.
Company CEOs and CTOs will judge the best ideas on Wednesday, said Ballestero, with 43 winners due to be announced on Thursday.
The winning pitches aren't guaranteed funding, but they will go through to a special e-pitching session and "match-athon" involving 600 "partners, investors and procurers", said the EU's research commissioner, Mariya Gabriel.
At the start of the hackathon Ballestero told participants, "Big companies and foundations are keen; their business is at risk, they want solutions, we are funnelling for them."
One promising pitch came from VoiceMed, which aims to create software to detect the virus through voice analysis. Cedric Tamavond, who brought forward the idea, was one of the winners in the recent Hack Italy competition, and in the top 10 in Hack Sweden.  
"We want to test one billion people," Tamavond said. Eventually, someone who suspects they may have COVID-19, would be able to "call a number, cough down the line, and say a sentence," Tamavond said.
From these actions alone, Tamavond says his software should be able to figure out if a person has the disease or not. "We can distinguish between a wet and a dry cough with 84 per cent accuracy," he said.
All of this started five weeks ago and now the fledgling company has 50 people attached to it. "Each hackathon is an acceleration for us," Tamavond said.
Joe Mercieca, based in Berlin, joined VoiceMed after the Italian hackathon competition. "I'm quite new to these hackathons – I've learned you need an aptitude for reacting to tension," he said.
Stepping up
While a hacking weekend is intense, and typically involves little sleep, it is open to people from all backgrounds, "Even if you're a grandma sitting at home with philosophical thoughts," said Yrja Oftedahl, one of the hackathon presenters, and host of the "Power ladies" podcast.
Many hackathon participants said it wasn't awards that motivated them. "The situation requires all of us to step up. We need to step away from the settee – the Netflix bingeing, the drinking – and give what we can," said Rosemary Pharo from London.
Her idea was an app that aims to improve the emotional resilience of nurses and doctors, with tips and ideas around wellness and reducing stress levels. "Medical staff are dying before their time – their immune systems are being compromised by stress. They have no time to talk to people," said Pharo.
The pandemic, which sees families sealed in their homes, is forcing people to confront the reality of domestic violence. Rich Wood from Suffolk, UK, was looking for people to help develop his 'Flyte' app, which would offer advice and help to victims.
Rudy Schoenhuber, a 72-year-old retired neurologist based in Northern Italy, wanted to find ways to help self-isolating people experiencing loneliness or depression during the crisis. Schoenhuber was hoping to match up with some people who understood how to develop apps. "I'm not a technical person," he said. "Although I bought my first computer in the late 70s."
The Italian said one thing the crisis should teach everybody is to "go to the scientists before the politicians."
Roy Zucker is a medical doctor volunteering with the COVID-19 call centre of Israel's national emergency ambulance and blood bank service, Magen David Adom. "I'm here just to help get things going," he said.
The organisation is managing requests for COVID-19 tests in Israel. Zucker said he was tuning into the hack to see if anyone had any ideas for how to make his work run smoother.
"This is all one big process and in every part, there may be problems, we see it every day. We can learn a lot about processes from this pandemic. I'm seeing things all the time that can be done better. What I want is for someone to take ideas from my brain and make them happen," Zucker said.
Butter coffee, rollerblading, Lithuanian humour
Behind the scenes at the hackathon was a huge army of people keeping things afloat.
"This has been put together at the drop of a hat," said Matt Smith, one of the hackathon presenters. It's practically unheard of for big EU events to come off with only a few weeks organisation, said Ballestero.
Smith's job for the weekend was to offer a reprieve from the stress. He introduced live music, got everyone taking selfies and dancing along to music. He interviewed people like Eric Mark, a technologist and consultant in Los Angeles, who beamed into the hack Sunday morning to talk about butter coffee and rollerblading. During the opening ceremony, Smith, waving a small Norwegian flag, asked those watching to "tag their flags" in the comments section.
"We're over 300 volunteers who worked day and night on this. Every single tool and bit of software has to cope with a lot of people. Sometimes there is absolute chaos," said Michael Ionita, CTO and head of product at Walls, a social media company in Vienna.
Josine Bakkes, a community development coordinator based in Salzburg, said the weekend left her with, "A lack of sleep and a Lithuanian sense of humour – darker and more straightforward than the Dutch."
She has been involved in several of the COVID-19 hacks. "Estonia started this and we all picked up on it," she said.
Over the two days, the hack teams had to clear several challenges and checkpoints. Zivile Einikyte, growth manager with Nexta, an ecommerce services company, was helping to coordinate groups with 2,500 mentors via Slack, the messaging tool. She said she survived with a one-hour power nap on Friday night.
One of the mentors was Charlotte Aschim, CEO and founder of TotalCtrl, a Norwegian start-up that makes food waste prevention software for supermarkets, hotels, and restaurants. "I helped maybe 12 or 13 people with advice," she said.
Walid El Cheikh, the creator of the '8 Seconds Pitching Challenge' in Finland, and someone who is rarely seen without his yellow beanie hat, was a team coordinator for the weekend.
What he saw, he said, was "A lot of talent, coffee, no sleeping and politeness. This is an opportunity for them to shine and help." Since hackathons highlight some of the best and most motivated programmers, the events have become a focal point for recruiting.
El Cheikh described the weekend as happy chaos. "Communication is the biggest challenge," he said on Saturday. "You need to get people in teams. We need to inform them about deadlines, submissions, criteria they need for going forward."
Michael Schinis, a software engineer at Hellenic Bank in Cyprus and head of the hacakthon jury, appeared to have set up his hack station in his bathroom. He has experience setting up similar but smaller competitions. "I organise hackathons with 50-60 submissions usually." This one had 2,000 and over 600 applications from people who wanted to sit on the jury.
Fiona Chambers, head of the School of Education at University College Cork, helped teams with ideas in outdoor education, primary and secondary school education and home schooling. She said the weekend was "Very agile, chaotic and good-humoured. Just wonderful."
"I believe [it's] a game changer – crowd-designing of this nature will yield viable and feasible ideas, igniting the EU's collective brainpower in tandem with its compassion," she said.