'Adolescents feel the need to contribute during this time, but do not always have opportunities to do so' – Erasmus researcher Eveline Crone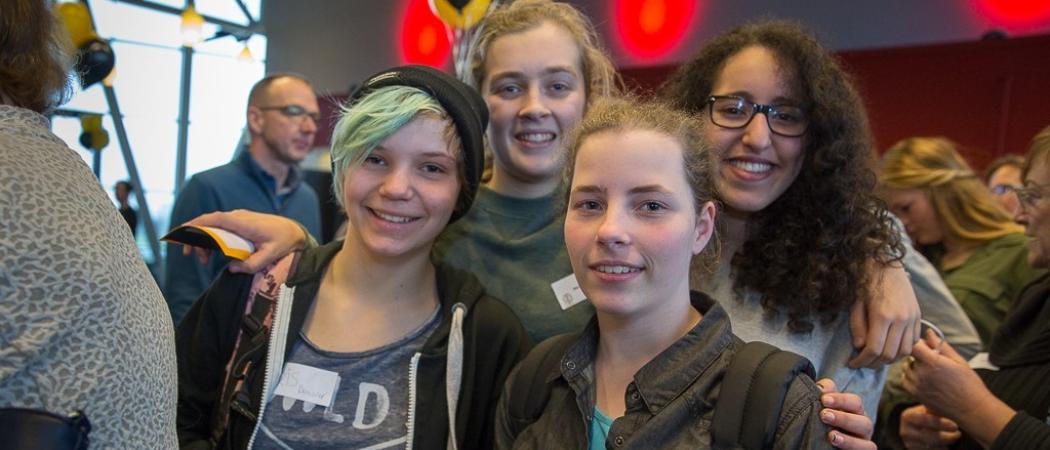 Puberty can be tough, even in the best of times, and Eveline Crone's interdisciplinary research group at Erasmus University Rotterdam has begun to examine how the adolescent brain is affected by lockdown. Her hope is that young people will show resilience during this crisis, leading to a better future. Her fear is that the crisis will increase social inequalities for teens.
In an edited email exchange with Diane M. Fresquez of Science|Business, Crone, recently elected as a vice president of the European Research Council, says she is eager to compare her lab's research on young people before and after the COVID-19 crisis. She is also participating in a global study on the subject.
Q. Tell us about your COVID-19 project.  
The lockdown started when I had just moved my lab to a new location. During the first weeks, we sent daily questionnaires (on their moods, tensions, and daily examples of helping others, such as "Did you help or comfort a friend today?") to more than 600 adolescents in the Rotterdam area, a city with high socio-economic and cultural diversity, to examine variations in these young people's emotional states and to find out if they had any opportunities for positive social actions.
The mission of the Erasmus SYNC (Society, Youth and Neuroscience Connected) lab, a research group at the department of Developmental Neuroscience in Society, is to understand how young people develop into contributing members of society.
Q. What have you discovered so far?
The goal of this research is to find out if this pandemic crisis has an impact not only on adolescents' mental health, but also if it influences the way they contribute to the needs of others. The research is ongoing, but the first results show that during lockdown teenagers have been making a greater effort than before to understand others' points of view – "social perspective taking," in the language of this research field. These findings show that teenagers showed considerations of the needs of others. At the same time, we noticed that their opportunities for prosocial actions – actually helping out others - decreased compared to prior to the pandemic, possibly indicating the effects of social distancing and being in lockdown.
Q. What about recent Black Lives Matter demonstrations?
Many teenagers demonstrated peacefully while taking into account social distancing. They feel the need to go out there and be heard for a better future.
Q. What is the adolescent brain like in the time of coronavirus?
Despite the feeling that the virus feels like a war we need to battle, there is a very high level of trust. Having said that, there have also been some isolated but worrying incidents of anti-social behaviour in teens, such as hitting special corona officers and spitting at a policewoman.
My hope is that young people will show resilience during this crisis and that something will come out of it that gives them strength and creativity for a better future. My fear is that the crisis will increase social inequalities that will mostly affect the teenagers who already had fewer opportunities before the crisis.
Q. How does your research relate to challenges young people all over the world are facing during the pandemic?
One of my international colleagues, Prof. Jennifer Pfeifer, at the University of Oregon, took the initiative to develop a questionnaire that is now being administered in COVID-19 adolescent studies all over the world, so that we will soon have a better understanding of the similarities and cultural differences of how young people experience lockdown. Participating universities include UCLA and Kings College London, and projects have titles, such as "Discussion of Quaranteens and Boredom on Twitter during COVID-19," "Parenting Under Pressure" and "Effects of Covid-19 Pandemic on Psychosis Risk." They cover a wide range of topics, such as substance abuse, emotional learning, memory, sleep, anxiety, and resilience.
Q. Your advice to policy makers, based on your research?
Young people will carry the weight of this crisis in the years to come: they will start their careers in an economic crisis, and they will also have to deal with bigger problems such as climate change and global tensions. They need to have their own role in this brave new world and feel that they can contribute to the larger goals of society. They can be asked to help deliver meals, for example. But they can also take part in deciding how we reshape our education system and help develop new online environments.
Q. What are your plans for the future?
It will be extremely interesting to compare the groups before and after the COVID-19 crisis and test the effects on brain development of children and adolescents that participate in our studies over several years.
The teenage years are known as a period of creativity and out-of-the-box thinking, combined with a need for impact, respect and autonomy. We are currently working on developing these multiple-pronged sessions with youth together with the Dutch Research Agenda focusing specifically on how to develop programmes in which young people can help others.
It is unfortunate that there are limitations to obtaining funding for collaborative studies worldwide. Perhaps this crisis will bring us the chance to engage in more studies that can be done across continents, because clearly global crises, such as this pandemic, affect us all.