Bill Gates is teaming up with EU to finance large scale demonstration projects and boost the commercial prospects of green energy. It is hoped the initiative will attract wider private sector investment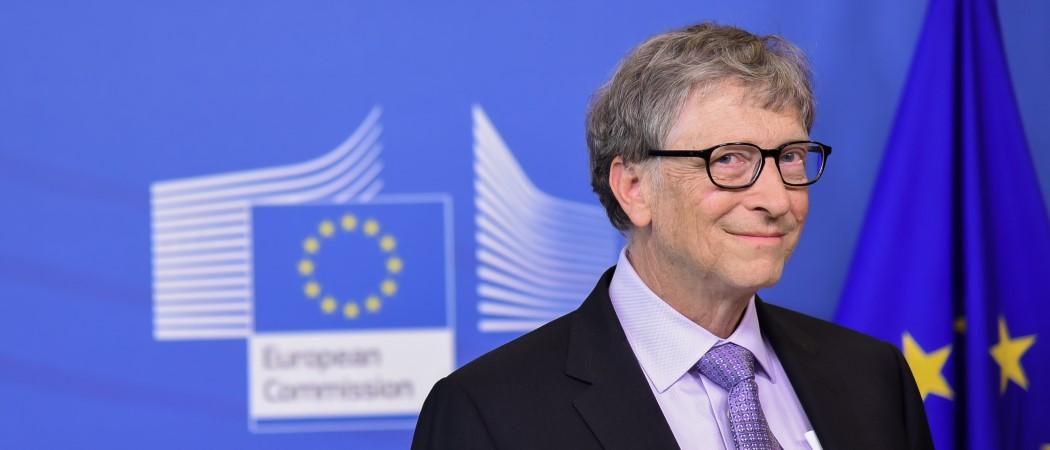 The European Commission is teaming up with the Bill Gates-led green energy financing programme, Breakthrough Energy Catalyst, to raise €820 million for clean energy demonstration projects.
The money will be invested in technologies that are currently too expensive to scale-up, starting with green hydrogen, sustainable aviation fuels, direct air capture and long term energy storage.
The involvement of Breakthrough Energy Catalyst will send a signal to private investors that clean energy is a safe bet - and will bring returns in the next few years, according to the industry.
"[It] will definitely give a push to capital markets to look into investments in hydrogen technologies, especially linked to the upscale of renewable energy," said Jorgo Chatzimarkakis, secretary general of the industry association, Hydrogen Europe. "The psychological effect of this announcement will go far beyond the $1 billion."
Right now, investors have been sitting on their money and waiting for a signal, said Chatzimarkakis. They know Gates does not invest in projects that are not profitable within three to four years and his involvement will unleash more private finance.
"Through this partnership, Europe will lay solid ground for a net zero future in which clean technologies are reliable, available, and affordable for all," Gates said.
Half the money for the new venture with Gates' decarbonisation project will come from the EU research programme, Horizon Europe, and the Innovation Fund. The other half will be raised by Breakthrough Energy from private and philanthropic funds. If all goes well, the partnership also hopes to attract funding from member states.
"We expect even more of these announcements when - in the course of the coming months - concrete and bankable projects will be presented," said Chatzimarkakis.
 But before the money starts flowing, the next step for the new venture is setting out a strategy ahead of the UN climate change conference in Glasgow in November.
Lucky Europe
"In Europe, we are lucky to have a wealth of scientists and innovators leading the way to decarbonisation. We just need to help them to bring their ideas to the market," said Commission President Ursula von der Leyen when the project was announced.
Decarbonising the energy market is one of the main challenges Europe faces on its way to achieving carbon neutrality by 2050.
Renewable electricity will be the key to success, but not everything can run on electricity. In sectors such as heavy industry, high-temperature processes, long-haul transport and aviation, sustainable fuels and other technologies will have to come in.
The Commission is banking on green hydrogen produced using renewable electricity to split water to play a key role. It is already backing multiple green hydrogen initiatives aimed at boosting investment in the nascent technology to bring down costs and enabling it to compete on price with fossil fuel energy.
In the next year, the Commission will launch the Clean Hydrogen research partnership with industry to advance green hydrogen production, distribution, and storage technologies. To develop sustainable fuels, the Commission will lead an industrial partnership on clean aviation.
Working with member states, the Commission will also operate a research partnership for the Clean Energy Transition, to make Europe the frontrunner in energy innovation.
Once these technologies are ready, they will need to be scaled up. This is where Breakthrough Energy Catalyst aims to bridge the gap. Established in 2015 by Bill Gates and a coalition of private investors, it consists of a network of projects, organisations and investors aiming to bring emerging energy technologies to the market.
Road to the market
The new partnership is not the only instrument in Europe for scaling up green energy technologies. The EU already runs the Investment Fund, a €10 billion fund for demonstrating innovative low-carbon technologies, which is partly funding the partnership with Breakthrough Energy.
Meanwhile, member states can make joint investments in hydrogen through the 'Important Project of Common Europe Interest'.
In addition, there is the Clean Hydrogen Alliance, where the Commission and industry are sitting at one table to set up a joint investment strategy. It's an umbrella for a number of hydrogen projects.
Beyond EU borders
The future hydrogen economy will be global, and in recognition of this the Commission is working with 22 countries on Mission Innovation, whose goal is to support the emergence and implementation of hydrogen energy by setting up 100 'hydrogen valleys' in the world by 2030. This week, the countries renewed their pact to continue setting up a global hydrogen value chain.
An international perspective is critical to success Chatzimarkakis said. "If we want to scale, we have to look at hydrogen as a global commodity," he said.
While Europe may be a leader in hydrogen innovation, it will not be the main producer of the gas. Northern Africa and the Gulf region have cheap solar power which will be used to produce green hydrogen in the future. Europe cannot compete on this front. But the electrolysers used to split water into hydrogen and oxygen will be European.