To hit net zero by mid-century, poor countries need to roll out renewables and clean tech now. But high costs, trade barriers and social resistance stand in the way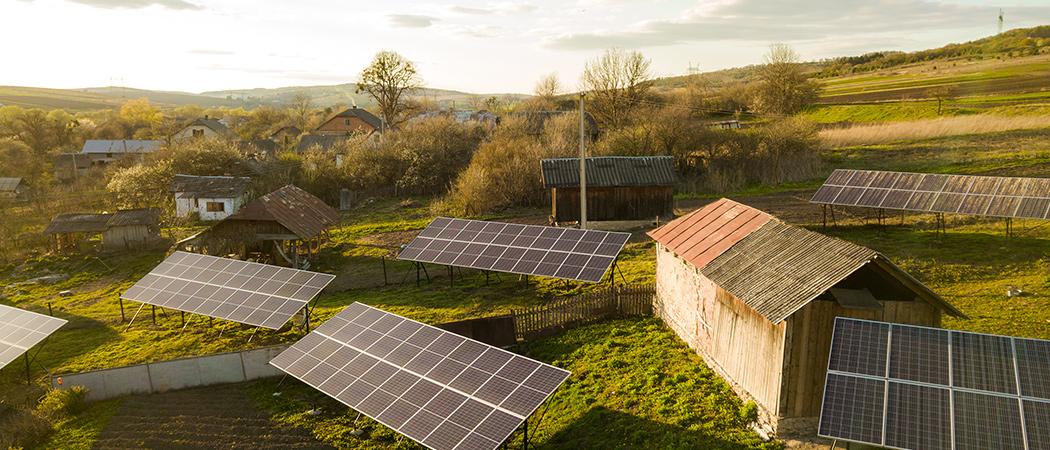 Enabling developing countries to bypass fossil fuels and move directly to renewables is arguably one of the biggest technology transfer challenges the world has ever faced, as initiatives launched at COP26 this week have underlined.
The aim is to help these countries deploy clean tech, like solar, wind, hydrogen and greener steel in a "democratisation" of environmentally friendly knowhow.
To hit net zero greenhouse gas emissions by mid-century, developing countries cannot follow the same path the rich world did, industrialising using coal power and dirty manufacturing, and only going green when wealthy.
"We have to see things change now," said Johanna Lehne, a senior policy advisor at E3G, a European climate change think tank. The poor world needs to "leapfrog" a development stage straight into a greener economy.
One scheme launched at COP26 is the $10 billion Global Energy Alliance for People and Planet, which has backing from organisations including the Rockefeller Foundation, a string of development banks, the furniture store IKEA, and Jeff Bezos's Earth Fund.
Energy-poor countries currently only account for 24% of global emissions, the alliance says. But if they continue to rely on fossil fuels for economic growth, they will generate 77% of global emissions by 2050, largely wiping out the gains of a green transition in rich and middle-income states.
But bringing renewable energy and green industry to poorer countries is an immense challenge.
In much of the developed world, renewable technologies like solar power, lithium-ion batteries, on and offshore wind are now cost-effective against fossil fuels, said Joseph Curtin, director of the Rockefeller's power and climate initiative. That is forcing coal, for example, out of the market.
But in poorer countries, renewables simply aren't as competitive. "The cost reductions have not been felt in these markets," he said.
Poor logistics and supply chains mean the costs of installation are much higher. In sub-Saharan Africa, the capital costs of lithium-ion batteries, for example, can be 2-4 times higher than elsewhere, Curtin said.
"You don't have local manufacturing. It can be everything from import tariffs…[to] the lack of reliable infrastructure," he said. In addition, the cost of financing renewable energy projects can be 6-7 times higher in poorer countries than rich countries.
Plug and play power source
These barriers have meant that up to now, coal is go-to power source for developing nations. "What you have with coal is you have a plug-and-play technology that's extremely well understood," said Curtin. Until it decided this year to stop financing coal power abroad, China offered countries a package of financial and technical support to build new plants with ease, he said.
Installing renewables in poorer countries is "not that technically difficult", said Curtin. "You need to train your engineers, you need to train your construction workers, but for us, that's not where we're focused."
Instead, the alliance wants to help governments design renewables policies that set the right kind of subsidies framework to encourage rollout, create a good procurement framework, or set up pilot renewable projects.
This preparatory work will create the conditions for private investors who have trillions at their disposal to invest in renewables. "Our job is just to pave the way for those guys," Curtin said.
The alliance's $10 billion may sound a lot, but it's a "drop in the ocean" compared to how much is actually needed to make the transition, hence the need to prepare the ground for private sector investment.
Glasgow breakthroughs
By 2030, the world will need to be investing around $4 trillion a year in clean energy to hit net zero by mid century, according to the International Energy Agency's World Energy Outlook 2021. This is four times the current level of investment.
In another push to transfer clean tech to poorer countries, the EU, US, UK, France and Germany reaffirmed a previous commitment to raise $8.5 billion in grants, loans, and other forms of financing to wean South Africa off coal and instead develop clean tech, like electric vehicles and green hydrogen. The initiative is seen as a potential blueprint for other countries.
Also unveiled were the so-called "Glasgow Breakthroughs", a series of agreements between countries to "rapidly scale up" clean technology in five areas: renewable power, road transport, steel, hydrogen, and agriculture.
Although the details still need to be fleshed out, the agreement on steel "is a huge step forward," said Lehne, a specialist on decarbonising steel production.
The Glasgow Breakthrough statement promising to make near-zero emission steel the preferred choice in global markets was signed by seven out of ten of the biggest steel producing countries, including the US, EU and India. China has not yet signed up, but Lehne said, "It's a big win to get India on board."
Iron and steel production is responsible for an estimated 7.2 per cent of global greenhouse gas emissions, more than three times that of aviation, according to Our World in Data.
But is it largely under the radar because unlike everyday climate sins like eating a steak or flying, we don't buy steel ourselves, and have little idea goes into the buildings we use, said Lehne.
Traditional steel manufacturing heats iron ore to super-high temperatures using coal, making it a very dirty process.
A cleaner way forward is reforging scrap steel, which requires lower temperatures and can be done in electric furnaces, opening up the possibility of using a renewable power source. Recycled steel manufacturing has taken off significantly in the US, Lehne said.
Another option is the direct reduced iron method, in which metallic iron is extracted from iron ore at temperatures below its melting point. This method could be powered by natural gas or hydrogen generated using electricity from renewable sources.
Lehne said the EU is a world leader in hydrogen steel manufacturing, with a Swedish project called HYBRIT aiming to produce the world's first fossil-fuel free steel on a large scale by 2026.
The challenge is getting countries like India, where the majority of steel manufacturers are SMEs, to adopt these cleaner methods of steel production at the same pace, rather than waiting for green technology to mature in Europe, the US and China, she said. "People are talking about co-innovation rather than tech transfer, because tech transfer doesn't seem to have worked."
Competitive concerns
One barrier to tech transfer is that climate neutral, renewable energy is an industry of the future, and governments want to dominate in them to generate employment, exports and energy security.
A supply of hydrogen "opens up new opportunities to redesign Europe's energy partnerships", the German government said last year. But the question is how willing rich countries will be to hand over key clean technologies to developing countries.
"There is a race to develop and dominate the key technologies of the 21st century," said Thomas Hale, associate professor of public policy at Oxford University, who focuses on global climate policy. "To the extent major economies, as well as companies, are racing to the top in innovation and deployment, that is a positive outcome for the climate."
But at a minimum, there needs to be "climate-safe guardrails" around this competition, he said.
One potentially cautionary tale is the German solar panel industry. With the aid of state subsidies, German manufacturers once accounted for 20% of the world panel market.
But after China ramped up production and the price of panels collapsed, German solar suffered a wave of bankruptcies in the early 2010s.
It is possible that something similar could happen with steel. "I can absolutely see China taking the lead with massive investments in green steel," said Lehne. But as with solar, Chinese investment in green steel would still be excellent news for the environment. There are other ways that the EU could retain a form of technological leadership, perhaps in early-stage research, she said. "It's about redefining what we consider winning," she said.
Curtin foresees trade barriers threatening clean tech diffusion. "We've even seen barriers being raised around Chinese solar panels," as part of a broader slide into "economic nationalism," he said. This protectionism, plus disruptions to global supply chains, "would have a very detrimental impact in terms of the transmission of technologies between countries."
There was also disquiet at COP26 that the green transition, including in developing countries, could be thrown off course by social resistance.
Dismantling polluting industries could trigger a backlash by workers, who do not want to suffer the same fate as former coal mining communities in the UK, for example, which more than three decades after a wave of pit closures still suffer from worse health and fewer job opportunities than the national average.
Across India's coal belt, more than one million people are estimated to rely directly on mining for their income, with up to ten times as many indirectly dependent, found a report last year commissioned by Germany's Economic Affairs and Energy Ministry.
A mismanaged transition away from coal will "threaten the livelihoods of several million citizens indirectly benefiting from coal incomes across India's coal belt", the report concluded.
"In all transformations, there are winners and losers," said Fatih Birol, executive director of the International Energy Agency (IEA) at discussion on ensuring a "just" switch to green energy. "There will not be demand for coal mining in the years to come," he said.
Fortunately, by the IEA's estimates, more jobs will be created than destroyed by the green transition. "But unfortunately, life is not a mathematical equation," said Birol. "You may create a lot of jobs in Europe, but lose jobs in Africa."
Some countries have set out plans to compensate and retrain the losers of the energy transition.
"We have many people in the fossil fuel producing areas who are concerned," said Jonathan Wilkinson, Canada's minister of natural resources, at the same event. There is CAD$2 billion in the country's latest budget to reskill these workers, he said, and "just transition" legislation is in the works.
But in general, "political attention to this issue is extremely weak," warned the IEA's Birol. Every country that has put forward a hydrogen strategy also needs a strategy to help workers who risk being left behind, he said.