It may be the lightest element, but hydrogen is now attracting weighty interest as a key to reaching climate change targets. Here's a roundup of all things hydrogen-related, as the conference in Glasgow draws to a close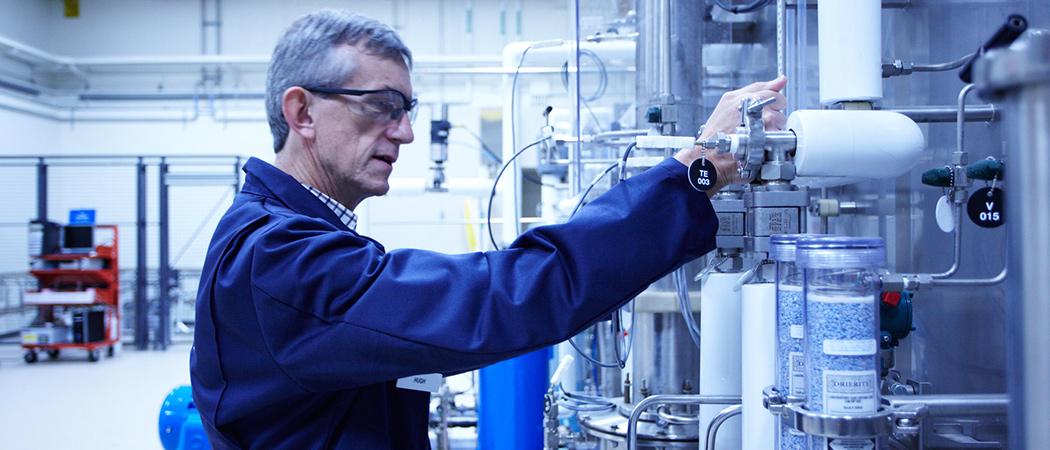 Touted by the EU and other countries as the means to decarbonising heavy industry, long haul freight and aviation, hydrogen featured in a number of carbon-free pledges at UN Climate Conference, COP26.
While there's been little high level talk of the highly combustible gas, countries and companies have made a number of announcements pledging to accelerate hydrogen innovation. One example is an agreement between Chile, which has ambitions to be a leading green hydrogen producer, and the ports of Antwerp and Zeebrugge, which will develop the infrastructure to import the fuel to Europe. Another is an agreement for the UK's first hydrogen train fleet.
"We hope the EU will take it as an additional push to action and encourage the deployment of hydrogen across all member states, both financially and politically," said Jorgo Chatzimarkakis, CEO of industry and research group Hydrogen Europe.
The EU's plan is to have 40GW of green hydrogen electrolysers, using electricity from a renewable source to split water into oxygen and hydrogen and producing up to 10 million tonnes of renewable hydrogen each year by 2030. Currently, there are few such electrolysers and hydrogen produced the green way is much more expensive than the natural gas-derived alternative.
To speed the arrival of cheap and plentiful green hydrogen, the European Commission is set to launch a new hydrogen research partnership with industry in the coming months.
The partnership's predecessor boosted the capacity of green hydrogen electrolysers from 100kW to 100 megawatt projects. The next frontier is the gigawatt scale, which the partnership hopes to achieve under the new EU research programme Horizon Europe, said Bart Biebuyck, executive director of the partnership, speaking at one of the Commission's COP26 side events.
But there's skepticism around the push for hydrogen, with environmentalists seeing it as an expensive distraction from energy saving technologies and electrification.
"We can't tackle the climate crisis by consuming the same amount of energy and just burning different fuels. Energy savings, changing energy use and electrification of as much heating, transport and industry as possible, should be at the core of our energy plans," Silvia Pastorelli, climate and energy campaigner at Greenpeace, told Science|Business this summer.
Upping ambition
Carbon emissions could be cut by 10% between now and 2050 through increased production of green hydrogen and its derivatives, according to the International Renewable Energy Agency (IRENA).  "We are not the only ones that know this. Even in this COP, we see a tremendous potential for green hydrogen," said Francesco La Camera, director general of IRENA, speaking at a Commission-led event.
La Camera said the transition is happening at lightning speed. In July 2020, Bloomberg published an article saying green hydrogen will be competitive by 2050 and cost $2 per kilogramme. In October of the same year, IRENA estimated hydrogen will be competitive in 2030. Industry has since declared it will happen by 2025. Saudi Arabia now says the gas already competitive. "Imagine what happened in one year and what can happen in the future," said La Camera.
While Europe will be able to produce some hydrogen, its renewables capacity may not be able to meet all the demand. For months now, EU countries have been looking to sign deals to facilitate imports. In August, Germany partnered up with Namibia. Last week, the ports of Antwerp and Zeebrugge signed the memorandum of understanding with Chile to import its green hydrogen to Europe.
Antwerp and Zeebrugge are both members of the Hydrogen Import Coalition, with ambitions to become the main ports for international trade in hydrogen. Meanwhile, Chile aims to be producing the cheapest green hydrogen by 2030, and to become one of the top three exporters of green hydrogen by 2040.
The United Arab Emirates has a similar target in sight, with the country's new hydrogen strategy aiming to hold a fourth of the global hydrogen market by 2030.
Japan announced it will invest $100 million to transform fossil-fuel plants into ones based on ammonia and hydrogen.
Industry is also pledging to do more. The Green Hydrogen Catapult, a United Nations initiative to bring down the cost of green hydrogen, said it is doubling its goal for green electrolysers from 25 gigawatts set last year, to 45 gigawatts by 2026.
But many hydrogen technologies are still far from the market. This week, the UK unveiled Hydroflex, the country's first hydrogen-fueled train, in Glasgow. The technology, developed at Birmingham University, has been retrofitted onto a 30 year-old train, demonstrating the potential to decarbonize the country's railways.
But there was one small hiccup: Hydroflex was powered by electricity. While all the equipment needed to run it with hydrogen is installed and could be inspected by delegates, the train is still in development and has not passed the requisite safety checks.
"The Paris Agreement was the spark which will consequently lead to an ever-decreasing use of fossil energies worldwide. Now, COP26 has given a clear boost to hydrogen technologies: governments and industry have been acknowledging hydrogen as an enabler of a faster and more affordable transition to a zero emission economy," said Chatzimarkakis.