A new breed of innovation advisors could help companies test their ideas in large research labs across Europe
---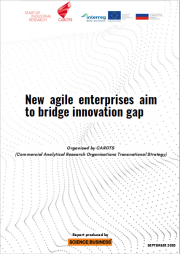 So-called commercial analytical research organisations (CAROs) could strengthen ties between scientific research and industry, said stakeholders at the mid-term conference of CAROTS, a project funded by the EU and the Russian Federation to help industry innovate faster by using large research infrastructures more efficiently.
CAROs are for profit companies that give targeted support and advice to companies that need research and measurement services in evolving fields, such as new materials, nanotechnology and life sciences. CAROs could deliver "frequency and robustness of interaction between science and industry," said Elizabeth Harmstorf, project manager for market research, innovation & technology transfer, at Deutsches Elektronen-Synchrotron DESY in Hamburg. CAROs are very well placed to enhance the relationship between scientific research and industry, she added. "There is a growing demand for expertise."
CAROs are not just scouting new technologies, but they offer advice on whether scientific results can be translated into a viable product, said Anna Stenstam, CEO of CR Competence AB, one of the CAROs stemming from the Baltic Sea Region. "Even though maybe innovation is really done still by the company, we are coming in from the side and we are trying [to translate] what the [scientific] data means for the business," said Stenstam.
/system/files/reports/CAROTS%20Report.pdf