His mandate now expired, Robert-Jan Smits reflects on how his radical open access plan has delighted and infuriated in equal measure. 'This was the icebreaker that science needed,' he says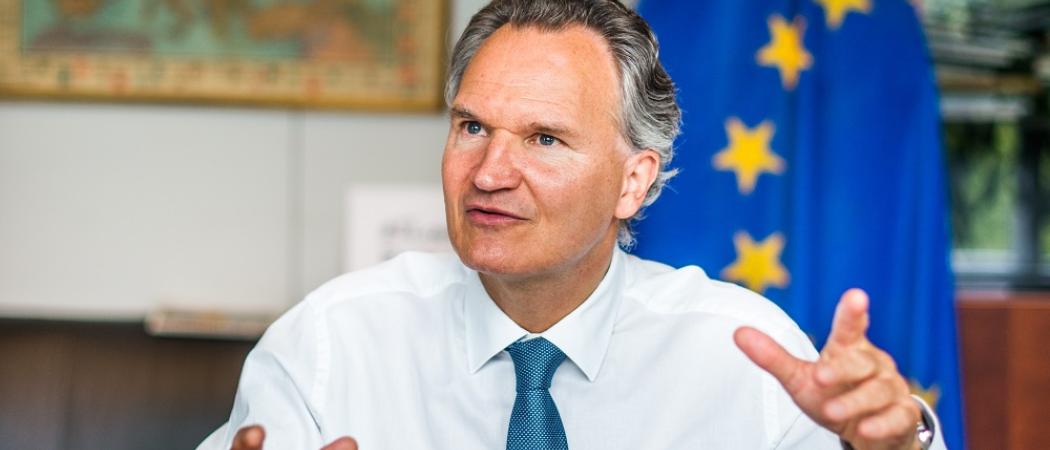 Robert-Jan Smits finished his one year mandate as the European Commission's open access envoy last week and will be replaced for now by Robert Kiely, head of open research at the Wellcome Trust, until a long-term coordinator for the Plan S open access initiative is appointed.
Smits, who is leaving the Commission to become president of the Eindhoven University of Technology, says there is a shortlist of two candidates to take over the position on a permanent basis.
After a year of formulating and driving forward Plan S, Smits said the new coordinator must be "a passionate person. It's not necessarily going to be a Commission person. I want Europe, however, to stay in the lead on this, so the new envoy, or champion, should also be European. But it will be for the Plan S leaders to decide," Smits told Science|Business.
Plan S, which Smits and Science Europe, the body representing national funding agencies, got off the ground last year, demands that papers resulting from taxpayer-funded research be free to read at the point of publication by 2020. So far, 13 of Europe's national funding agencies have signed up to the scheme. Two of the biggest research foundations in the world, the Wellcome Trust and the Bill & Melinda Gates Foundation, also came on board.
Smits didn't reveal the names of those under consideration to replace him, but ruled out Marc Schiltz, Science Europe's president, and David Sweeney, executive chair of Research England and co-chair of the implementation task force for Plan S. "They both have shops to run," he said.
With Smits' departure, Science Europe becomes the main centre of gravity on Plan S.
Before Smits became the Commission's open access envoy leading efforts to force a major change in the business model of science publishers, he was director-general of the Commission's research directorate, with responsibility for overall design and execution of the EU's €80 billion research and innovation programme. His eight-year term as one of the most powerful figures in European research ended in February 2018, following a broad reshuffling of top Commission civil servants.
Smits said both EU research commissioner Carlos Moedas and Jean Eric Paquet, his successor as EU research director general, would take over responsibility for promoting Plan S for the Commission.
"Both promised to step up commitments and go as ambassadors for the plan around the world," he said. Plan S requirements are also expected to be integrated into the terms and conditions of future research grants from the Commission.
"I'm very grateful for the mandate given to me," Smits said. "Carlos (Moedas) had told me that he wanted to have open access of scientific publications sorted out before the end of his term in office. So my task was clear, although it was a kind of mission impossible. Within a year, I had to come up with a plan and build a coalition around it. it became an amazing journey, a rollercoaster."
Searching for new recruits
The hope is that Plan S can catalyse the open access publishing movement, which has seen slow progress in its bid to make scientific literature freely available online. Detractors view the scheme as a misguided attack on academic freedom and it is also opposed by some scientific publishers.
In a couple of months, the Plan S organisers will present a revised version of their proposal based on a recent consultation, which generated feedback from 600 organisations.
There will be changes to the original pitch, Smits said. "You don't do a consultation, and then change nothing. The 10 principles of the plan will not be put into question, but there will be tweaks, and some more flexibility notably for repositories," he said.
Meanwhile, the search will continue for more recruits. During his mandate, Smits attempted to sell Plan S to funders, research organisations and academic libraries in countries including South Africa, India, Japan and the US.
China's pledge of strong support for the plan in December last year, which stunned many, has boosted expectations that other science superpowers will swing behind the plan in time.
India's chief science adviser recently said his country, the third biggest producer of science papers in the world, would sign up.
"India is an enormous biggie," Smits said. "It's going to be quite a process to get the noses of more funders pointed in the same direction, but it'll happen."
In May, there is a meeting of the Global Research Council in Brazil, with representatives from all the main funders in the world expected to attend. There, Plan S organisers will try to get more agencies to sign up, and discuss terms with a similar open access initiative, Open Knowledge for Latin America and the Global South, known as Amelica.
"We're reaching out to see if we can join forces. Amelica is 100 per cent compatible with Plan S," Smits said. "If we succeed, it will be an enormous step forward."
Will publishers compromise?
Smits never expected the plan "would get so much traction, so much visibility and discussion. This was the icebreaker that science needed," he said.
But publishers have serious concerns about Plan S. Elsevier, the world's biggest science publisher, has urged caution on the initiative, saying, "Above all, it is vital that researchers have the freedom to publish in the publication outlet of their choice."
The American Association for the Advancement of Science (AAAS), publisher of the journal Science, argues that the model outlined in Plan S "will not support high-quality peer-review, research publication and dissemination".
National research agencies in some of Europe's science powerhouses, such as Switzerland and Germany, have not yet signed up.
Smits says the bigger the Plan S coalition gets, the more chance there is that publishers will relent, and change their business models. Plan S, as written, would bar researchers from publishing in many influential journals.
"When will the commercial publishers give in and go for a big flip? How much is required? Do we need 20 per cent coverage for Plan S in the world, 30 per cent, 50 per cent? It's the million-dollar question but the bigger we go, the more chance they have of flipping," he said.
Smits says he has discussed an "orderly big flip" with the commercial publishers. "We do not want a chaotic system; I reached out to say, 'can we not agree on a number of principles for the so-called transformative agreements?'. They have turned down the offer."
In a statement, the International Association of STM Publishers says, "STM would like to clarify that to date, the industry has not been widely consulted on the implementation of Plan S." The association goes on to say that while it "remains keen to continue to engage in, and to advance the open science and open access agenda", it suggests that Plan S leaders seek guidance from the European Commission's DG Competition "on what kind of consultations could occur."
Despite the lack of progress, Smits says there has not been any animosity between him and publishers. "I was always courteous but very frank with them. We just have different agendas," he said.
But occasionally, the nature of his role marked him out as a target. "I regret some people played it below the belt, making accusations of a personal nature, like that I have links with certain people, and how I'm not a scientist," he said.
Leave at 'height of the party'
Smits, born 30 kilometres away from his new university in Eindhoven, is looking forward to the next chapter.
"It's time for me to move on. I had the honour to become director general of research and lead Plan S. I've never moved around inside the Commission; have never been a good example of mobility. Research is my world; it's where I wanted to contribute."
Eindhoven, he says, is an example of "what I believe is a modern university – they have a high percentage of co-publications with industry. They participate in the solar race in Europe. They have a robotics football team. They build 3D printed houses," he said.  
Will it bother him to see his university pay science journal subscriptions? "I will be keen to see how Plan S develops. But my function in Eindhoven is a different one. My mandate with Plan S was one thing, but my new mandate will be to manage a strategic plan for the university," Smits said.
"I will of course look into [our] status on open access, and felt re-assured when the people from the design department mentioned to me that they're already fully open access," he added.
As he packs up his final belongings to leave Brussels, his home for 28 years, Smits says, "I've made my contribution here. My father always said, leave at the height of the party."