Head of EU pharma trade body says waiver would 'open the door to counterfeit vaccines' and kill incentives to tackle dangerous virus variants. 'Who will make the vaccine next time?' one pharma chief asks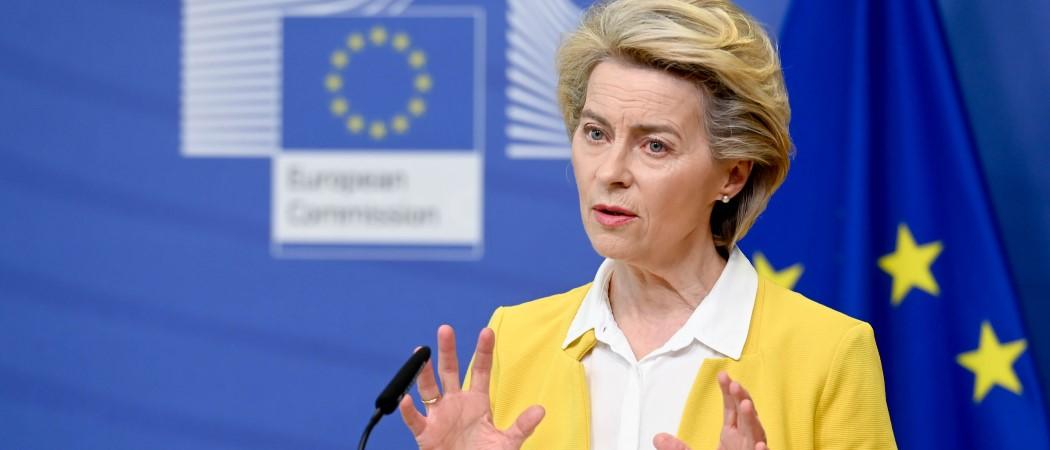 EU leaders on Thursday declined to follow US President Joe Biden and come out in favour of waiving intellectual property protections for COVID-19 vaccines, but did agree to discuss the proposal.
In a sharp reversal of the previous American position, Biden threw his support behind moves to suspend patent protections on Wednesday, bowing to pressure from Democrats and more than 100 other countries, but angering pharmaceutical companies.
EU leaders have for months argued that waivers will not help fight the pandemic. However on Thursday, European Commission president Ursula Von der Leyen told an online conference that the EU "is ready to discuss any proposal that addresses the crisis in an effective and pragmatic manner."
"That is why we are ready to discuss how the US proposal for a waiver on intellectual property protection for COVID-19 vaccines could help achieve that objective," von der Leyen said. But she stressed, "In the short run, however, we call upon all vaccine producing countries to allow exports and to avoid measures that disrupt supply chains."
Changes to international intellectual property rules would require consensus among the 164 members of the World Trade Organisation, and so far countries including the UK, Switzerland and Australia have been opposed to the waiver. The EU has also been standing in the way of a waiver, with the European Parliament voting against one on April 29. Only last week, von der Leyen told the New York Times, "I am not at all a friend of releasing patents."
An EU spokeswoman said the patent issue will now be on the agenda at an EU summit meeting in Porto that begins Friday.
EU Council president Charles Michel tweeted that the EU could support "a third way" of increasing global vaccine supplies, which is understood to involve pharma companies agreeing licencing deals with poorer nations to produce cheaper generic versions of the latest products.
The pharmaceutical industry responded angrily to Biden's decision, arguing a suspension of patent protections would harm continuing research efforts against the virus and jeopardise the production of safe, high-quality vaccines.  
"This short-sighted and ineffectual decision puts the hard-won progress in fighting this terrible disease in jeopardy," said Nathalie Moll, director general of the European Federation of Pharmaceutical Industries and Associations. "While we wholeheartedly agree with the goal of protecting citizens around the world through vaccines, waiving patents will make winning the fight against the coronavirus even harder."
Global health activists, on the other hand, argue that there is an overwhelming moral imperative to increase global production and help get vaccines to countries where supplies are urgently needed.
Poorer countries are running out of their limited allocation of COVID-19 vaccines, and there is concern over the availability of further doses. Severe outbreaks of the virus in India have also increased fears of a rise of vaccine-resistant strains.
Gavi, the Vaccine Alliance, said it welcomes the Biden U-turn, calling on the US to "use all mechanisms to increase global equitable access to COVID-19 vaccines."
World Health Organisation director general Tedros Ghebreyesus called it a "monumental moment" and "a powerful example of American leadership to address global health challenges."
'Open the door to counterfeits'
US trade representative Katherine Tai announced the administration's position on Wednesday, after more than 100 lawmakers in the House of Representatives signed a letter urging the administration to back the waiver.
"This is a global health crisis, and the extraordinary circumstances of the Covid-19 pandemic call for extraordinary measures," Tai said in a statement. "The administration believes strongly in intellectual property protections, but in service of ending this pandemic, supports the waiver of those protections for Covid-19 vaccines."
However, Moll argued the world should not have to rely on "unknown factories" taking on the "complex process" of vaccine manufacture. "A waiver risks diverting raw materials and supplies away from well established, effective supply chains to less efficient manufacturing sites where productivity and quality may be an issue," she said.
The head of the UK's Bioindustry Association, Steve Bates, similarly argued that releasing patents is not a panacea. "Just handing countries governments a recipe book without the ingredients, safeguards, infrastructure and sizable workforce with the high skills needed to deliver safe and effective vaccines, will not speedily deliver help to all those that need it," he said.
The pharmaceutical industry also argued that the waiver would undermine innovation. It will, "remove incentives for companies to continue research in to new variants, new diagnostics, treatments and vaccines," Moll said.
"Who will make the vaccine next time?" Brent Saunders, the former chief executive of American pharma firm Allergan, wrote on Twitter.
EU health commissioner Stella Kyriakides on Thursday laid out a €90 million strategy for therapeutics against long-COVID, the ongoing ill health many people who have the virus are suffering from. Asked whether the removal of patent protections could hinder this research, she repeated the words of von der Leyen, saying the EU was ready for a "pragmatic discussion" on the matter.
Editor's note - This article was updated on May 7, 2021, to clarify the voting process in the World Trade Organisation