With the EU falling behind the US and China in the global innovation race, the forum aims to tackle bottlenecks and work on coherent innovation policies. But as US investors sweep up European assets, the critical gap is funding for scale-up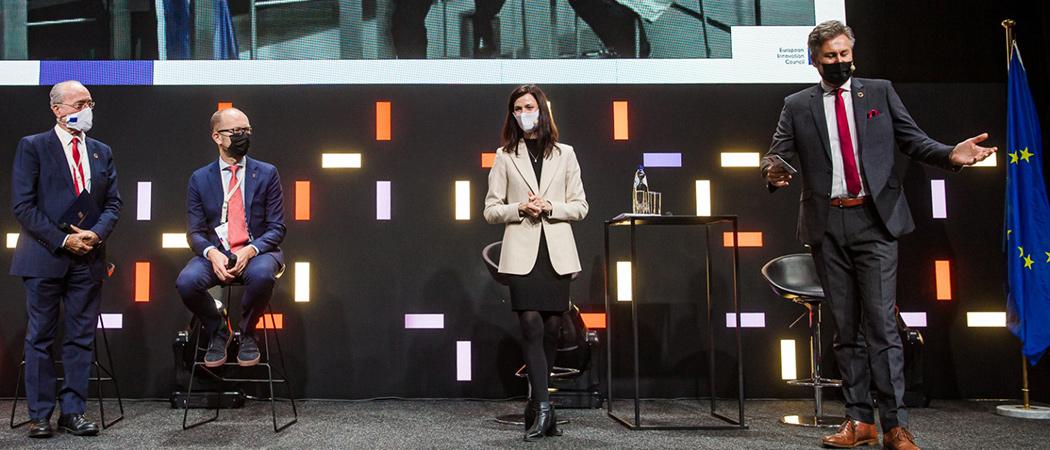 The European Commission and member states are to work on improving innovation policies in a new forum set up under the European Innovation Council (EIC).
The EIC Forum will look at how the EU should design innovation policy to boost jobs, shape a sustainable and resilient recovery from the pandemic, and ensure strategic sovereignty in the digital and green transitions.
With the Commission currently working on a new agenda for European innovation, due to be announced early next year, the Forum now opens the dialogue up to all member states, bringing together public authorities with responsibility for innovation policy and support.
"Our common goal should be to create something like a new innovation strategy for Europe," said Jernej Salecl, director general at the Slovenian ministry of economic development and technology, at the launch of the forum. "At member state level, we all try to do our very best to support innovation through different, but sometimes very similar policies and instruments. Still, we see that we lack cohesion on EU level."
Financing innovation
Europe is a world leader in research and is home to as many start-ups per capita as the US. But few of these mature into big companies. The US grows four times more large companies and is home to more unicorns with valuations of over $1 billion.
"Of the current crop of 700 unicorns around the world, Europe accounts for less than 50. So, we have work to do," said Margrethe Vestager, European Commission vice president responsible for digital matters, told the EIC summit on Wednesday.
As the EU's new investment agency, EIC is set to become one of Europe's biggest venture investors in the next few years, after running as a pilot project for three years. Its goal is to plug part of the EU's innovation financing hole, and it claims it is already showing signs of success, having funded three unicorns. Overall, companies it has backed have raised €9.6 billion in private investment, triple the amount they have received from the EIC.
To build on this, the European Parliament wants more money for the EIC. "Might be my blunt German nature, we need more money," said the Parliament's Horizon Europe rapporteur Christian Ehler. He wants Brussels to take advantage of the flexibility of Horizon Europe's €95.5 billion fund to add "a billion or two" to the budget of the EIC.
The EIC is seen as a risky endeavour, especially for the traditionally risk-averse public sector. But Ehler believes taking on even more risk is the way for Europe to become an innovation leader. He suggests increasing the ceiling on EIC's investment per company from €30 to €50 million. "You have to have the willingness to lose money if you want to achieve a lot," Ehler said.
The fund currently stands at €10 billion for seven years. Even with an extra billion or two, that is not enough to address the innovation funding gap brought on by fragmented national policies and years of underfunding in many countries. Member states have to pull their weight.
While everyone looks to the example of the US, Portugal's science minister Manuel Heitor suggested that might not be the right role model. "We are different, and we should be different," he said. "But at the same time we need to guarantee that we provide the necessary funding incentives to accelerate, and that our entrepreneurs take innovation and research in a serious way."
As things stand, Europe has invested in the capacities, skills and entrepreneurs, but is failing to raise the necessary financing, thus risking losing companies to other markets, Heitor said. Portugal's example says it all: the country's six unicorns received 70% of their funding from US investors.
The EIC Forum
The forum will meet and address five policy areas identified by the member states:
Leverage existing programmes, such as different parts of Horizon Europe, including those targeting fundamental research;

Better connect innovation ecosystems across Europe to ensure efficient flows of ideas and talent;

Scale up high-risk innovation funding in Europe;

Boost policy and programming synergies to bridge Europe's geographical innovation divide;

Make regulations more flexible and innovator-friendly.
There will also be discussions on attracting talent, said Maennel Frithjof, deputy director general for international cooperation at Germany's research and education ministry. This topic will come into focus in the first half of 2022, when France takes over the EU Council presidency.
Salecl said Slovenia will also push for more research in the private sector, such as support for setting up interdisciplinary research and innovation teams in companies.
The forum is the latest move in research commissioner Mariya Gabriel's gathering of ideas for the new European innovation plan. She has already consulted the leaders of European unicorn companies, a group of women venture capitalists, and leaders of European innovation ecosystems.
In discussions at the EIC meeting on Wednesday, the Commissioner highlighted three key areas of action: cranking up the policy process to keep pace with disruptive technologies, attracting talent to Europe, and establishing a more coherent framework for innovation.
"It's up to us to now have more rapid coordination, more concrete solutions. That's why we very much count on the EIC Forum, and the EIC and all other instruments," said Gabriel.