Despite Beijing's military threat to Taiwan, a new analysis has tracked more than ten thousand joint AI papers with Chinese military-linked institutions, including on drone targeting, automatic ethnicity recognition, and online censorship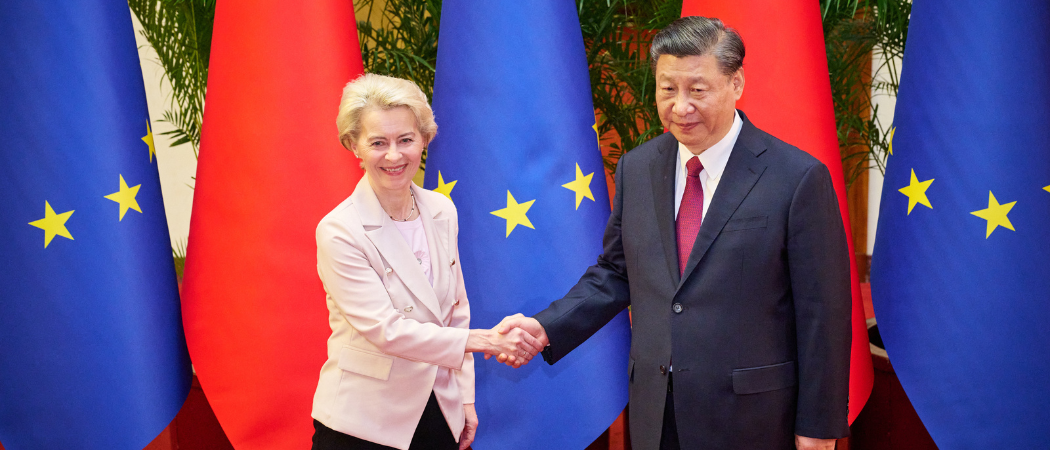 Academics in Europe are continuing to work with Chinese counterparts on "clearly problematic" artificial intelligence (AI) research in areas like biometric surveillance, cybersecurity, and military fields, a new analysis has found.
Just last year, for example, researchers at the German military's leading research institute, the Bundeswehr University Munich, published the results of a collaboration with a People's Liberation Army university on AI work that could help build automatic targeting systems.
"There were collaborations that were published as late as 2019 to 2022 on things like drone target tracking and missile guidance," said Rebecca Arcesati, the lead analyst on the report, published by the Berlin-based Mercator Institute for China Studies (Merics). "In an ideal world, those collaborations with China's military-industrial complex shouldn't have taken place," she said.
As tensions with Beijing have grown over human rights, technological competition and the risk of an invasion of Taiwan, the EU and member states have ratcheted up the scrutiny of research links with China.
In Horizon Europe, collaboration has shifted away from industrially-sensitive projects towards environmentally-focused ones - although there are still several ongoing EU-funded collaborations with Chinese military-linked universities.
Earlier this year, Commission president Ursula von der Leyen said that technology cooperation with China shouldn't benefit its military.
But judging from the Merics report, Europe has a long way to go before this aim becomes a reality.
Between 2017 and 2022, European researchers published more than 16,000 AI-related papers with Chinese colleagues based at institutions and universities either directly controlled by, or closely tied to, the Chinese military, it found.
This was around half of all the papers the report examined, and includes thousands with China's so-called Seven Sons of National Defense, universities that feed Beijing's military with personnel and research. A total of 87 were with the People's Liberation Army itself.
Of course, not all of these pieces of research will have military, security or surveillance implications. A significant proportion were in medical AI, said Arcesati.
But many do: Merics lists pages of specific papers, many published just last year, that present human rights, cybersecurity or military risks. These are just a sample of the problematic papers they found.
For example, European researchers have collaborated with Chinese counterparts on topics like "negative mental-state monitoring", "Cross-Ethnicity Face Anti-Spoofing Recognition", "Group Abnormal Behaviour Detection" algorithms, "Containment of Rumor Spread in Complex Social Networks", "integrated missile guidance" and drone "Target Tracking Method Based on Deep Reinforcement Learning".
Unbalanced partnership
Aside from potentially unethical research projects, the report, AI entanglements: Balancing risks and rewards of European-Chinese collaboration also warns that Europe's research partnership with China in AI is "unbalanced" in several areas, said Arcesati.
One aspect of this is funding. Of those papers that disclosed their sources, 80% were funded by China, with 60% from the Chinese government itself.
Of course, Beijing might point out that Europe is getting a great deal, effectively piggybacking on Chinese-funded research.
But the risk is that this funding imbalance allows China to steer what gets done. "This collaborative research seems to be driven more by Chinese initiative than European, which may influence how priorities are set" Arcesati said.
One European university research manager interviewed anonymously for the analysis observed that China typically approached collaboration wanting knowledge and expertise - while the European side was more keen on the money.
The second imbalance, as Merics sees it, is that papers it analysed tended to have many more authors with Chinese affiliations than European ones. It's unclear what's driving this, but it could indicate that Chinese researchers are more commonly initiating projects, said Arcesati.
A third imbalance is that co-authored papers make up a bigger proportion of European research than the Chinese. Eighty percent of China's AI research in 2020 was published only in Chinese-language journals, according to research by the US-based Center for Security and Emerging Technology.
Again, Beijing might point out that through collaboration, Europe is able to seriously boost the number and quality of AI papers it produces.
But the risk is that Europe becomes dependent on the relationship in a way that China is not, points out Arcesati.
UK dominates collaboration
This is particularly true for the UK. In 2021, a full 21% of all UK AI papers were co-authored with Chinese partners, but papers with the UK made up just 3% of China's total.
"The imbalance may reveal an emerging dependency, suggesting that limiting collaboration and losing Chinese talent would come at a cost," the report warns.
More broadly, the report reveals the extent to which the UK dominates AI collaboration with China. It boasts more co-authored articles than the entire EU, the Merics report finds.
The nexus of leading universities in China and Europe collaborating on AI is dominated by UK institutions like Imperial College London and Oxford University. From the EU, only Aalborg University, the Technical University of Munich, and Sweden's Royal Institute of Technology appear.
Overall, the report cautions against a "severing of ties" with China in AI, not least because as China now leads in some aspects of the technology, collaboration is "more of a two-way street", benefitting Europe as much as China.
Still, it calls for a "recalibration" of AI ties with China, with much better mapping of the AI ecosystem, and stronger due diligence of Chinese partners.
"There's still a lot of awareness building to do here in Europe," said Arcesati.
Chinese scientists in Europe
However, many of the AI researchers in Europe collaborating with China are themselves Chinese nationals, who may have different assumptions about the risks and benefits of such projects to Europeans.
"It is important as a phenomenon that Chinese scientists that study and work in Europe, and especially the UK, a lot of these seem to be carrying out research with colleagues back in China," Arcesati said.
Of course, just because a scientist is Chinese, doesn't mean they disregard European security and ethical concerns, she stressed. But they might have very different career plans, and perhaps intend to return to China. "We need to bring Chinese talent in Europe into the conversation" about safe and ethical research, said Arcesati.
The Merics report calls for European countries to consider "proportionate" personnel screening systems to check on who exactly is engaging in research in sensitive fields. The Netherlands is about to introduce such checks.
There is a danger that such systems end up discriminating against researchers based on nationality or ethnicity, cautioned Arcesati. But some new protections are needed. "That work has to be done, otherwise we won't have the defences to protect our research base."
The Bundeswehr University Munich has been asked for a comment.