---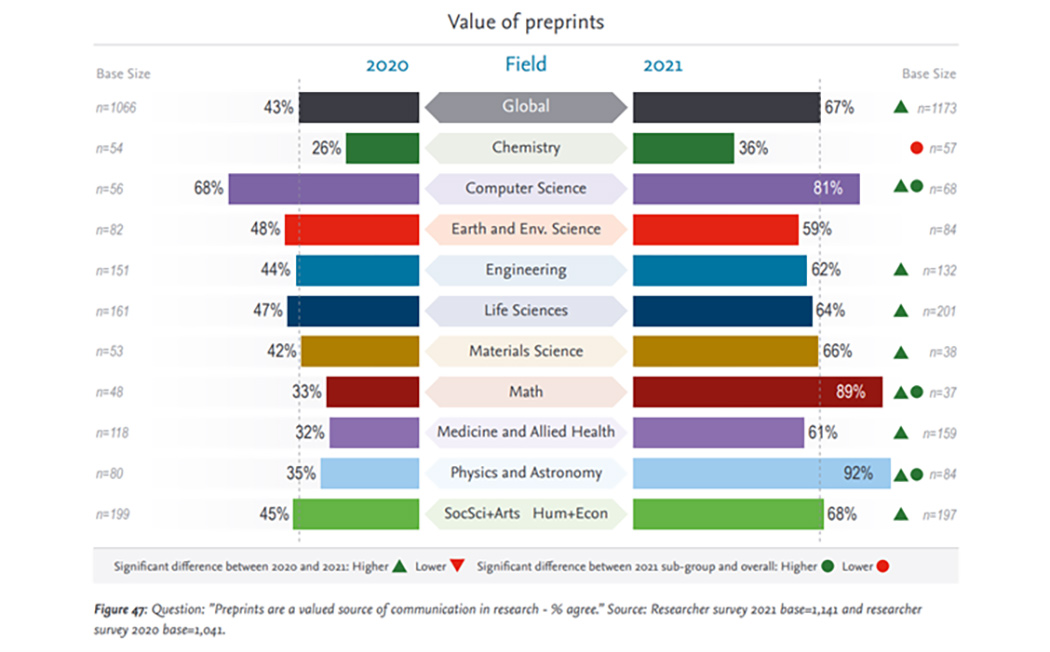 Researchers value preprints more and more, with 67% of respondents in a 2021 Elsevier-conducted survey agreeing they are a valuable source of research communication, up from 43% in 2020.
According to Elsevier's Futures 2.0 report, which aims to decipher the post-COVID research world, support for preprints is highest in those disciplines served by one of the longest running preprint servers, arXiv. These include physics and astronomy researchers at 92%, mathematicians at 89%, and computer scientists at 81%.
But it's worth noting researchers in these fields were much more skeptical just a year earlier, at the start of the pandemic, with 35% of physicists, 33% of mathematicians and 68% of computer scientists reporting support for preprints.
Chemists are the most skeptical, with just over a third agreeing there is value in preprints, up from 26% in 2020.
When asked about the benefits of sharing research before it is peer-reviewed and published in a scientific journal, three thirds of supporters said being able to disseminate research immediately and the fact preprints are free of charge were the biggest advantages.
This was certainly the case for the wave of COVID-19 research in 2020, when preprints were rapidly and openly shared, helping accelerate understanding of the SARS-CoV-2 virus and the development of treatments and vaccines.
But some are still skeptical. A total of 12% of respondents did not agree preprints are valuable sources of communication, down from 21% in 2020. Their biggest criticism, shared by more than half of respondents, is the lack of peer review. Other issues cited by researchers who do not support preprints included having no control on comments posted on reprints and the uncertainty surrounding copyright regulations, fearing it may restrict subsequent publication in a journal.