---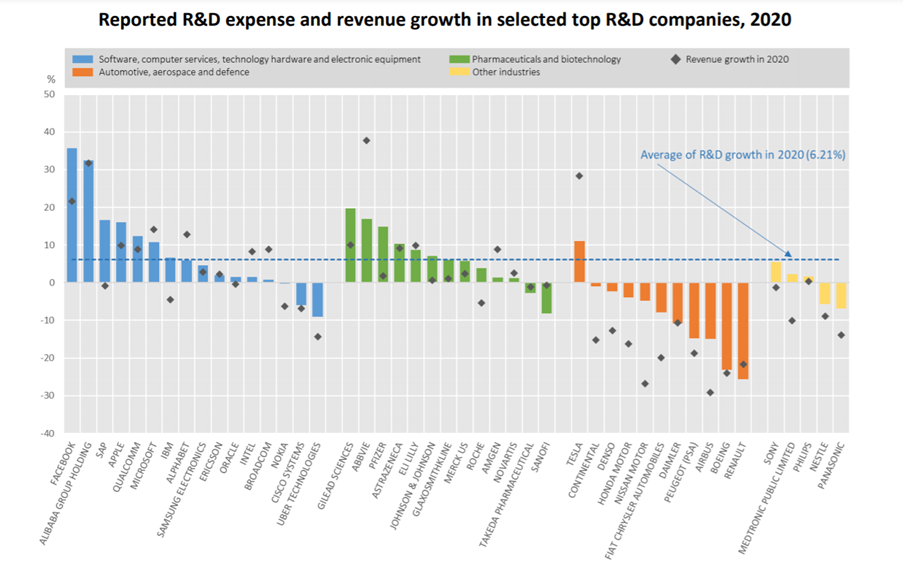 In 2020 industry spent 6.21% more on research and development than in 2019, but growth in different sectors varied significantly, according to the latest OECD figures.
At the start of the COVID-19 pandemic, health sector spending increased significantly, with vaccine and drug manufacturers increasing expenditure by up to 20%. Research spending jumped by almost 20% at Gilead Sciences, the company behind Remdesevir, the first antiviral treatment to be approved to treat COVID-19 infection in the US and the EU. Other pharma companies including AbbVie, Pfizer and AstraZeneca, also saw hefty percentage increases on what were already large R&D budgets.
The pandemic also brought about a year of lockdowns and a shift to digital services and working from home. A number of software and technology companies invested more in research and development, with Facebook's R&D spending jumping by over 35%. In second place, the Chinese e-commerce giant Alibaba, which saw its revenue grow by more than 30%, increased its R&D budget by almost a third.
The automotive industry suffered big losses in 2020 as most travel and commuting came to a halt, which in turn took a toll on R&D spending in the sector. French car manufacturer Renault cut research investment by almost a fourth, closely followed by airliner manufacturers, Boeing and Airbus, which saw their revenues fall by as much as 30%. The outlier in the industry is electric car manufacturer, Tesla, which saw its revenue grow by almost 30%, and which increased R&D spending by around 10%.
In most companies R&D investment grew faster, or fell less, than revenues. "This is indicative of an increase in R&D intensity across all industries," says the OECD.
Overall, business is a major driver of growth in R&D spending. In 2019, industry accounted for 71% of all R&D performance in OECD countries, and continued playing a key role in spending growth in 2020.