---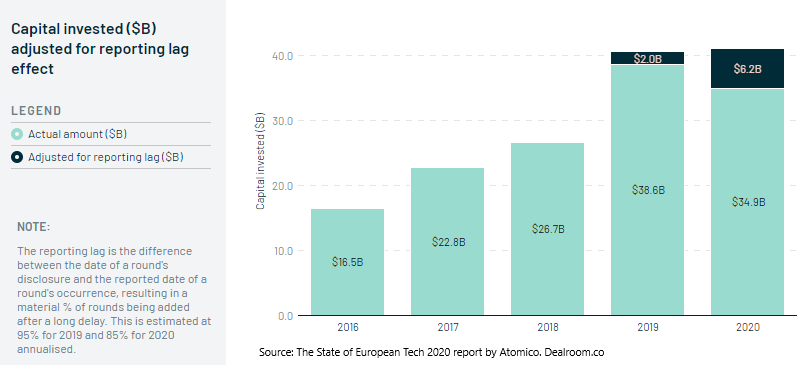 European tech investment did not collapse under the weight of the COVID-19 crisis, a report from Atomico shows. Instead, Europe seems to have benefited from going online.
Disclosed investments in EU technology are in line to reach $34.9 billion in 2020, with the expectation that a record of $41 billion will be hit when data from all funding rounds is collated.
That will exceed the $38.6 billion invested in 2019, when there were almost 180 companies valued at $1 billion or more.
Atomico's report shows institutional investors are putting three more times money into EU tech companies than five years ago.
EU governments played a part in helping European start-ups get through the COVID-19 crisis, investing $11 billion in relief funds. But more help is needed according to Atomico, as only 20 per cent of start-ups founder and investors say their voices and concerns have been heard by EU policymakers.
International investment in EU tech held up, with US investors participating in a record number of funding rounds.
"I've seen a complete 180 [about turn] when it comes to [US investors'] attitudes. As long as founders have a global mindset, they actively are looking to invest in Europe. Besides, on Zoom, nobody knows you're a European." said Robert Gaal, co-founder of Cooper, a social media site for professionals and member of Atomico's angel network.