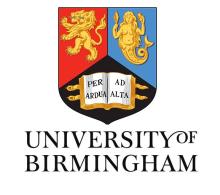 For more than a century, the University of Birmingham has been pursuing and sharing knowledge through outstanding teaching and world-leading research. With 10 Nobel Laureates among our staff and alumni, we have contributed to some of science's greatest discoveries, and our research provides innovative solutions to the challenges we face at local and global levels.
Birmingham has been challenging and developing great minds for more than a century. Characterised by a tradition of innovation, research at the University has broken new ground, pushed forward the boundaries of knowledge and made an impact on people's lives.
We continue this tradition today and have ambitions for a future that will embed our work and recognition of the Birmingham name on the international stage.
Universities are never complete. They develop as new challenges and opportunities occur. At Birmingham we innovate, we push the frontiers of understanding; we ask new research questions, we turn theory through experiment into practice – because that's what great universities do.
Learn more
---
---
University of Birmingham News