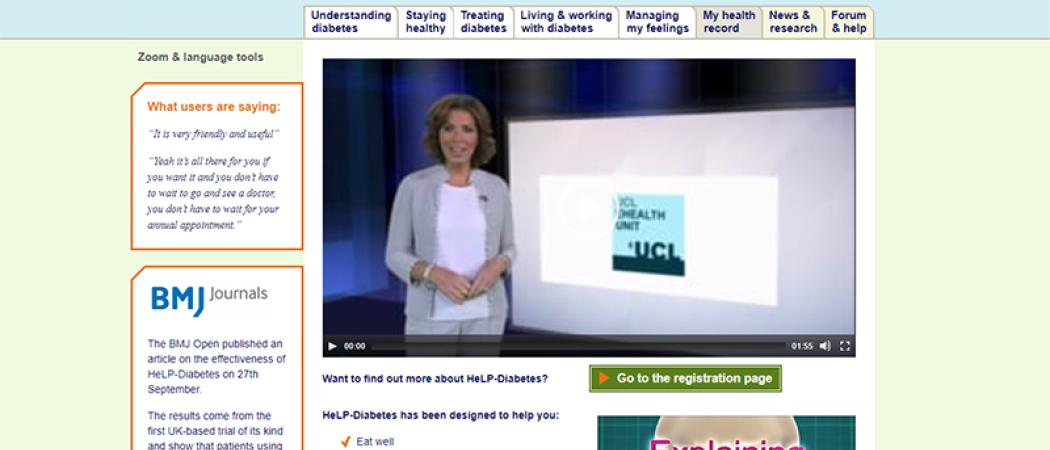 The online portal allows people with type 2 diabetes to have evidence-based information and support available at the touch of a button, giving them convenient and quick help to deal with the physical and mental challenges of diabetes.
The resource will make the right advice available from home, work or on the move, helping people manage their health and wellbeing independently, potentially preventing the need for extra medical attention or the condition becoming worse.
A team of researchers led by Professor Elizabeth Murray (UCL Institute of Epidemiology & Health Care), developed the tool and earlier trials have shown people making use of the online courses and information reduced their blood glucose levels, a crucial part of managing type 2 diabetes.
Professor Murray, director of HeLP Digital CIC and co-director of the UCL e-Health Unit, said: "The HeLP-Diabetes programme empowers people to access support on their own time, and my research team has found that it has a positive impact on the physical and mental health of people with type 2 diabetes.
"We developed the content based on the latest evidence in diabetes management and in promoting emotional wellbeing. This is excellent news that the NHS is bringing the proven benefits of our online tool to people across the country."
There are currently more than 2.8 million people diagnosed with type 2 diabetes and a further 750,000 people are believed to be living with the condition undiagnosed.
NHS England has confirmed 11 sites will now pilot the new service later this year, with a national roll out from 2020.
Trialled through funding from the National Institute of Health Research (NIHR), the service demonstrated significant improvements in people's average blood sugar and an improvement in the mental health of people newly diagnosed with the condition.
Following the successful trial, a range of online tools, resources and support services will now be made available, including:
Educational courses supporting lifestyle changes to help people better manage their diabetes
Trustworthy information relating to lifestyle choices including diet, exercise and managing alcohol consumption
Support for emotional wellbeing, including to manage the distress people can experience when first diagnosed with the condition
Professor Jonathan Valabhji, National Clinical Director for Diabetes and Obesity for NHS England said:
"Living with Type 2 diabetes is a daily challenge for millions, as well as a growing issue for our NHS, which is why the Long Term Plan for the health service sets out ambitious, innovative and evidence-backed measures to prevent and manage the condition.
"Access to trusted information and support is key to helping people manage their diabetes and this online tool helps deliver this as part of our Long Term Plan to tackle major conditions and diseases.
"We are living in an increasingly digital age with people managing most aspects of their life online, the rollout of this programme will give people the opportunity to get support for their Type 2 diabetes online too."
Seema Kennedy, Public Health Minister, said:
"There are millions of people with type 2 Diabetes who are at increased risk of heart disease, kidney failure, blindness and ultimately a shorter life. This is preventable, and the new online tool being rolled out on the NHS will offer simple advice on diet, exercise and emotional support that could make all the difference.
"Through our Long Term Plan for the NHS we want to do more to empower people with easy-to-use digital tools and information to take care of their own health – I am delighted that people are already seeing the benefits of this government's record funding increase to the NHS budget."
Approximately 10% of health expenditure in England is associated with diabetes, costing around £10bn per year in costs to the NHS, largely due to preventable complications.
The areas of the country where people will be invited to trial the new programme, ahead of a nationwide roll-out are:
Cambridgeshire and Peterborough
Bedfordshire, Luton and Milton Keynes
Nottinghamshire
Northamptonshire
South East and South West London
North West London
Cumbria and North East
West Yorkshire and Harrogate
Surrey Heartlands
Gloucestershire
Links
This release was first published 31 May 2019 by University College London.