Research and health programmes the big victims as axe falls in final EU leaders' deal. 'It's a no for innovation' says MEP. The cuts 'will cement Europe's fall behind its global competitors'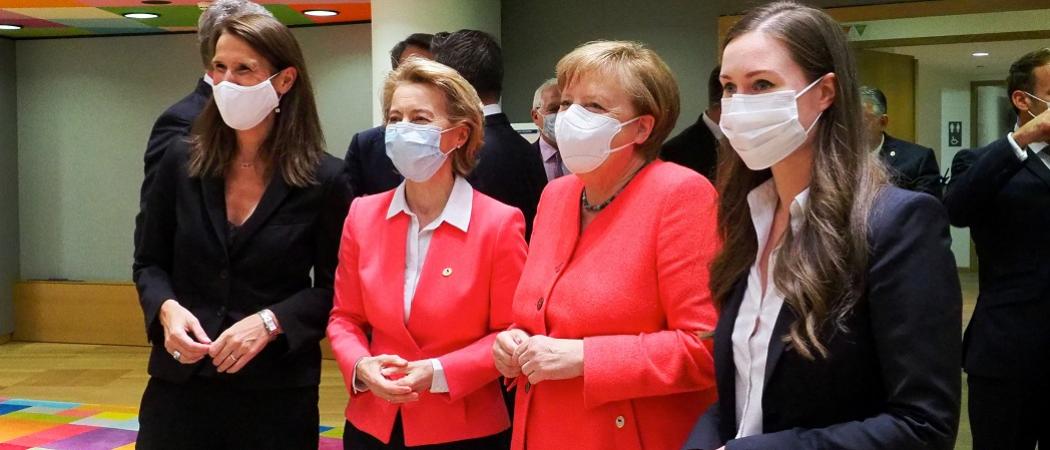 Surveying the cuts to research, innovation, health and climate change that came out of a fractious, four-days-and-nights negotiation between governments on a post-coronavirus stimulus plan, Portuguese MEP Maria Graça Carvalho asked, "Is this the Europe that we want and need?"
The ringing response from the research community on Tuesday was "No".
Research is the big victim in the final deal reached at 5.15 am, with Horizon Europe now in line for €80.9 billion, a sum significantly lower than the €94.4 billion put forward by the European Commission in May. Before the budget summit started on Friday, Horizon Europe was slated to get a €13.5 billion boost from this one-time pandemic fund, but the final budget is bringing that figure down to only €5 billion. 
The overall agreement involves almost €1.8 trillion, split between the EU's seven-year budget running to 2027 and a one-time COVID-19 recovery package.
The hard-fought result saw funding for research "butchered in an unprecedented way," said Kurt Deketelaere, secretary-general of the League of European Research Universities. "This budget is a major disappointment for the EU research and innovation community and a breach of trust between the academic and political worlds."
Pierre Deschamps, former adviser on energy and climate matters to ex-commission president Jose Manuel Barroso, tweeted that he was "sad" that EU research was "a collateral damage of the loans vs grants debate" between governments.
The self-proclaimed frugal four – Sweden, Denmark, Austria and the Netherlands – along with Finland, opposed allowing €500 billion to be offered in the form of grants to countries hardest-hit by Covid-19.
German MEP Christian Ehler, one of the key legislators on Horizon Europe in the European Parliament, called the new budget bad news for the continent's economic competitiveness.
"It's a no for innovation," he said. "This deal will cement Europe's fall behind its global competitors in Asia and [the US]."
According to Ehler, the budget deal has "killed" EU ambitions to reduce its carbon footprint by 55 per cent over the next decade, as transformative changes to Europe's industrial sectors could be delayed by the loss of funding to the EU's green transition fund.
"The good news is that there is a deal," tweeted Ska Keller, a leader of Greens MEPs in the European Parliament. "The list of bad news is long: cuts to health and climate programmes; not more than vague words on [the] rule of law; cuts in long-term budget."
Funding for climate change formed "the leftover breadcrumbs" in the deal, according to green activist Greta Thunberg.
The axe also fell hard on the EU's big standalone health programme Health4EU, proposed by the commission to address drug shortages, stockpiles and health systems resilience. It was significantly cut by governments, with its budget dropping from €9.4 billion to €1.7 billion.
"In the end, the compromise was to spend less money on the recovery and lose all ambitions on innovation," said Ehler. "[The deal] will lead to a Europe falling apart in terms of R&D and innovation when stronger member states like Germany already started to raise their R&D budget beyond 3 per cent of the GDP and develop their national programmes on key technologies like quantum and AI."
Ehler's co-legislator on Horizon Europe, Romanian MEP Dan Nica, said, "after four days of hard labour, the child is alive". But he called the outcome a "missed opportunity" for research.
"When I saw the figures, I saw 22,500 fewer researchers supported, a loss of 400 patents for 110 inventions, and a loss of 220 clinical trials," Nica said.
Others pointed to the overall picture, and how the EU mustered up €750 billion extra to pull itself out of what could be the worst recession in its history. The final compromise settled on €360 billion loans and €390 billion grants in the coronavirus recovery scheme.
Former president Barroso said the outcome was a "great victory for Europe. Once again [the EU] has proved that the reports of its death are greatly exaggerated," he tweeted.
Next battleground
The focus now inevitably shifts to how Horizon Europe distributes its budget, with pressure on officials to go back into the programme and re-distribute its reduced sums.
"You can't now achieve everything that had been packed into this programme, which is a shame," said Thomas Estermann, director for governance, funding and public policy development at the European University Association. "But it would be disastrous if there was to be less money available for programmes that have demonstrated the greatest impact."
His focus is on protecting the budgets of the European Research Council (ERC), which issues prestigious grants to fundamental research projects, and Marie Skłodowska-Curie actions (MSCA), which provides mobility grants to researchers. 
"Proven champions must be reinforced", agreed Deketelaere, staking a claim for "significant increases" to the ERC and MSCA. 
Ehler and Nica's comments surely mean that the recovery plan faces a difficult passage through parliament, which has to ratify the deal.
MEPs will need to be "a strong voice on this", said Saara Harjula, an EU affairs adviser at the University of Helsinki, who called the agreement a "huge disappointment" for research.
Unless MEPs can salvage money for Horizon Europe, research will only make up 4.5 per cent of the 2021-2027 EU budget, while the share of Horizon 2020, the current EU research programme, was about 7.1 per cent of the total EU budget between 2013 and 2020, said Josep Roet, a policy adviser at Neth-ER, an association of Dutch research bodies. "So much for 'modernisation'," Roet said.