A joint conference organised by Baltic Science Network and Baltic TRAM in cooperation with Science|Business
---
The Baltic Sea Region (BSR) is one of the most competitive, innovative science macroregions in the world, with an excellent structure of leading universities and research institutions. Cooperation in research and innovation in this region is unique and can serve as a role model. Distributed research facilities are transnationally connected via the Baltic Science Network (BSN) and the BalticTRAM networks. It allows to combine and utilise the strengths of EU 15 and EU 13 countries in order to foster research and innovation and bridge the innovation gap where necessary. Both projects show that the BSR has potential to be a model for developing and implementing innovative measures in collaborative research and innovation programmes at national, macro-regional and EU level. The BSR highlights the importance of transnational cooperation for developing a prosperous, knowledge-based European society ready to manage future challenges.
The recently published FP9 proposal "Horizon Europe" gives a strong signal in regard to emphasising the relevance of research and innovation in the EU, underlining the importance of unlocking the innovation potential of the research infrastructures, both in scientific research and research-industry collaboration. BSN and Baltic TRAM will use the conference to showcase the macro-region's knowledge and the projects' findings and present possibilities of transferring them to other European regions.
The event will address the question on how to align existing and upcoming innovation policy and R&D activities by operating in transnational structures to respond to the challenges at large. The benefits of joint research policies and strategies as well as cooperation in the frame of research and science will be discussed The event will explore how innovation can be unlocked by strengthening collaborative actions and securing a workable framework of macro-regional collaboration between science and industry, and what actions are needed to better link research expertise to concrete industrial needs. Finally, the event will investigate how public and private sectors can join forces to enhance regional prosperity and growth.
Programme
- Draft -
10:00 - Registration
10:30 - Conference Introduction and Key note speech: Jurgita Petrauskienė, Minister of Education and Science, Lithuania
10:45 - Key note speech on Horizon Europe: Signe Ratso, Deputy Director-General, DG Research and Innovation, European Commission tbc
11:15 - Panel 1: Horizon Europe: What can the EU science community expect from the next Framework Programme?
The discussions on the 9th EU Framework Programme are well underway. In comparison to its predecessors the Horizon Europe Framework Programme is being called "a more political" in its nature and set-up. The panel will address the following questions: What will the novelty of the upcoming framework Programme imply for the EU science community? How impactful and supportive will the programme be in view of existing needs and challenges? How can we better secure a link between research areas and issues related to the European economy and society? How can we improve the climate for innovation by supporting industry-led research and a more solid and long-lasting partnership scheme between research centres and industry?
Jurgita Petrauskienė, Minister of Education and Science, Lithuania

Signe Ratso

, Deputy Director General, 

DG Research and Innovation, European Commission tbc

Christian Ehler, Member, European Parliament tbc
12:15 - Coffee break
12:30 - Panel 2: Thinking big: How large-scale research infrastructures in the Baltic Sea Region benefit from multilateral cooperation
What are the drivers and added value for cooperation around research infrastructures in Baltic Sea Region? Is a transnational strategy needed? Is joint marketing needed? Complementarity vs competitiveness?
The panel will discuss the results of BSN's expert groups on large scale research infrastructures and the impact of LEAPS as good practise example for transnational cooperation in this field.
Caterina Biscari, Director, Synchrotron ALBA

Christian Harringa, Administrative Director, DESY

Robert Feidenhans'l, Chairman, European XFEL Management Board

Jean-David Malo, Director, Open Innovation and Open Science, DG Research and 

Innovation, European Commission tbc

Ann Fust, Executive Director, Swedish Research Council tbc
13:15 - Lunch Break
14:00 - Elevator Speech: Key findings of the BalticTRAM Project
14:15 Panel 3: Unlocking innovation potential through industry-research cooperation: how to better link research expertise to concrete industrial needs?
The panel will address questions on how to better link research expertise to concrete industrial needs by exploring how public and private sectors can work together for joint innovation and regional prosperity. The discussions will shed light on the impactful incentive structures needed for stimulating a knowledge-driven economy and provide new insights on how demand-supply can be balanced by initiating a timely dialogue between business and research. The session will demonstrate concrete business cases justifying the need in industrial leadership while building innovation capacity.
Milena Zic-Fuchs, Member, European Commission High Level Group on Maximising Impact of EU Research and Innovation Programmes
Ales Fiala, Head of department, Research Infrastructures, DG Research and Innovation, European Commission tbc
Nikolaj Zangenberg, Director, Materials Division, Danish Technological Institute
Tomas Lundqvist, Senior Area Coordinator, RISE Research Institutes of Sweden
Anna Stenstam, CEO, CR Competence AB
15:00 - Panel 4: Funding schemes for companies (research vouchers and other financial support measures)
For many years there has been a steady increase of debates on how to find the right funding mechanisms for closing the innovation gap throughout Europe. A mix of private-public funds have been applied in the endeavour to secure a more evenly distributed innovation ecosystem.
As a concrete contribution to the 'funding' debate, Baltic TRAM tested a funding scheme based on offering publicly funded analytical services to EU-based SMEs. The session will offer insights on how to engage the private sector in addressing the economic, political and societal challenges in Europe.
Normunds Popens, Deputy Director-General, Implementation, DG Regional and Urban Policy, European Commission tbc

Karsten Dybvad, Director General and CEO, Confederation of Danish Industry tbc

Shiva Dustdar, Head of Division, Innovation Finance Advisory, European Investment

 

Bank 

Cecilia Sjöberg, Director and Head, Industrial Technologies, Vinnova tbc

Anette Järvpõld, Executive of Economic Development Department, Estonian Ministry of 

Economic Affairs and Communications tbc
15:45 - Coffee break
16:00 - Panel 5: Turning brain drain into brain circulation in the Baltic Sea Region
The session will question rationales of researcher mobility in the context of cooperation among neighbouring areas. A concept for a researcher mobility tool box designed for fostering exchange in the Baltic Sea Region will be presented.
Why should we be interested (in researcher mobility) in neighbouring areas when the world is global? How does mobility in the Baltic Sea Region contribute to the research excellence of engaged institutions and academics? How to get over the fear of brain drain in order to realise the possibilities of brain circulation in the macro-region.
Christian Müller

, Deputy General Secretary, German Academic Exchange Service 

(DAAD) tbc

John Bell, Director, Bioeconomy, DG Research and Innovation tbc

Agnė Paliokaitė, Director, Visionary Analytics tbc

Jarosław Gowin, Minister, Science and Higher Education, Poland tbc
17:00 - Closing Session and Roadshow / Reception / Networking
Practical Information
Venue: 
Solvay Library
Rue Belliard 137,
1000 Brussels, Belgium
Access:
The easiest way to travel to/from the venue for both the Brussels Zaventem Airport and the Brussels-Midi/South Rail Station is by train. The nearest stop is Brussels-Schuman Rail Station, which is a 8 minute walk (700m) from the venue. 

Within Brussels:
Buses 21, 27, 59, 80 stop at "Parc Leopold" bus stop. Bus route maps and schedules can be found here. From the "Parc Leopold" bus stop, the venue is 1 minute walk (54m) away. 
From Schuman Metro Station, it is a 7 minutes walk (550m) to the venue.
Nearby Hotels: 
Sofitel Brussels Europe - 1 Place Jourdan, 1040 Brussels, Belgium
Aloft Brussels Schuman - Place Jean Rey, 1040 Brussels, Belgium
Thon Hotel EU - 75 Rue de la Loi, 1040 Brussels, Belgium
Taxi Companies:
Taxis Bleus: +32 (0) 2 268 00 00
Taxis Verts: +32 (0) 2 349 49 49
Taxis Autolux: +32 (0) 25 123 123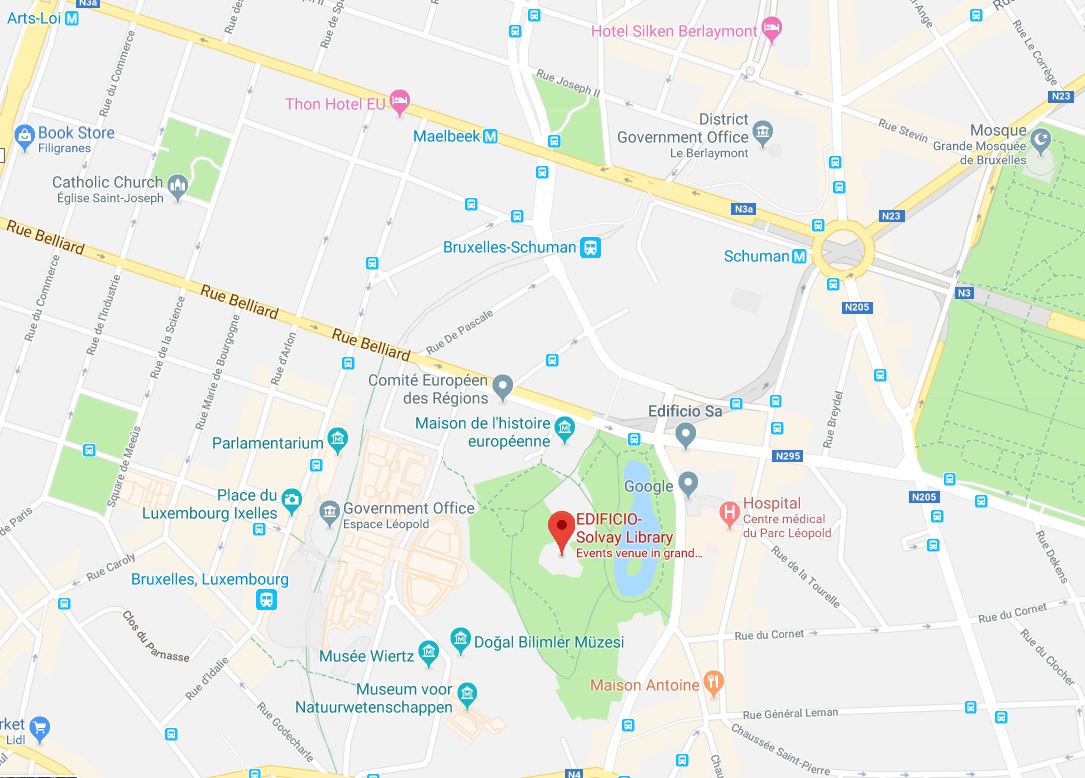 Contact
Jenny Ching-Wei Lee: jenny.lee@sciencebusiness.net
Partners